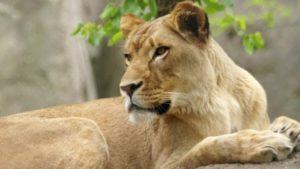 A lioness at a US zoo has killed the father of her three cubs in their pen – an incident experts say is shocking and unprecedented.
The pair had lived in the same enclosure at Indianapolis Zoo for eight years.
According to the zoo, there had never been any unusual aggression between the pair before the attack last week.
The BBC asked lion researchers for their theories on what could have sparked the attack.
What happened?
Zuri, 12, attacked Nyack, 10, and staff could not separate the pair. Nyack died of suffocation, while Zuri was uninjured.
The zoo said it is conducting a "thorough review".
A personality clash?
Prof Craig Packer, director of the University of Minnesota's Lion Research Center, told the BBC this sort of attack is "unprecedented".
"We've seen examples of males killing females, and groups of females chasing away males, but a single female killing a male? Never heard of it."
He suspects the individual lions' personalities played a role in the killing.