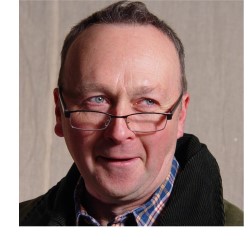 Today, October 14, 2018 is the birthday of Robin Cairns, Scottish author.
Damián Stiglitz entrevistado por Yamila Musa (parte 2).
Four decades have passed since the abolition of Spain's so-called "Social Danger Laws" (ley de peligrosidad social) in 1978.
At the time, under dictator Francisco Franco, homosexuality was considered a threat to the ideal of a "macho" Spanish male and an attack on the morals and integrity of the Spanish people.
Franco's regime represented a period of severe persecution and oppression of Spain's LGBT community (as well as of women and of the working class).
After the end of the civil war, many LGBT people were punished by the state simply for being gay.
They were imprisoned and tortured along with tens of thousands of political dissenters, anarchists and leftists.
Franco pursued a social model consisting of a submissive and accommodating woman, a masculine and dominant man (with no feminine traits) and the ever-present Catholic morals, used as a means of repression against gay people.
The "Social Danger Laws", approved on 4 August 1970, included a list of punishments against gay and transgender people including confinement to asylums and banishment from their home towns.
These laws remained in force after the dictator's death in 1975, but in 1978 a provision was created for the abolition of some clauses, among them the punishments for homosexuality.
"La terapia es un recorrido, implica un proceso de trabajo personal que, entre otras cosas, lleva a que uno pueda asumir responsabilidad por las cosas que le pasan y que pueda tener un conocimiento de sí mismo y un mejor manejo de los recursos y herramientas que cada uno tiene para poder resolver situaciones". Así lo analizó para Infobae la licenciada en Psicología María Noel Lucano (MN 34260), quien resaltó que "la Argentina es un país con una cultura psicoanalítica muy importante".
Según la especialista, "la sociedad argentina es una de las más psicoanalizadas de América Latina" y las personas "particularmente eligen el psicoanálisis aunque hay otro tipo de terapias desde ya cada, aunque cada vez están creciendo más".
Antes había como una visión más sesgada de lo que era la psicoterapia y la gente se animaba menos a consultar
Lucano consideró que son "muchas variables" las que llevan a los argentinos a hacer terapia: "Cuestiones personales que tienen que ver con crisis, angustias, malestar, actualmente también la situación social que nos atraviesa como país y las cuestiones político económicas, están entre las más destacadas, pero son variadas las causas que hace que los argentinos decidan hacer terapia".
Una encuesta realizada este año por la Universidad Abierta Interamericana (UAI) reveló que entre quienes hacen terapia, 71,4% lo hace semanalmente, mientras que el 28,6% restante concurre de manera quincenal.