Interlitq publishes "Trace" ("Poetic Voices" series) a new poem by David Garyan.
About David Garyan
David Garyan has published three chapbooks with Main Street Rag, and a full collection, (DISS)INFORMATION, is upcoming in October with the same publisher. He holds an MA and MFA from Cal State Long Beach, where he associated himself with the Stand Up Poets. He currently lives in Los Angeles and you can usually find him at his favorite hangout spot—somewhere on the 405 freeway.
Today, 18 July, 2019, is the birthday of Carla Sassi, an academic working in the field of Scottish Literature, and a Consulting Editor for Interlitq.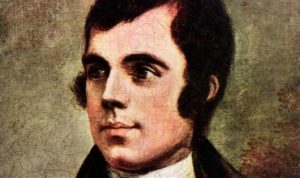 As long as the history of English literature is taught in universities, the charm of the immortal poem "A Red, Red Rose" by Robert Burns will endure in China. I first came across the poem by the national bard of Scotland about 30 years ago as an undergraduate studying English literature, and my love for it has never decreased since.
I have been teaching Burns's poems to students of my university, Hebei Normal University in northern China, since 1992. I cannot remember the names of all the graduates who took my course of English and American poetry, but I always recognise them immediately when they say: "I learned 'A Red, Red Rose' from you."
Now I have come to Scotland as a visiting scholar devoted to translating about a hundred of Burns's poems into modern Chinese with a view to making Burns as famous as Shakespeare in my homeland. Burns is known in China, both for "A Red, Red Rose" and "Scots Wha Hae," which is appreciated for its patriotism. But very few of his other works will have been read by other people in China.