Interlitq publishes "Trace" ("Poetic Voices" series) a new poem by David Garyan.
About David Garyan
David Garyan has published three chapbooks with Main Street Rag, and a full collection, (DISS)INFORMATION, is upcoming in October with the same publisher. He holds an MA and MFA from Cal State Long Beach, where he associated himself with the Stand Up Poets. He currently lives in Los Angeles and you can usually find him at his favorite hangout spot—somewhere on the 405 freeway.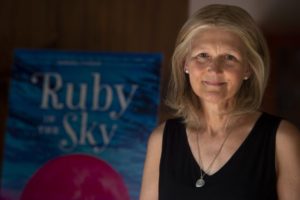 Until two years ago, Jeanne Zulick Ferruolo made her living as a public defender, taking on cases in Rockville and other superior courts for defendants without resources.
Illness compelled her to set aside that career. She has embarked on another one: children's book author. The new choice suits her. Ferruolo's first published novel has been a big success with critics.
"Ruby in the Sky" (Farrar, Strauss and Giroux, 304 pp., $16.99) was released in February. The Washington Post has named it one of its eight KidsPost Summer Book Club Reads, it has won a Work-In-Progress award from the Society of Children's Book Writers and Illustrators, a PEN New England Susan P. Bloom Children's Book Discovery Award, and a New Voices in Children's Literature's Tassy Walden Award.
"I've always loved children's books. I was a voracious reader as a kid and I read to my kids and loved it. Children's books have a simple beauty to them," Zulick Ferruolo says during an interview at her Ellington home, where she lives with her husband Paul, her teens Andrew and Sophia and her dog Meadow.
"It's so important for kids to read books. I grew up in Ashford. In towns like that, kids feel isolated. They have struggles and no one to talk to about it and they feel lonely. Books help find others in similar situations and you feel less lonely," she says. "Seeing yourself in a story is so powerful."
Many downtrodden kids, as well as adults, will see themselves in "Ruby in the Sky." The book tells the story of Ruby, whose mother Dahlia has moved them from town to town after a personal tragedy. They wind up flat broke in Dahlia's Vermont hometown. Then Dahlia gets arrested for a crime she didn't commit.
Ruby hates the town and wants to leave. Her classmate Ahmed, a Syrian refugee, is persistent about becoming her friend. At the same time, she grows fond of Abigail, an old woman disliked by everyone else in town. Ruby, Ahmed, Abigail and Dahlia find ways to stand up for what is right.
"It's a story about finding your own courage and bravery. Bravery comes in all shapes and sizes," Zulick Ferruolo says. "A lot of it in Ruby comes from her being an introverted child. She's not good at speaking out. But when it comes time to speak out on behalf of others, she finds her voice."
Many elements of the story come from Zulick Ferruolo's own life. Ruby owns a golden retriever, Bob, just like Zulick Ferruolo's Meadow. Abigail feeds chickadees by hand, like Zulick Ferruolo's father taught her when she was a child. Most prominently, one of the heroes of the book is Dahlia's lawyer, Annie. As Annie says in the book:
"I've always liked to help people. People who really need help. And when I did that, I discovered I could be brave because it wasn't about me anymore. If I didn't speak up, no one would hear their side. No one would know their story. That's why I became a public defender."