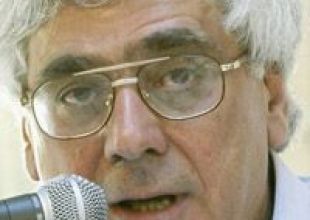 Sari Nusseibeh, a Vice-President of Interlitq, is 69 today, February 12, 2018.
About Sari Nusseibeh

Interlitq news: Interview with Allen Hibbard to be published (The Groves of Academe series) in Interlitq in October 2016.

Video: Dr. Sari Nusseibeh, the Palestinian diplomat and intellectual who is a Vice-President of Interlitq, provides an introduction to Islamic philosophy.
El exresponsable de la Secretaría de Inteligencia del Estado argentino (SIDE) Miguel Ángel Toma aseguró a El País que existen "una veintenta" de argentinos reclutados por el Estado Islámico peleando en Siria, lo que constituye una amenaza "gravísima" para Argentina por si algunos de esos ciudadanos ingresan al país vecino "sin que nadie lo note".
"El problema que enfrenta Argentina es que existen sobrados elementos, bastantes fundados, de que existen (estos combatientes)", señaló Toma en Punta del Este.
Para el extitular de la exSIDE —hoy llamada Agencia Federal de Inteligencia (AFI)—, cualquiera de estos yihadistas puede ir a una villa en Argentina y alquilar armas "de todo tipo" para cometer actos delictivos. "Con cuatro o cinco fusiles un sábado a la noche se paran en la Avenida Corrientes en la puerta de algunos de los teatros que allí existen y no tendrán ningún impedimento para realizar una atentado similar al ocurrido en París (en el que murieron 130 personas)", expresó.
Según opinó Toma, esta nueva forma de cometer actos terroristas es muy diferente a la que tuvieron los que cometieron el atentado contra la mutualista judía AMIA en 1994, que causó 85 muertos y sigue impune casi 22 años después.