Today, August 11, 2018, is the birthday of Neil Langdon Inglis,  U. S. General Editor of Interlitq.
Read more about Neil Langdon Inglis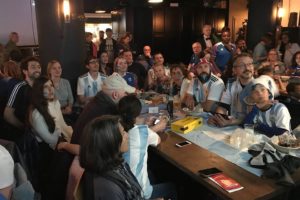 El canal Fox Sports, una de las señales que transmite la Superliga, realizó un estudio sobre el perfil del hincha argentino, que revela que al 63 % le importa más su equipo que la selección y que el ánimo de su semana depende en buena parte del resultado de su club.
La investigación, de carácter cuantitativo, se llevó a cabo en julio pasado y fueron encuestados hombres y mujeres de entre 18 y 70 años de diferentes sectores socioeconómicos. Constó de 500 casos y se realizó a través de la empresa OhPanel. Los resultados reflejan algunas características que son comunes a los simpatizantes de todos los equipos y otras que son propias de los fanáticos de algunos clubes. Entre los datos se destacan:
El 91% de los hinchas se informan sobre su equipo semanalmente y los de Independiente son los que lo hacen con mayor frecuencia.
Los fanáticos de Boca e Independiente son los que más encuentros ven de otros equipos, mientras que el 61% de los de River solo ve partidos de su club.
El 73% de los argentinos que miran fútbol local también disfrutan de partidos de otras ligas y la más vista es la española.
Más de la mitad de los argentinos prefieren los torneos cortos.
Para el 93% de los hinchas de San Lorenzo, el resultado de su equipo influye directamente en su estado de ánimo durante la semana.
A los fanáticos de Boca y San Lorenzo son los que menos les interesa el resultado de Argentina. En cambio, el 48% de los simpatizantes de River aseguraron que les importa más el desempeño de la selección que el de su club.
Los hinchas de Boca son los que más cábalas tienen, mientras que los de River, los que menos.
Después de Boca-River; los dos clásicos más atractivos son Racing-Independiente y Newell's-Central.
As a child, I was obsessed with Anne Frank's "The Diary of a Young Girl." Like Anne, I wanted to grow up to be a writer; like her, I kept a diary (though less faithfully), which for a time I addressed, following her model, as Kitty; like her, I agonized over how little my mother understood me and longed to swoon in a boy's arms. My obsession peaked at the age of eight with a visit to the Secret Annexe, in Amsterdam—the warren of rooms where the Frank family hid from the Nazis. I had imagined it countless times and had the floor plan memorized, but seeing it was a shock: it was so much smaller than I had pictured.
That may have been the moment I began to understand how great was the distance between Anne's world and my own. As a girl from a family of survivors, coming of age in nineteen-eighties America, I felt the Holocaust as a tangible presence, simultaneously inescapable and unknowable. My grandparents, Jews from Lodz who fled east when the Nazis began their advance into Poland, had better luck than many: taken prisoner by the Soviets, they spent much of the war in a Siberian labor camp. Some of their family had already made it to Palestine, but most of those who remained behind were sent first to the Lodz ghetto and then to Auschwitz. My great-grandmother died there, but my great-aunt survived.
The enormity of the losses my relatives had suffered was palpable in the deep lines around their mouths, the tremors in their hands, the sighs they heaved every time the war years came up. Once, my great-aunt, who had Alzheimer's disease by the time I came to know her, even grabbed my arm in search of the tattoo that she thought she would find there. But they didn't often talk in detail about their experiences. When they did, the stories they told were confusing and full of gaps, and I'd complain at having to hear them. I was terrified of my relatives' emotion and of the crushing responsibility it inflicted on me: the paradox of being charged with remembering something I hadn't experienced.
Reading about the Holocaust was my way of trying to fulfill that obligation. But the gaps remained. I pored over the final pages of my edition of Anne's diary, where the facts of what happened after the police raided the Secret Annexe were stated tersely: deportation to Westerbork, Auschwitz, and, finally, Bergen-Belsen. Searching for more, I came upon a book in which Hanneli Goslar, a childhood friend of Anne's who was interned in another section of Bergen-Belsen, recalled having caught a glimpse of her, almost unrecognizable, through a fence. She returned a few days later with a package of food, but when she threw it over the fence another woman caught it and ran away as Anne screamed. The chatty, cheerful girl had become a person I couldn't identify with at all: skeletal, desperate, scrabbling for food. She had gone to a place I couldn't follow, not even in my imagination.
GLASGOW is certainly not flourishing as far as its diminishing architectural heritage is concerned (Glasgow's urban decay risks squandering 30 years of progress; August 6) but in one respect at least it steals a march on its east coast rival.
The Mitchell Library has had several extensions since it was built on its present site in 1911 – indeed by 1981 it was believed to be the largest local reference library in Europe. Contrast this approach with that of Edinburgh, the world's first Unesco City of Literature, where the city council has been both neglecting and asset stripping its once-great Carnegie library, the Central Library, selling off adjacent buildings including the children's and music annexes, and disposing of common good land long reserved for the library's expansion for a Virgin hotel development on a hopelessly cramped site which will engulf the original 1890 A listed building in gloom. Some even suspect there are moves afoot to dispose of the Carnegie building altogether.
The Publisher's Association recently announced that 2017 was a record-breaking year for UK book sales, but for Edinburgh the fact that books are now "downloadable" means that library assets can be pillaged and sold off to build yet another oversized hotel for his Old Town theme park. For good measure, a report from the council's own environmental health officers that consent be refused because another high building on the Cowgate would only exacerbate the decline in air quality which already breaches WHO standards was studiously ignored.
Edinburgh gained its City of Literature status on the back of ambitious proposals to develop the library and its adjacent land as a "literary hub" – proposals which have since been junked, rather suggesting that Unesco's award was gained on the basis of a false prospectus.
We should of course take pride in the fact that the world's first City of Literature is Scottish, but given Edinburgh's abysmal record and Glasgow's manifest appreciation of the written word, could it possibly be that the wrong city was selected?
¿Fueron amantes dos de las escritoras argentinas más reconocidas del siglo XX? Es posible. Pizarnik no era tímida ni hermética, todo lo contrario. De ella conocemos sus amores, narrados en diarios y cartas, su quehacer poético iluminado, su querencia por la autodestrucción.
Pero, ¿le gustaban a Silvina Ocampo las mujeres? Enriquez explica la naturaleza del primer rumor que recorrió la boda de Bioy Casares y Silvina, diez años mayor que él: que fue Marta Ignacia Casares, la madre de Bioy, la que estaba enamorada de Silvina, y que el matrimonio fue simplemente una manera de disimular la relación entre dos mujeres. Se cita, anecdóticamente, que la madre de Bioy lloró amargamente cuando se produjo el enlace, en 1940. Esta idea ha sido rebatida por biógrafos y allegados, que narran como Ocampo y Bioy se quisieron y permanecieron juntos, simbióticamente, pese a los escarceos amorosos de ambos, hasta que murió Ocampo en 1993.
Pero la carta de Pizarnik fue la que desató la idea de una posible relación que nunca ha sido aclarada del todo. Sin duda, las escritoras se conocieron. Hubo más cartas aparte de esta última, y los Bioy, como se llamaba a la pareja Ocampo-Bioy Casares, tuvieron relación con Pizarnik. Adolfo –Adolfito– había ido a visitar a Pizarnik al sanatorio en el que estuvo internada en una de sus crisis, no así Silvina. Eso sí, ella le dedicó su libro Los días de la nochea Pizarnik. "A Alejandra en agradecimiento por un cuadro que me encanta. Con cariño".
Silvina, conocida por su capacidad tanto para la seducción como para la crueldad, podía dar una de cal y una de arena. Con lo hermético de su círculo, ¿cuánto penetró Pizarnik en él? Enriquez duda.
Solamente un testimonio, el del poeta Fernando Noy confirma ese amor como algo carnal.
EL DESPRECIO DE LA ARISTÓCRATA
La editora de la Correspondencia de Pizarnik, Ivonne Bordelois, es prudente en sus respuestas a Vanity Fair: "es muy difícil reconstruir los términos de una relación como la sostenida entre Alejandra y Silvina cuando los testimonios de terceros, por el carácter mismo de la relación, son tan intangibles. También parece imprudente atribuir a la muerte de Alejandra el fracaso de esa relación, ya que hubo otras relaciones que rodearon su fin igualmente frustrantes y apasionadas".
Eso sí, introduce un elemento importante en la fascinación de Pizarnik, de la que da buena cuenta en sus cartas. La de aquello inalcanzable, atravesado por la clase social. Pizarnik era de origen humilde. "No era sólo la persona de Silvina lo que encandilaba a Alejandra, sino su mundo aristocrático de belleza y de esa suerte de irrealidad que rodea a los más afortunados."explica Bordelois. "En las últimas páginas de sus diarios se observa muy bien el descenso en el infierno de una desgarrada autoestima que caracteriza la vida de Alejandra en esa época, y su necesidad de apoyos que ahuyentaran la enorme inseguridad que la poseía. No sólo el amor o la pasión física distinguen la célebre carta final de Alejandra a Silvina: hay también en sus escritos explosiones de rencor y desesperación que muestran su necesidad de aferrarse a una atmósfera de aprecio y cariño de la que creía carecer".
Las cartas son, sin lugar a dudas, desesperadas, y se intuye un claro desapego por parte de Ocampo en una anécdota que sí explica el libro de Enríquez. Poco antes de morir, Pizarnik llamó a Ocampo a su casa, y ella no atendió el teléfono, ocupada en un viaje a Europa que estaba preparando. Pizarnik sabe que Ocampo está en casa, y se queja de la falta de atención a la empleada que recoge el mensaje. Se suicidaría a los pocos días.