23/07/2020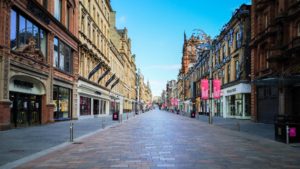 It's Been Emotional
We in Scotland have just taken the most significant step out of lockdown. We can get our haircut -the demand has been so great that mine won't be cut until for another month, by which time it will take some serious archaeology to discover what the original cut was – visit each other and go to pubs and restaurants again. Museums and libraries can open, with restrictions, and faith communities can celebrate communal worship, though the restricted numbers allowed will make it difficult for even my small parish to function normally. We're anxious, especially as we recorded a spike in local infections – ironically enough at a call centre doing contact tracing – but we do feel we're at the end of a very bleak time.
It got emotional. We didn't sleep so well. We stockpiled toilet rolls, and pasta. Eggs and baking ingredients disappeared from supermarkets – who knew Britain had so many bread makers? Pickled onion Monster Munch and Pepsi Max became contraband and people had to learn to make their own curries, tacos and kebabs to replace the takeaways that couldn't open for weeks. Some people were working too hard, and some people didn't have any work at all. A lot of people worried about the behaviour of others. A lot of people worried about the effects on the economy. A lot of people escaped into gardening and birdwatching, online yoga and Zoom coffees and family quizzes. Some writers wrote prolifically, others couldn't write at all. Almost everyone submitted their work as if possessed. Plague poems and pandemic anthologies abounded, like these:
https://pestilencepoems.blogspot.com/
https://newbootsandpantisocracies.wordpress.com/
and publishers had to close submissions.
In Scotland, things have been slightly different. We were two days earlier into lockdown, and progress out has been slower and more cautious. Nicola Sturgeon has been holding daily press conferences, and taking questions, so that information has been more consistent and transparent. It has also been backed up by voiceovers from Glasgow comedian Janey Godley
(specimen here: https://www.facebook.com/janeygodleyfanpage/videos/vb.1680210945622928/2576371909242976/?type=2&theater)
which have provided much needed light relief. These have been so successful that 'Frank get the door' is now a catch phrase, and you can buy merchandise featuring it, some of which raises money for a children's charity. In fact, I have sometimes had to explain that this is not the real First Minister!
I know there was some trepidation – some governments, the UK among them, apparently believed that their populations would not stand for it, some thought it would require draconian state controls, and there was a level of anxiety that we wouldn't meet the minimum threshold to make it effective. And it has been a challenge, no doubt about it. It is human instinct to come together in times of trouble, hug, bring cake to friends, organise social events to cheer each other up, hold meetings to get things done. And this time we had to keep apart. Grandparents couldn't help out with childcare when parents were trying to work from home, neighbours couldn't call in to check that someone self-isolating was okay, you couldn't put your arms around someone when they told you they had been bereaved or broke up with a partner or lost their job. We have been acting against our instincts, and that has been difficult.
We have been acting against the grain in other ways too. Those of us in urban environments have lived our lives in a way that is almost entirely defined by human choices – political and economic institutions, culture, law, peer pressure. When we don't like something, we know that most of the time there is a person whose decision we need to challenge and change, someone whose hostility we need to dismantle, whose ignorance or misunderstanding we need to rectify. This time there has been no such human agency. No human brought the virus. No human knows how to cure it (yet). No human can make it go away or modify its path in any way, and we don't like it. The impulse 'not to give in' is the one our culture most admires, and it's the wrong one. The craving for decisive action has had to be put on hold, and going cold turkey is really tough. So there has been the usual denial, anger, conspiracy theories, superstitions and magical thinking, compensatory indulgence and distraction.
But we did it. Scottish people went into lockdown, sat at home, worked in our pyjamas, read stories to our grandchildren over the internet and protected each other. It wasn't about 'following the science', it was about a culture of 'compassion, kindness and solidarity' (Nicola Sturgeon). There is a long way to go yet, but the death rate is close to 2%, not 25% as it was when the Black Death raged in the Middle Ages. It's been emotional, but it may just have saved us all.
About Elizabeth Rimmer:
Elizabeth Rimmer is a poet, editor for Red Squirrel Press and occasional translator. She has published three collections of poetry with Red Squirrel Press: Wherever We Live Now (2011) The Territory of Rain (2015) and Haggards (2018), and is working on a fourth Burnedthumb, which will be out in 2021. Her website is at www.burnedthumb.com.