05/09/2020
Ravenna, Italy
The Case of Patrick Zaki and Giulio Regeni
Freedom for Patrick Zaki
It's been over half a year since Patrick Zaki, an Egyptian graduate student at the University of Bologna, was arrested in his home country in early February. After enduring human rights violations for months and going through arduous legal proceedings, Zaki was at last given permission to see a family member on August 25th—his mother.
Although the 27 year old has committed no crime, both abroad and at home, the Egyptian state has handed down various charges, accusing him of disseminating fake news and attempting to incite protests without permission. His defense team has argued that these accusations are unfounded.
According to Amnesty International, Zaki's family only received "two short letters" out of the twenty he had sent to them. The Italian newspaper il Post has likewise reported that although he's generally in good health, he has lost weight and is worrying about the future of his studies, asking how long he will be unjustly detained. The photo below is a recent one from the Patrick Libero Facebook page.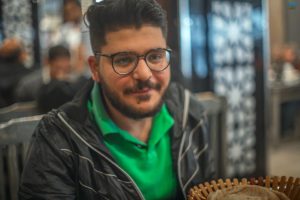 Every picture of Zaki before his arrest certainly depicts a happier individual and what else do we expect when there isn't yet the potential 25 year sentence hanging over him? Let's hope for the best and pray that the Egyptian government finds the good sense to release this innocent young man very soon.
Amnesty International is working hard to gather 118,000 signatures in order to try and secure his freedom; thus, signing the petition will not only prove to be an act of tremendous help for Zaki's legal team but the gesture would most certainly also boost Patrick's morale and that of his family. The petition can be accessed on the official Amnesty International page, and as of today, it's only 638 signatures short, with 117,362 already having been collected.
Thank you to all who've given their time to make this goal possible.
About David Garyan
David Garyan has published three chapbooks with Main Street Rag, along with (DISS)INFORMATION, a full collection with the same publisher. He holds an MA and MFA from Cal State Long Beach, where he associated himself with the Stand Up Poets. He is currently studying International Cooperation on Human Rights and Intercultural Heritage at the University of Bologna. He lives in Ravenna.