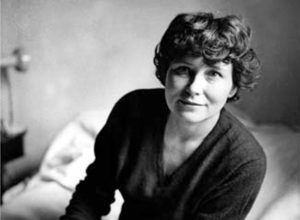 Doris Lessing, British-Zimbabwean author, was born today in history, October 22nd, 1919.
About Doris Lessing

Queen Elizabeth II (Elizabeth Alexandra Mary; born 21 April 1926) is, and has been since her accession in 1952, Queen of the United Kingdom, Canada, Australia, and New Zealand, and Head of the Commonwealth. She is also Queen of 12 countries that have become independent since her accession: Jamaica, Barbados, the Bahamas, Grenada, Papua New Guinea, Solomon Islands,Tuvalu, Saint Lucia, Saint Vincent and the Grenadines, Belize, Antigua and Barbuda, and Saint Kitts and Nevis.
Elizabeth was born in London to the Duke and Duchess of York, later King George VI and Queen Elizabeth, and was the elder of their two daughters. She was educated privately at home. Her father acceded to the throne on the abdication of his brother Edward VIII in 1936, from which time she was the heir presumptive. She began to undertake public duties during World War II, serving in theAuxiliary Territorial Service. In 1947, she married Philip, Duke of Edinburgh, with whom she has four children: Charles, Anne,Andrew, and Edward.
Elizabeth's many historic visits and meetings include a state visit to the Republic of Ireland and reciprocal visits to and from the Pope. She has seen major constitutional changes, such as devolution in the United Kingdom, Canadian patriation, and the decolonisation of Africa. She has also reigned through various wars and conflicts involving many of her realms. She is the world's oldest reigning monarch as well as Britain's longest-lived. In 2015, she surpassed the reign of her great-great-grandmother, Queen Victoria, to become the longest-reigning British monarch and the longest-reigning queen regnant in world history.
Times of personal significance have included the births and marriages of her children, grandchildren and great grandchildren, her coronation in 1953, and the celebration of milestones such as her Silver, Golden and Diamond Jubilees in 1977, 2002, and 2012, respectively. Moments of sadness for her include the death of her father, aged 56; the assassination of Prince Philip's uncle, Lord Mountbatten; the breakdown of her children's marriages in 1992 (her annus horribilis); the death in 1997 of her son's former wife,Diana, Princess of Wales; and the deaths of her mother and sister in 2002. Elizabeth has occasionally faced republican sentiments and severe press criticism of the royal family, but support for the monarchy and her personal popularity remain high.