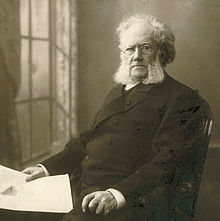 "Take the life-lie away from the average man and straight away you take away his happiness": Henrik Ibsen
'Vildanden' (The Wild Duck, 1884) act 5
About Henrik Ibsen
A propos de Henrik Ibsen
Acerca de Henrik Ibsen
About  The Wild Duck
Michael Leverson Meyer, English translator, biographer, journalist and dramatist, was born on this day in history, 11 June, 1921:
Meyer was born in London into a timber merchant family of Jewish origin, and studied English at Christ Church College, Oxford. His first translation of a Swedish book was the novel The Long Ships by Frans G. Bengtsson, published by Collins in 1954. He is best known for his translations of the works of two Scandinavian playwrights, Henrik Ibsen and August Strindberg. Braham Murray wrote of Meyer in his obituary published by The Guardian that Meyer was "the greatest translator of Ibsen and Strindberg into English there has ever been" even superior to William Archer, but Inga-Stina Ewbank and especially Jan Myrdal has criticizes the mistranslations, where Myrdal tries to prove that they are made deliberately. Myrdal also strongly criticizes Meyer's biography of Strindberg.
Meyer's journalism appeared in the New York Review of Books.. He also wrote acclaimed biographies of both these playwrights; the three volume work on Ibsen (1967-71) won the 1971 Whitbread Award for Biography and the work on Strindberg appeared in 1985. His autobiography Not Prince Hamlet was published in 1989.