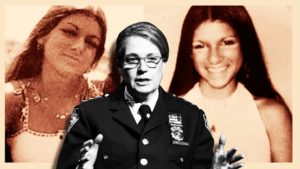 Forty-five years ago, a teenager was brutally raped and strangled in a quiet Queens community. But one cop never forgot her.
In her dream, NYPD Chief Joanne Jaffe could hear the murdered girl calling to her for help.
"From the grave," Jaffe would recall.
When Jaffe awoke, she figured she must have been dreaming of the teenager who had been raped and strangled just down the block from her childhood home in Queens.
Jaffe had only the haziest memory of the killing, but she did recall talk of one disturbing detail: a hairbrush up the girl's vagina.
The dream haunted her, so Jaffe asked her mother and her sister whether they remembered the decades-old murder. Neither did. Jaffe phoned a friend who was a sex-crimes prosecutor at the Queens District Attorney's office, suddenly doubting whether the girl had been real, or if the dream was just some craziness on her part. She guessed the slaying would have been around 1970, when she was 12.
Jaffe's friend said she would check it out and soon reported back via email:
"Hi there… our homicide investigations chief is looking into this. Our own records do not start until 1973, so that doesn't help, and there is no one in the homicide bureau who was here then and is still here now."
The friend said she would also put in a call to Judge Greg Lasak, who had formerly been head of the Homicide Bureau at the Queens DA's office. "[Lasak] has a memory like an elephant," the friend added.
The friend soon emailed again.
"Joanne, I spoke with now Judge Lasak, who instantly remembered the case, although he wasn't there at the time. He said that Det. Patty Kelly had the case. He is now 80. Greg will call him at home and find out more information. It was in the early '70s. There was no arrest, he thinks. Sounds like a good case for DNA and the cold case squad…"