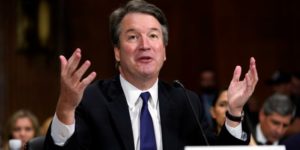 Sabrina Siddiqui and Lauren Gambino write:
The US Senate has voted to confirm judge Brett Kavanaugh to the supreme court, handing Donald Trump a major victory and America a bench expected to tilt to the right for the next generation.
The vote was almost a foregone conclusion after the dominant Republican party secured majority support during a procedural vote on Friday amid crackling tension, furious protests and high drama on Capitol Hill.
But the final vote was still a monumental development in a sharply divided America. It came down to stark political loyalties in the face of multiple accusations of sexual misconduct against Kavanaugh from his past, which brought up current questions about his honesty, temperament and partisanship during testimony.
Kavanaugh has strongly denied all allegations of such misconduct. Votes fell almost entirely along party lines and the nomination passed narrowly, 50-48. The vote was interrupted for a short time by protesters in the gallery.
Moments before the vote, Senate minority leader Chuck Schumer said "Brett Kavanaugh does not deserve to be on the bench" and said he had "repeatedly misled the Senate".
Kavanaugh, Schumer said, is against "environmental protections, women's rights, civil rights, LGBT rights, Native American rights, healthcare protections and workers' rights."
Mitch McConnell, the Senate majority leader, said many across the political spectrum describe Kavanaugh as "a superstar and a legendary scholar" and described him as being of "excellent" temperament and judicial philosophy.
The conservative victory capped a triumphant week for the president. Trump strong-armed a new trade deal with Canada and Mexico, which the markets loved, marked the lowest unemployment rate in the US since 1969, at just 3.7%, and secured the second ultra-conservative supreme court nomination of his administration, after putting Neil Gorsuch on the bench last year. Although, in another roller coaster week for the White House, Trump was hit by a huge investigation by the New York Times that described dubious aspects of his past financial background and prompted the New York tax authorities to begin an investigation.