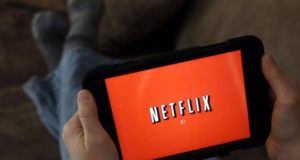 Turkish columnist causes outrage after saying Netflix encourages homosexuality.
Akif Beki, a columnist of Islamist-liberal Karar newspaper, stirred up outrage on Turkish social media after saying on Thursday that television series on Netflix were encouraging homosexuality.
Beki said the normalisation of homosexuality through fiction pushed a person to appreciate the Islamist Yeni Akit newspaper, an outlet that has made fighting with homosexuality an existential mission. The newspaper this week published a report with the headline "The Netflix trap of perverts".
The columnist said yesterday that he had not liked watching the latest season of La Casa De Papel, a television series also known as Money Heist, because it had engaged in what he called homosexual propaganda.
"Yes, nobody can defend someone being the subject to discrimination or violence over sexual orientation," said Beki. "But just because the debate has been based on problematic assumptions, defective prejudices and conspiracies, should someone approve the encouragement of homosexuality by thrusting it in our faces?" he asked.
"It is a different thing to approve the open encouragement of homosexuality by covering it through fiction, to ignore its propaganda and promotion, to serve as a tool for it, and to present it as the most natural choice that could be made," he said.
Beki said Netflix was making such propaganda by quietly placing messages that normalised homosexuality in its content.
Beki received thousands of messages on social media on Thursday after his column was published.
A group of social media users told the columnist that sexual orientation could not be encouraged and this could not be done via television series.
"I became a telepath because of watching Sense8," said Gökhan Yücel citing the Netflix series that was about a group of people around the world who were linked mentally.
"When I was watching Dark, I went 33 years back in time. Keep your children away from that series," said another user, referring to a German series on time travel.
Many social media users told Beki that he could avoid offence by cancelling his Netflix subscription.
"Mr. Akif, if you feel like you are being encouraged to become a homosexual while watching those television series, the series cannot be held accountable for that. You are aware of this, aren't you,"  asked one user on Twitter.