Video/ "anti-Semitism has nothing to do with the Jews": Ruth Wisse.
Conversation with Bill Kristol.
Ruth Wisse on anti-Semitism, Jewish Politics, and Yiddish Literature.
The distinguished Harvard professor discusses Anti-Semitism, Jewish Politics, and What we can learn from Yiddish Literature. Click "Show more" to view all chapters. For more conversations, visit http://www.conversationswithbillkrist… Chapter 1 (00:15 – 34:28): What is anti-Semitism? Chapter 2 (34:28 – 45:50): The Politics of anti-Semitism Chapter 3 (45:50 – 56:04): Israel on Campus Chapter 4 (56:04 – 1:12:43): The University in Decline Chapter 5 (1:12:43 – 1:47:53): On Yiddish Literature Ruth Wisse is Research Professor of Yiddish and Comparative Literature at Harvard and a Distinguished Senior Fellow of the Tikvah Fund. In this conversation, Kristol and Wisse discuss the politics of anti-Semitism, why Israel is under attack in our universities, and the study of Yiddish literature. Wisse explains the nature of modern anti-Semitism and why it is best understood as a political phenomenon. She also reflects on a lifetime of teaching Yiddish literature, and discusses why we should read its great works.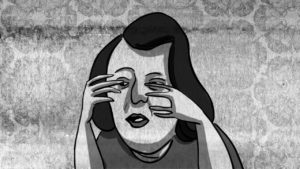 Video/ I Was a Child of Holocaust Survivors.
This short animation is director Ann Marie Fleming's animated adaptation of Bernice Eisenstein's acclaimed illustrated memoir. Using the healing power of humour, the film probes the taboos around a very particular second-hand trauma, leading us to a more universal understanding of human experience.
Directed by Ann Marie Flemming – 2010 | 15 min
About the NFB
The National Film Board of Canada produces and distributes documentary films, animation, web documentaries and fiction. Our stories explore the world we live in from a Canadian point of view.
Watch over 3,000 films for free on NFB.ca – http://bit.ly/YThpNFB
Want more? Sign up for our newsletter – http://bit.ly/YTnwNFB
Connect with the NFB online:
Facebook: http://bit.ly/ytfbNFB
Twitter: http://bit.ly/yttwNFB
Michlean Amir of the U.S. Holocaust Memorial Museum moderated a discussion on writing about the Holocaust with authors Anthony Pitch and Nancy Geise. Pitch discussed his book, "Our Crime Was Being Jewish," featuring vivid memories of 358 Holocaust survivors. Geise discussed her book, "Auschwitz #34207: The Joe Rubenstein Story," one man's tale of survival. For transcript and more information, visit http://www.loc.gov/today/cyberlc/feat…
BUENOS AIRES — Argentinean and international Jewish organizations are demanding action from local and regional authorities amid recent violent anti-Semitic attacks in the country.
The Argentinean Jewish political umbrella DAIA labeled Sunday's attack on Rabbi Shlomo Tawil in Rosario as "brutal anti-Semitic aggression" and demanded an investigation into the climate that may have spawned such violence.
The attack on Tawil is the third physical anti-Semitic assault in the last two months. There other two took place in Buenos Aires, one in April and one in May. Such assaults have been rare.
"Argentina isn't an anti-Semitic country but has anti-Semitic episodes. Now these episodes are more violent and more frequents. This ongoing new reality is very worrying," Ariel Gelblung, the Latin America representative for the Simon Wiesenthal Center, told the Jewish Telegraphic Agency.