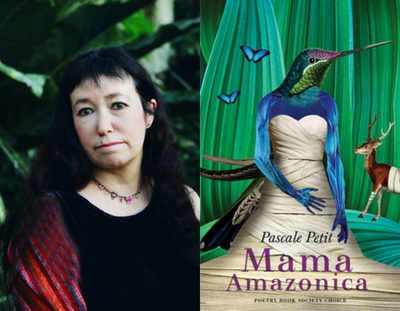 Pascale Petit has been awarded the 2018 RSL Ondaatje Prize for Mama Amazonica (Bloodaxe Books). This is the first time poetry has won the Prize. Please read the RSL Ondaatje – Winner Press Release 2018 for more information.
Pascale Petit responds:
"I'm absolutely thrilled to win this particular prize for a book evoking the spirit of a place. I've been obsessed with the Amazon rainforest for 25 years, and I poured that obsession into Mama Amazonica. The Amazon has become my mother, in all her abused glory, and through that eco-system I am able to love an estranged and mentally ill parent. I've travelled to the Amazon four times, and recently stayed in a research centre deep in the Peruvian pristine jungle, and have observed at close hand how scientists are recording species as they vanish. It was there I saw a jaguar in his home!"
Read Pascale Petit's interview in Interlitq.
UK poet, Pascale Petit's Wikipedia entry.
UK poet Pascale Petit's website.
Read Pascale Petit's contribution to Interlitq's Poetic Voices.
Read Pascale Petit's contribution to Issue 6 of Interlitq.