"Every artist is an unhappy lover. And unhappy lovers want to tell their story.": Iris Murdoch
Read about Iris Murdoch
Read about Tom Phillips
Tom Phillips was the Guest Artist for Issue 5 of Interlitq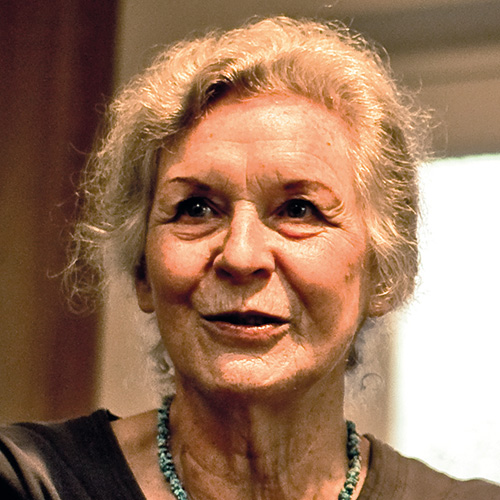 Claire Armitstead writes of Gillian Beer, a Consulting Editor for Interlitq:
By happy coincidence, Beer shares a birthday with Carroll. Her first encounter with him was through a copy of Alice in Wonderland that she was given as a sixth birthday present, which she didn't much like. A year later, she read Through the Looking Glass and loved it: "I can't quite explain the difference."
She was living in Somerset at the time, the daughter of a divorced mother who had been posted away from the family home in the East End of London to work as a village schoolteacher. She recalls "a harmonious childhood", happily billeted in the home of a bricklayer's family, with Gillian attending the local primary school, until she excelled in her 11-plus and the local authority began to question their living conditions. She was sent off to board at Sunny Hill school in the Somerset town of Bruton. "It was a perfectly good convent boarding school, but I was used to being alongside my mother and having lots of conversation with her, so I didn't enjoy it very much," she says.
At 14, she fell down a flight of stairsin the steep grounds surrounding the school and was sent home for six months to recover from a serious back injury. By that time, her mother was being kept busy as headteacher of the local school. "I just started to read: Ibsen and Oscar Wilde. I got one thing, then my ma would go to the library and get everything else they had written. I remember being very struck by Ghosts, which I didn't really understand because I didn't know about venereal disease, but I knew about people going mad in a cloistered life."
Read more about Gillian Beer, a Consulting Editor for Interlitq
Read "Imagining Posterity, then and now", an essay by Gillian Beer published in Issue 5 of Interlitq

Today, April 2, is the birthday of Tsvetanka Elenkova, the Bulgarian author and publisher, and a contributor to Issue 5 and Issue 9 of Interlitq.

Today, April 2nd, is the birthday of Jonathan Dunne, UK poet, literary translator and publisher, and  a contributor to Issue 1 and Issue 5 of Interlitq.
In her essay "Imagining posterity, then and now". published in Issue 5 of Interlitq, Dame Gillian Beer, the literary critic who is a Consulting Editor for Interlitq, states with regard to Samuel Butler, the English author who died today in history, 18 June, 1902:
"The nineteenth-century awkwardly prophetic writer Samuel Butler, for instance, remarks that if you write for posterity you are bound to be misunderstood in the present. In writing for posterity you may be writing solely for yourself. The notion of posterity justifies what is simply an ideolect. Your peers can't challenge posterity. The artist, or the politician, can claim renown, delayed. So 'posterity' has been an important trope for poets since the Renaissance and in the Romantic period. It can be boast or defence."