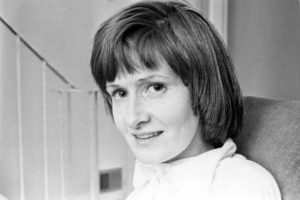 Eavan Boland
24 September 1944 – 27 April 2020
April 27, 2020
Eavan Boland was born in Dublin, Ireland, in 1944. Her father was a diplomat and her mother was an expressionist painter.
At the age of six, Boland and her family relocated to London, where she first encountered anti-Irish sentiment. She later returned to Dublin for school, and she received her B.A. from Trinity College in 1966. She was also educated in London and New York.
Her books of poetry include New Collected Poems (W.W. Norton & Co., 2008), Domestic Violence, (2007), Against Love Poems (2001), The Lost Land (1998), An Origin Like Water: Collected Poems 1967-1987 (1996), In a Time of Violence (1994), Outside History: Selected Poems 1980-1990 (1990), The Journey and Other Poems (1986), Night Feed (1982), and In Her Own Image (1980).
In addition to her books of poetry, Boland is also the author of Object Lessons: The Life of the Woman and the Poet in Our Time (W. W. Norton, 1995), a volume of prose, After Every War (Princeton, 2004), an anthology of German women poets, and she co-edited The Making of a Poem: A Norton Anthology of Poetic Forms (with Mark Strand; W. W. Norton & Co., 2000).
Her awards include a Lannan Foundation Award in Poetry, an American Ireland Fund Literary Award, a Jacob's Award for her involvement in The Arts Programme broadcast on RTÉ Radio, and an honorary degree from Trinity.
In 2015, her poem "Quarantine" about the Great Famine was among the ten poems shortlisted for RTE's selection of Ireland's favourite poems of the last 100 years.
Video/ Discover Ireland – James Joyce Centre.
The house was built in 1784 by Francis Ryan for Valentine Brown, the Earl of Kenmare, who used it as his townhouse. The plasterwork here was done by Michael Stapleton, one of the finest stuccadores of the time. The house was given special mention by Constantine Curran in his book Dublin Decorative Plasterwork of the Seventeenth and Eighteenth Centuries, and the photographs he took were essential to the restoration of the house. Curran was also a close friend of Joyce's. It is located at 35 North Great George's Street, Dublin.
Podcast/ Alastair McIntosh – Scottish writer on Trump, Gaelic, ecology & culture.
Alastair McIntosh is a well-known Scottish author, Quaker, environmental activist and visiting professor at the University of Glasgow. Born and raised on the isle of Lewis of the west coast of Scotland, the birth place of Donald Trump's mother, Alastair is a passionate voice for change on land reform, cultural renewal, climate change and global peace and justice. ……….. About the podcast The Love and Courage podcast features interviews with inspirational people who are making a real difference in the world today. Guests are typically people passionate about social justice, and who have demonstrated courage and conviction in their lives. Host Ruairí McKiernan is leading Irish social innovator, campaigner, writer and public speaker. He is the founder of the pioneering SpunOut.ie youth organization, and helped set-up the Uplift and the A Lust For Life non-profits. In 2012 the President of Ireland Michael D Higgins appointed Ruairí to the Council of State, a national constitutional advisory body whose members include all current and former leaders of the country. Ruairí is the recipient of numerous awards, including a Fulbright fellowship, and he contributes regularly to the media on youth, health, community and social justice issues. …………….. Subscribe, download, rate and review via iTunes, Stitcher, SoundCloud, YouTube and please spread the word. If you are new to podcasts and have an iPhone, simply use the podcast app on your phone. On Android phones, using the Google Play App download an podcast app such as Podcast Republic and search for 'Love and Courage' and then click subscribe. Download each episode individually, subscribe for updates and sign-up for email announcements about new guests and episodes.   …………….. Web:         www.loveandcourage.org Twitter:     @loveandcourage  Facebook:  www.facebook.com/hopehitching Instagram: ww.instagram.com/ruairimc/ Linkedin:    www.linkedin.com/in/ruairimckiernanDonate:     https://www.ifundraise.ie/998_ruairi-… Soundcloud: https://soundcloud.com/loveandcourage Youtube:     https://www.youtube.com/channel/UC1gC…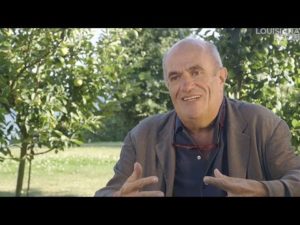 Video/ Colm Toibin Interview: on Writing.
The award-winning Irish writer Colm Tóibín here shares his meticulous approach to writing, and how a novel can begin with – and build on – just one perfectly shaped sentence: "It moves into rhythm when you least expect it." "You could be on your holidays, or you could be on a Friday night about to go out, and suddenly would come a sentence. And the sentence would have the full weight of a novel in it – it's like a melody." When you have the inspirational sentence, it's all about slow, careful work, where you put things into the book, while focusing on creating "a sort of melody that's working in the prose, that isn't monotonous or doesn't draw the reader's attention to it." In order to avoid that it seems literary or forced, you have to constantly make decisions and excisions: "Working becomes a form of erasure as much as a form of addition." Colm Tóibín (b. 1955) is an Irish novelist, short story writer, essayist, playwright, journalist, critic and poet. Among his novels are 'The Heather Blazing' (1992), 'The Story of the Night' (1996), 'The Blackwater Lightship' (1999), 'The Master' (2004), 'Mothers and Sons' (2006), 'Brooklyn' (2009), 'The Empty Family' (2010) and 'Nora Webster' (2014). He is the recipient of numerous prestigious awards including the 2004 Lambda Literary Award (for 'The Master'), the 2006 International IMPAC Dublin Literary Award (for 'The Master), 2009 Costa Novel Award (for 'Brooklyn') and the 2011 Irish PEN Award for contribution to Irish literature. Tóibín has also been shortlisted for the Booker Prize several times. He works as a professor at the Humanities at Columbia University in the U.S. For more about him see: http://www.colmtoibin.com/ Colm Tóibín was interviewed by Tonny Vorm in connection to the Louisiana Literature festival at the Louisiana Museum of Modern Art, Denmark in August 2015. Camera: Jakob Solbakken Edited by: Klaus Elmer Produced by: Marc-Christoph Wagner Copyright: Louisiana Channel, Louisiana Museum of Modern Art, 2016