Read Shanta Acharya's poem "Friendship."
Read Shanta Acharya's poem "Spring in Kew Gardens."
Read Shanta Acharya's poem "Strange Times."
Read Shanta Acharya's poem "Alphabet of Erasure."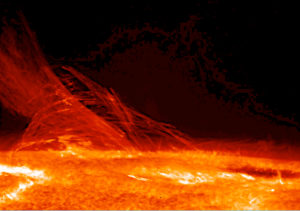 SHRINGARA
The image in the mirror is no longer frozen
in an unimaginable longing.
A participant in life's carnival, I prepare for illusion.
Elizabeth Arden's flawless finish foundation frosts
on skin breathing Shahnaz Hussain's sandalwood face cream.
Givenchy's mascara thickens and lengthens eyelashes,
rosewood powder blushes on cheeks. My mask is complete
with desire red, double colour, everlasting Estee Lauder lipstick.
I spray myself generously with Nirvana and Samsara.
I travel towards what end I cannot say –
Along the way, those I meet and those I do not,
all the things that happen to me and those that do not
keep defining me in some inexplicable way.
Daily the mirror mocks my wrinkles, streaks of grey.
If I am the result of unrepeatable circumstances,
what use is there in seeking escape from self-enunciation?
In the end we are all dead. The days become my shringara.
Note: Shringara is one of the nine rasas, usually translated to as erotic or romantic love. The theory of rasa is the foundation of classical Indian art, including theatre, music, dance, poetry, sculpture. Much of traditional Indian art deals with the relationship between a man and a woman, the primary emotion generated being shringara. The relationship between lover and beloved is also a metaphor for the relationship between the individual and the Divine. In classical Indian painting and sculpture, the shringara rasa is represented by a woman getting ready, putting on make-up, sitting or standing in front of a mirror, facing herself, preparing for a lover, her life. In my poem, shringara refers to all kinds of preparation we make for Life itself. The idea of being prepared also reminds me of Shakespeare's 'ripeness is all' (King Lear, Act 5, Scene 2, 'Men must endure/Their going hence even as their coming hither./Ripeness is all.').
Shanta Acharya, Imagine: New and Selected Poems (HarperCollins Publishers, India; 2017)