Today, November 2, 2018, is the birthday of Maggie Gee, UK author.
About Maggie Gee
When Bram Stoker was researching his world-famous novel Dracula one of his biggest influences was a woman who was born into a wealthy family in the Lanarkshire town of Airdrie.
One of the UK's leading literary institutions has establish how Stoker had a copy of Emily Gerard's book on Transylvanian folklore and took notes while researching his own novel.
Gerard's The Land Beyond the Forest is credited with introducing Stoker to the concept of "nosferatu", a vampire-like creature who sucks the blood of innocent victims.
She wrote her book after spending two years in the mid-1880s in Romania with her husband, who was posted there as an officer in the Austro-Hungarian army.
In her book, she wrote: "More decidedly evil is the nosferatu, or vampire, in which every Romanian peasant believes as firmly as he does in heaven or hell.
"Every person killed by a nosferatu becomes likewise a vampire after death, and will continue to suck the blood of other innocent persons till the spirit has been exorcised by opening the grave of the suspected person, and either driving a stake through the corpse or in very obstinate cases of vampirism it is recommended to cut off the head, and replace it in the coffin with the mouth filled with garlic."
This week, GLAAD released the findings from its fourth annual Accelerating Acceptance report, a national survey that measures American attitudes toward LGBTQ people and issues. For the first time, the 2018 report found a decrease in acceptance of LGBTQ people. Less than half of non-LGBTQ adults reported being "very" or "somewhat" comfortable with LGBTQ people across seven situations. This is a significant decline from the previous year and the first time the report has shown a drop in acceptance for LGBTQ people. There was also a significant increase in the number of LGBTQ people who experienced discrimination based on sexual orientation or gender identity. "In a single year, we've seen significant declines from what had been an increasingly accepting America to one now less supportive. And this lost ground of acceptance cuts across many in American society", said John Gerzema, CEO of The Harris Poll.
To promote awareness of children's books that uplift LGBTQIA+ voices, history, and culture, The Conscious Kid has put together a list of 21 recommended reads. The books are relevant for ages 0–18 so can be used across all age groups to provide early and diverse LGBTQIA+ representation.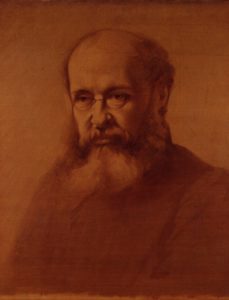 Five Fascinating Facts about Anthony Trollope.
2. He wrote every day before going to work. Anthony Trollope began his writing day at 5.30 every morning, and would write for three hours before going off to his day job at the Post Office. He wrote 250 words every 15 minutes, pacing himself with a watch. He paid his servant an extra £5 a year to wake him up with a cup of coffee. Such productivity would enable him to write 47 novels, as well as an autobiography and, like his mother Frances Trollope, travel books. When a young Henry James met Trollope on a transatlantic voyage in 1875, he found that Trollope shut himself up in his cabin every morning in order to write. Because of his astonishing productivity as a novelist, some critics haven't considered Trollope a serious writer – partly because he treated writing so much like a business, rather than as an art.