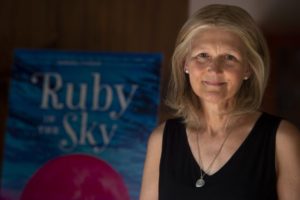 Until two years ago, Jeanne Zulick Ferruolo made her living as a public defender, taking on cases in Rockville and other superior courts for defendants without resources.
Illness compelled her to set aside that career. She has embarked on another one: children's book author. The new choice suits her. Ferruolo's first published novel has been a big success with critics.
"Ruby in the Sky" (Farrar, Strauss and Giroux, 304 pp., $16.99) was released in February. The Washington Post has named it one of its eight KidsPost Summer Book Club Reads, it has won a Work-In-Progress award from the Society of Children's Book Writers and Illustrators, a PEN New England Susan P. Bloom Children's Book Discovery Award, and a New Voices in Children's Literature's Tassy Walden Award.
"I've always loved children's books. I was a voracious reader as a kid and I read to my kids and loved it. Children's books have a simple beauty to them," Zulick Ferruolo says during an interview at her Ellington home, where she lives with her husband Paul, her teens Andrew and Sophia and her dog Meadow.
"It's so important for kids to read books. I grew up in Ashford. In towns like that, kids feel isolated. They have struggles and no one to talk to about it and they feel lonely. Books help find others in similar situations and you feel less lonely," she says. "Seeing yourself in a story is so powerful."
Many downtrodden kids, as well as adults, will see themselves in "Ruby in the Sky." The book tells the story of Ruby, whose mother Dahlia has moved them from town to town after a personal tragedy. They wind up flat broke in Dahlia's Vermont hometown. Then Dahlia gets arrested for a crime she didn't commit.
Ruby hates the town and wants to leave. Her classmate Ahmed, a Syrian refugee, is persistent about becoming her friend. At the same time, she grows fond of Abigail, an old woman disliked by everyone else in town. Ruby, Ahmed, Abigail and Dahlia find ways to stand up for what is right.
"It's a story about finding your own courage and bravery. Bravery comes in all shapes and sizes," Zulick Ferruolo says. "A lot of it in Ruby comes from her being an introverted child. She's not good at speaking out. But when it comes time to speak out on behalf of others, she finds her voice."
Many elements of the story come from Zulick Ferruolo's own life. Ruby owns a golden retriever, Bob, just like Zulick Ferruolo's Meadow. Abigail feeds chickadees by hand, like Zulick Ferruolo's father taught her when she was a child. Most prominently, one of the heroes of the book is Dahlia's lawyer, Annie. As Annie says in the book:
"I've always liked to help people. People who really need help. And when I did that, I discovered I could be brave because it wasn't about me anymore. If I didn't speak up, no one would hear their side. No one would know their story. That's why I became a public defender."
For 91-year-old Stanford scholar Joseph Frank, a newly published capstone volume in a six-piece series marks three decades of research on the Russian author.
Stanford University: http://www.stanford.edu/ Stanford News: http://news.stanford.edu/ Stanford University Channel on YouTube: http://www.youtube.com/stanford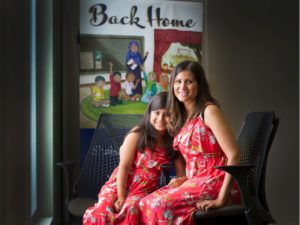 Gordon McIntyre writes:
After a long and thorough search, after Shaista Kaba Fatehali had exhausted every avenue in her quest for stories that Muslim immigrant children could relate to, the kindergarten teacher and doctoral student sat down and wrote one herself.
Back Home, published by Brandylane Publishers, was launched on Monday, a wonderfully written and illustrated tale about a little girl's first day at school in her new country, when all goes from being strange to the realization that people are people (and children are children) everywhere on the planet, that more similarities than differences exist between cultures.
"I can really relate to the experiences these kids are facing and there wasn't any literature they could connect to, that they could see themselves in," Fatehali said. "This kind of book allows them to connect to the characters, connect to the life events, to the similar situations that take place."
Fatehali was a baby in the 1970s when her parents fled Uganda and the bloodthirsty tyranny of Idi Amin, who was targeting people of South Asian descent. An Ismaili Muslim who founded Thrive Kids! to help children discover their inner strengths, identities and sense of purpose, she spent two years writing the book — and almost as long trying to find a publisher that would accept a Muslim as the book's main character.
"It was very difficult to find a publisher," she said. "I definitely know some of that was because it's based on a Muslim character."
Especially in the United States, she said.
"There were a lot of yeses and when they dove into it, those became a lot of nos. They said no right away when they found it's based on a Muslim-values book concept," said Fatehali, who is completing her PhD in early childhood education. "I've written a lot of academic papers. This was 1,000 times harder than writing any kind of academic paper that I've done."
As a Ismaili, neither Fatehali nor her young daughter Myel wears a hijab, but the author wanted the young protagonist in Back Home, Asha, to wear one so everyone was clear she and her family are Muslim. It was important illustrator Michelle Simpson, who lives in Ontario's Niagara Region, drew locks of hair sticking out from the little girls' hijabs, but not from not from the grown women's.
With a backlash against Muslim immigrants unfolding across Canada and the United States, the book's message is both critical and timely, Fatehali said,
"My hope, the underlying message in all this is that amongst us all there is a sense of connectedness, and that connectedness comes from humanity, from human existence.
"I think if that concept is really understood by all, there is a lot we can do with that."