Roses and Thorns Excerpt
Chapter 5
At daybreak Nora walked into her bathroom and took a shower in preparation for work. She was thankful for the dress code. It wasn't strict, so casual clothes could go except on days she had to teach or attend some boring meeting. Picking a red T-shirt and jeans from her ruthlessly organised closet, she dressed for work. She completed her look with her now favourite butterfly sandals and picked her bag.
Looking at herself in the mirror, her eyebrows creased in concentration…something seemed different. After what must have been two minutes of not being able to figure out what was different, she gave up and went downstairs to get breakfast, such was the extent of her patience.
Nora thought of how her feet had never looked cuter. She walked into the kitchen and got slammed in the face with the smell of cooked beans. "Oh mommy! I hate beans."
Elna handed her a plate. "It's protein, you need protein."
"Fish is protein, why can't we have grilled fish instead?"
With a snort Elna walked out of the kitchen. "Grill it and we can eat it together."
Nora followed her, together they made their way to their long dining table and settled there for breakfast. Nora took her meds. "I'd have grilled it, but I'm not supposed to do anything stressful before I eat and take my drugs in the morning remember?"
"Grill it in the afternoon."
"I'm at work in the afternoons."
"Stay home and grill it."
"And get fired? That's bad parenting right there."
"I cooked you a healthy breakfast, I'm a wonderful mother."
"If I follow your advice and I get fired, the completion of this your uncompleted building would go slower because there won't be money from my end …well when I start getting paid. Also, you'd have to keep burning money for my drugs and medical expenses as a good parent."
Elna chuckled. "It's not uncompleted, it's a work in progress."
"That's just polished way of saying the same thing. Mommy the only internal rooms completed are yours, mine, the kitchen and the parlour…that's uncompleted." Nora looked around the parlour. "Hey! You're stuffing things in here again, it's getting stuffy! Ugh."
Elna ignored Nora's displeasure. "I have other children who can help."
"Your other children are stingy." Watching her mom laugh she continued, "your house is really taking shape though, congrats."
Elna's eyes lit with pleasure. "Keep quiet and eat your food," she said, in mock reproof.
"Aye aye captain beans."
Nora walked to work and thought about her job, the salary would allow her take care of her medical bills, contribute to her mom's house and help with her upkeep. "Damn, I need this job."
She thought of the three ladies she had to share her office with and sighed. Being able to work in a team and get along with colleagues were supposedly part of the performance evaluation, so she had to be some level of friendly. And people were shit. Nora growled. "What does team work have to do with anything? It's not like we have to be all buddy buddy to handle necessities, sheesh." She did not exactly have a good track record with female friends. Those ladies keep acting like they want to be all kumbaya, she thought, exhaling. She supposed if she suggested they braid each other's hair, they would be all for it … what a bunch of weirdo's. Her aim was to land somewhere between a polite stranger and a friendly but distant neighbour.
At the office door, Nora noticed it was already unlocked. Pushing it open she saw Ivy hunched over her laptop at her table. At six feet three, Ivy was thick with dark brown skin the colour of rich chocolate. Nora considered her to be pretty, not drop dead gorgeous, but somewhat pretty. She was funny, always discussing someone else's life, had a loud laugh and could talk for hours without stop.
Nora made her way to her seat, opposite Ivy. "Ivy, good morning."
"Hello pretty, how was your night."
"I slept and woke up?"
"That's the best way to do it." Ivy's gaze narrowed on Nora's face. "You have this glow about you today, how come?"
"Huh?"
"You look like you had a good night. Did you have one?"
"I don't know, did I?"
"Yes you did."
Nora thought of the episode of stomach pain she'd had earlier and decided Ivy was delusional. "Well ok."
"It's pretty."
Nora brought her textbook on introduction to business out of her bag. "Thanks I guess…maybe I'm about to be pregnant. I hear women glow during pregnancy, mine could be pre-pregnancy glow."
"Wow no frown with the thanks today, progress."
The corners of Nora's lips twitched. "I don't frown when complimented."
"No, just every other time. People fear you, are you aware?"
"I've worked here just two weeks, that's not enough time to fear someone."
"Two weeks and three days."
Nora eyed Ivy. "Is there a reason you know the exact number of days?"
Ivy chuckled. "I'm not a crazy stalker, ok? Don't stab me with your eyes. "My period ended the day you started work, I'm dreading its return."
Nora snorted. "Oh …ok that's scary."
"Your cold countenance chases colleagues away. Granted some just want you to be nice so they can take a shot but still, you could be nicer."
Nora wondered what stapling Ivy's mouth would look like, the girl was all opinions this morning. "Aren't all the men here married?"
"Your point is?"
"Ew, gross!"
Ivy chuckled.
"I'd heat myself up before coming in tomorrow. Is there a reason I should be toasty to people?"
"You realise the review board consider the opinions of your HOD—head of department—the departmental staff, colleagues, and students right?"
Nora sighed. "Yeah, but I'm polite, doesn't that count?"
"Yes, for departmental staff, those women think you're very respectful and have good home training."
Nora pointed at Ivy and smiled. "See?!"
"You need the colleagues on your side too, I can help you with the students."
Nora gave Ivy a considering look.
"What?"
"Nothing."
Ivy slammed her laptop shut. "Talk."
Nora chuckled. "Did you have to close the laptop that hard?! It could have cracked your screen!"
"It's already cracked, an extra crack won't be the worst thing."
"Oh? Who cracked it?"
"I don't know, but I tell people it's my daughter." Ivy wove her hand. "Save me the lecture ok? She's young no one would give her the stop being careless speech."
"You get the speech often?"
"Of course. Stop stalling … especially after I probably just added another crack to my screen."
Nora chuckled. "It's no big deal! It's just … the short period I've been here I've noticed students always coming to see you with their issues. And they vary so sharply! One moment someone wants to say hi, five seconds later it's some lady wailing about a cheating boyfriend! Who I might add, she seemed very uninterested in leaving by the way!"
Ivy gave a deep throated laugh.
"Stop laughing! I'm just saying…it seems stressful."
"How is advising people stressful?"
"Well, they drain you with their…issues. Do students even read anymore? It's all love and shit."
Ivy muffled a laugh. "For someone who doesn't like to socialise, you sure listen a lot."
"A deaf person would have heard that lady wailing, she was very loud with her… wailings of a broken heart."
Ivy snickered. "He got her a new phone, all is forgiven."
"See?! I was right!"
"Anyway! Students come to me and we discuss. I could help make them love you more than the rest."
Nora's brows furrowed. "How come you want to help me?" She rushed on. "Not that I'm not grateful because I am! I just wondered why me?"
"I like you."
Nora angled her head questioningly. "That is very strange."
Ivy guffawed. "Why?"
"I'm kinda … I think standoffish."
"Oh so you know?"
Nora chuckled. "It just happened to me, I don't know why."
"I like you, Nora. I really do. Also, the other ladies are just not it, you'd make a better colleague."
"So it's a case of picking the one eyed man out of the blinds to be king?"
"Exactly!"
Nora chuckled softly. "I like you too, Ivy."
By 3pm Nora locked the office up and headed for home. Jade and Josie—the other office mates had been a no show today, so it had just been she, Ivy and her never ending student visitors. Ivy had drawn her into stupid conversations with them before she'd had to leave. Nora had given supposedly sage advice and tried to smile more. She shook her head, she was as messed up as everyone else if not more, and she had given advice on dressing how you wanted to be addressed.
"What the hell do I know about dressing?"
If she got this job, she was becoming a vampire and sucking the blood of all the people she'd had to be nice to. The front of the faculty was packed with students taking selfies at different spots for picscell no doubt, Nora thought. As she made her way through the madness she heard her name.
"Nora? Is that you?"
Turning to the direction the voice came from, she saw Ian—still the handsome beanpole he had ever been, walking towards her. She rolled her eyes. "Great." She smiled politely. "What are you doing here?"
Ian shifted uncomfortably. "This is my faculty, I still have classes for today."
"Oh…yeah. Ok cool." She'd totally forgotten he'd told her the last time they saw that he'd just begun university, at the time she'd been in her third year. He'd repeatedly failed the entrance exam up until that year. She remembered how lazy he'd been toward school, and yet she'd love him like that. Damn Nora thought, her teenage love had sure been blind.
Ian smiled at her. "We should go out sometime."
"No."
"Hey common."
She sighed. "We've run into him each other like thrice I think, after you dumped me. Each running in is usually followed with some can I take you out and I still miss you calls and texts Three years still hasn't changed all that? Can we just not?"
Ian smiled. "Hey I couldn't help it. You look so much bigger … your hips are to die for!"
"Huh?"
Ian licked his lips. "You added sexy weight, I almost didn't recognise you. You look so damn … sexy!"
"Almost didn't recognise me?" Nora heard herself ask with a distant sounding voice. That was what had looked different, that was what was off about her body. She was fat! How could she not have seen that? Oh God Nora thought, she despised fatness on herself. She rarely ate much, what the hell had caused it?
"Nora? Nora."
She snapped out of her rising panic. "What?!"
Ian's head snapped back. "I was thinking, maybe I could take you out or something."
"Why Ian do you always ask me out when you see me? Why would I want to go anywhere with you?"
"Well we … I … you know our connection was—"
"Severed, it was severed Ian when you decided screwing Esther was more important than I was."
"I was young and—"
"And evil."
Ian face looked pained. "Nora, come on…I still love you."
She snorted. "It's been six years, your love is irrelevant. You invited me over to your place, proceeded to flirt with your supposed platonic female friend who just magically happened to come visit the same day I was. You then took a very confused me outside, dumped me and started dating Esther another of your platonic female friend. Please explain to me why in any god's name I'd go anywhere with you?!"
"Nora, I'm sorry … I thought you didn't care, I'm sorry … please—"
"And now you tell me in not so many words that I'm extremely fat, and then you ask me out. Your delusion level is through the roof. You can start your new number disturbance calls like you always do, I will keep blocking each one, I got time baby."
"Nora, please ok? I thought you'd be jealous, I thought—"
"Jealous you were sleeping with someone else and then come have sex with you? Wow…who is that level of dumb?"
With that Nora stormed off, leaving Ian in her very angry dust. She heard him call her name but didn't look back. Suddenly her body felt fat and heavy. She needed to get home as soon as possible to check on the weight stuff.
About LOT (Lauren O. Taskar)
LOT was born into a family of five. While growing up she was dubbed cartoon girl due to her love for animation and story books. Managing to be a loner in a big family, she's grown up to become an adult obsessed with not only animation and comic books, but also movies, novels, and writing. She aspires to make others happy through her writing.

Kim Shuck (photo credit: Douglas A. Salin, 2019)
Interlitq's Californian Poets Interview Series:
Kim Shuck, SF Poet Laureate Emerita
DG: As a poet with Indigenous (Cherokee Nation of Oklahoma) and European roots, your work deals frequently with themes of nature, the growing isolation between humanity and the natural world, but also the intersection between the West and Native experience, specifically in your book Deer Trails, but also elsewhere. Along with a discussion of the book, can you touch a little bit upon the tensions, contradictions, and perhaps even harmonies of living in a city like San Francisco, so modern and innovative, yet, at the same time, inseparable from its past Indigenous history?  
KS: As long as people think of themselves as not embodying the natural world, the divisions between some people and Nature will persist. The settler/colonizer mindset can't be aligned with Indigenous perspectives, but if people think of each other as a community, it could do some good for everyone. I think the way that people are cut off from one another and one another's perspectives is a deeper wound than just Indigenous/Non-Indigenous communication. I'm Goral Polish and CNO, that's a pretty modern identity. My children are also Hawaiian and Mongolian, that combination seems very modern to me. My Cherokee dad was a telecom engineer. Tradition isn't a foil for innovation. I think that the answers already exist, but that the historical and contemporary tensions need to be understood, taught and discussed.
Deer Trails was my love letter to San Francisco. My San Francisco—the city I was born in, the city my mom was born in—may or may not always resemble the city as other people see her. My most recent collection Exile Heart is a bit more focused on Indigenous issues, but the poems from both volumes are of similar vintage.
DG: You were elected by San Francisco Mayor Ed Lee to serve as the city's seventh poet laureate. Can you describe some of the projects, initiatives, and campaigns you organized during this time that helped bring not only poetry but also Indigenous issues to the foreground?
KS: I was nominated for the laureateship by my poetic peers and vetted by a group of former laureates, poetry activists, publishers, and librarians. Ed Lee picked me from a short list of three. My suspicion is that he thought I was mostly harmless. In my role as SF Poet Laureate, I organized roughly five readings a month. I was part of a team, along with Thea Matthews and Denise Sullivan, who put together four poetry chapthologies that drew from readings in the Mission District of San Francisco. I gathered poems from SF poets that will eventually become a poetic map of the city, a project that has proven more psychological than I'd anticipated.  With much help, I curated a poem a day for a year. The poems are archived on the San Francisco Public Library site. I got up to a lot of good trouble as SF Poet Laureate. I was contacted recently by a South Asian poetry and art publication who told me that I'd put over 1000 women on microphones over the last five years. That may be true—I haven't counted that, but there have certainly been over 1000 poets. I supported poetry activities that needed support. I've worked with food equity people, housing equity people, health equity people, along with poets and activists who align with the politics I agree with. It may be that my most important activism in terms of the Indigenous part of my heritage has been just working with people of all backgrounds while also being Cherokee, so that the stereotypes could evaporate without too much comment. My personal politics show up in my poetry, but as laureate my responsibility was to support poetry and poets. Now, I certainly know more Indigenous poets than many people do. I've tried to center more Indigenous Californian voices than I've seen done before. I try to mention and support things of local Indigenous concern like the potential destruction of the West Berkeley Shellmound and the story of Felix Cove in West Marin. Strong and important stories feed good poetry. Truth feeds good poetry.
DG: Along with the written word, you're also a visual artists, working in the traditional Indigenous crafts of weaving and beadwork. How do these arts influence your poetry, and, conversely, how does your poetry influence your artistic activities?
KS: Some stories are told in words and some stories are told in beads or fibers. I'm not sure that there's much difference between one and the other. I hold an MFA in fine arts /textiles from San Francisco State University. I also tat, loom weave, fold origami and do string figures. The story finds the medium.
DG: When did you decide that poetry would be more than just a hobby, but a way of life? Do you believe you learned the craft from libraries and books or from life experiences—to some extent it's always both, but which one do you gravitate more towards?
KS: My poetry mom/hero was Carol Lee Sanchez. She organized poetry readings at the Coffee Gallery in North Beach, co-founded the Bay Area Poetry Coalition, helped to midwife California Poets in the Schools and exposed me to live readings from the time that her son and I became friends in second grade. I'm not sure that I ever knew poetry could be a hobby and not a life.
DG: One of your works I always enjoy reading is 21st-Century Meditation, where you write the following: "Memory spirits give me days full of / Words I've forgotten or / Never been taught the / Language in my cells that won't come out." Indeed, the spoken word is a major cornerstone of culture and it's unfortunate that Indigenous languages are dying out at an alarming rate. Efforts to digitize them, such as recording oral traditions and conversations have reversed this phenomenon to some extent, but it isn't enough. Can you think of other ways to address these issues and is there, perhaps, something that poetry can do to preserve the languages and traditions of Indigenous peoples?
KS: I'm glad that you like that poem. My niece, Dr. Jenny Davis, would probably answer this question with more grace, as she is, among other things, a linguistics professor. I can give it a whack though. All over the world we are losing diversity of all kinds: biodiversity, linguistic diversity, cultural diversity. Think of the result of monoculture planting in fields—one successful infection, insect, rogue beast of any description, can take the whole thing out. If language nourishes thought, like a food crop nourishes body, it's probably better to have more than one available. I'm old enough to remember when schools discouraged bilingual parents speaking a second language at home. We now understand that being bilingual or even multilingual is good for cognition. Probably not punishing or beating Indigenous children for speaking their languages has been a good thing for language retention. The best way to foster language retention is to use the language. If you go to Talequah, OK, you will see the CNO does precisely that—signs in Cherokee, opportunities to use the language. It's not about preservation, but about use, and it's important to have the kinds of unique thought tools that each language provides. It's important for everyone that we retain those tools. I don't know what poetry has to add to that, unless it's more poems in more languages. More poems … always a good idea.
One of your most powerful works is Murdered Missing, a collection of fifty poems dealing with "murdered Indigenous women in the western hemisphere," as you write in the introduction. Poetry, as you've stated, can make us aware of the issue, but what else can be done to perhaps reverse this alarming trend?
Smart murderers kill people they think will not be missed. Smart kidnappers take people who have been marginalized. The people who take and kill Indigenous women understand that we are not considered of particular value. If these crimes were investigated the way that other murders and kidnappings are investigated, we might see a change.
About Kim Shuck
Kim Shuck is a poet, educator and visual artist from San Francisco, CA. She holds dual citizenship from the United States and the Cherokee Nation of Oklahoma. Shuck is author of seven books of poetry the latest being Deer Trails from City Lights Publishing and the chapbook Whose Water? from Mammoth Publishing. She is San Francisco's Poet Laureate Emerita.
July 28th, 2020
Ravenna, Italy
Cancel Culture Salad: Women, The Confederacy, Tupac Shakur, Barack Obama, and Robert E. Lee
In one of the most empowering moments for women not just in the US, but all across the world perhaps, Congresswoman Alexandria Ocasio-Cortez took the House floor and issued one of the strongest statements not only in defense of herself, but she also spoke in a way that gave voice to countless women who've had to endure similar insults, such as "disgusting," and "fucking bitch," which were just two of the remarks that Congressman Ted Yoho directed at her. Subsequently, Yoho attempted to justify himself by stating the following: "Having been married for 45 years with two daughters, I'm very cognizant of my language. The offensive name calling, words attributed to me by the press were never spoken to my colleagues and if they were construed that way, I apologize for their misunderstanding." Little did the man know that he was dealing with an empowered individual who wasn't going to concede an argument simply because, at 29, she became the youngest woman to ever serve in the US Congress while Yoho has been married for 45 years. In a charged speech, Ocasio-Cortez addressed the Congressman's remarks in the following way: "Having a daughter does not make a man decent. Having a wife does not make a decent man. Treating people with dignity and respect makes a decent man." Indeed, this isn't simply what we want from our women today—it's what we expect in the 21st century, and rightly so.
Still, is it possible to say—without defending Yoho—that individuals can't be reduced to one action, that they're incredibly complex, that people who aspire to goodness and even those who actually manage to achieve great things do have flaws, sometimes even serious ones? In the age of cancel culture, we need to be incredibly careful about choosing the conditions, traits, and characteristics with which to measure the so-called "goodness" of people. With regard to misogyny, things still haven't improved much in the way men treat women. The president's well-known 2005 remarks in the presence of Billy Bush that were revealed during the 2016 campaign highlight this problem very clearly—while many men today might not be so vocal as Trump about their desires as they were in the past, it's unlikely to believe that male psychology itself has changed very much. Thus, while grabbing them by the pussy is perhaps not something males are comfortable expressing right now, it's nevertheless something they're comfortable thinking in private.
Whatever the case may be, this article is neither meant to defend sexist men, misogyny, Ted Yoho, nor is its purpose to justify occasional insults by men towards women simply because all individuals possess "complexity." What this article will attempt, however, is precisely to take the first step in proposing the following: People should try their best to move beyond an individual's flaws—even at times when those shortcomings are quite serious—but only if said individual would never wish harm upon someone had they not been in the state that caused them to insult or hurt another human being, whether voluntarily or out of ignorance.
The fact that every person has flaws is nothing new; however, the harsh nature of how we're perceiving these shortcomings—the overemphasis on people's negative traits—isn't a recipe for success either. As an idealist, one perhaps too far on the side of Don Quixote, I've always wanted individuals to be more or less perfect, and that's perhaps why I've struggled with friendships, relationships, and other basic human engagements all my life. It's disappointing when people don't live up to expectations; at the same time, it's extremely exhilarating when someone you know does measure up to your level of perfection—if only for a little while; a day after my 33rd birthday, I think I'm really beginning to "accept" that; naturally, this is something I've known for a long time, but there's a big difference between knowing something (or someone) and actually living with it (or someone); the former implies distance while the latter implies complete intimacy. In no way should the meaning here be construed purely on the basis of human relationships; in fact, my point is meant to be understood philosophically.
I've always been fascinated by the demons that afflict individuals and also my own suffering. In a short story called "Cynthia," written by Aldous Huxley and published in the collection, Limbo, the author wrote the following: "I can sympathize with people's pains, but not with their pleasures. There is something curiously boring about somebody else's happiness." The story is about a man named Lykeham who projects an image of perfection onto a woman he admires and also himself; the narrator who flashes back to the story which occurred fifty years ago eventually makes it known that Lykeham is neither the Apollo he describes himself to be (probably closer to Hephaestus) and we likewise get the sense that the woman too may be far from perfect herself, mainly because "here was chaste Cynthia giving herself to him in the most unequivocal fashion." Either way, this article is also neither about Aldous Huxley nor is it about whether beauty plays any role in a man's ability to attract women. What this article will attempt, however, is take yet another bold step: To argue that Aldous Huxley was on to something when he contrasted the way we perceive human beings in our own imagination and how, in turn, those human beings actually are in comparison to those imagined realities we hold in our heads.
Besides just an artistic fascination with people's demons, along with the narrow focus of how suffering may contribute to the creative process for artists, I really didn't start thinking about the issue of flaws very seriously until I rediscovered the music of Tupac Shakur. Before I even begin the main discussion of our topic (finally), I must first take the time to settle an unrelated issue: Contrary to what many people, along with the staff at Billboard (who don't even include him in their ten greatest of all time) like to believe, Tupac was the most remarkable and illustrious rapper of our time. No one in the history of rap (for better or worse) even came close to displaying the type of lyrical and musical range that Tupac showcased during his short 25 years of life—not to mention starring in six movies (three released posthumously).
It's precisely this musical "range" that will help not only drive but round out the argument already introduced. Let's begin matters this way: Any genuine fan of the great rapper knows that there really isn't one Tupac, but, actually, two such personalities—perhaps it's for this reason that his name appears as 2Pac on almost every album, including one of his best-selling, All Eyez On Me.
What I mean to stress is that the man embodied, to an extreme extent, the classic Dr. Jekyll and Mr. Hyde attributes that are, in fact, found in all individuals, perhaps not in the same degree, but this really isn't the main point. The more relevant thing to say would be the following: As I listened to songs from the great rapper in the spirit of Dr. Jekyll and others recorded with the sensibilities of Mr. Hyde, it quickly occurred to me that Tupac, in the 21st century, could either have been the most gentle feminist or the cruelest misogynist—depending on which part of his catalog you burned or destroyed and which musical legacy you left for the cancel culture generation to discover. Ultimately, however, it would be senseless to erase any part of Tupac's artistic output to try and rewrite or even revise his legacy, again for better or worse. Music, unlike statues, is much harder to tear town, and perhaps it's because of this timelessness that we must confront the man known as Tupac Shakur and deal with him in terms of "Keep Ya Head Up" while also reconciling ourselves with "Wonda Why They Call U Bitch" and "There U Go," a song in which he says "Can't turn a ho into housewife," and this isn't even the worst line on this particular tune.
Let's however start with what I consider Tupac's greatest recording and perhaps even the most powerful song in all of rap—that would, naturally, be the aforementioned "Keep Ya Head Up." I can think of no other rapper, especially one so "masculine" as Tupac, who could even begin to approach the type of tenderness that he displayed in the aforementioned track. Released when he was only 22, the song discusses poverty, racial injustice, but most of all it focuses on the plight of women, which will be a general theme throughout the article. The misogyny in early rap music is rampant; from music videos sexualizing women to promoting unchecked promiscuity on the part of the male—all while calling women who act the same way sluts—Tupac is but one piece in this puzzle. The difference, however, is that, unlike the rest, he had a vulnerable side to him that almost no one during the gangsta rap era came close to possessing. Even today, one is hard-pressed to find an artist who's willing to risk the type of vulnerability that Tupac offered in one of his sincerest songs.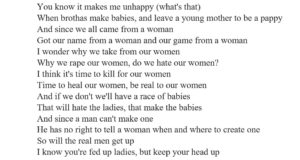 Since Mr. Hyde is never far away, however, the opposite side offers the other extreme—Tupac's rampant sexism and misogyny; even if we continue with the theme of women and skip perhaps the cruelest diss track in rap history, "Hit 'Em Up," where he insults the rap group Mobb Deep, a member of which, Prodigy (now deceased), suffered from sickle-cell anemia (again probably not the worst thing he did on this particular recording), Tupac's "range," so to say, really becomes apparent. In the song "Wonda Why They Call U Bitch," he portrays women who sleep around as the embodiment of vice—without realizing himself, perhaps, that he was glorifying the "playa" lifestyle on almost every track; the double-standard is so blatant here it's surprising that an intelligent individual like Tupac never questioned his own logic or perhaps didn't even realize the hypocrisy. All that, even, wouldn't have been a problem had he not insulted a Civil Rights activist by the name of C. DeLores Tucker in the same song.
It's true that after marching alongside Dr. Martin Luther King Jr. in 1965 and forming the African-American Women for Reproductive Freedom in 1990 with 15 other African American men and women, Tucker dedicated the remaining years of her life to speaking out against the misogynistic and sexually explicit lyrics of gangsta rap. In turn, according to 2005 Washington Post article, "Rappers called her 'narrow-minded.' Some ridiculed her in their lyrics. She was sued by two record companies." In one of his other misogynistic masterpieces, "How Do U Want It," which is in many ways far less offensive than "Wonda Why They Call U Bitch," Tupac gives a clue as to the reason for his anger: "Instead of tryin' to help a nigga, you destroy a brother," meaning that Tucker's refusal to support black rap artists was a stab in the back, mainly because a great number of them, like Tupac, had come from impoverished backgrounds and her desire to silence their message was an attempt to subjugate the black nation and keep it from being empowered, an ideology which, according to the rappers, ran contrary to her own civil rights values of free speech and expression.
It should be noted that the ten million dollar lawsuit Tucker brought against Tupac for both songs was eventually dismissed in court, which, ironically cited the same reasoning as he did for its dismissal. According to the RCFP (a non-profit organization press organization founded in Washington D.C. in 1970): "In explaining its holding in an unpublished opinion, the court wrote that the reference to Tucker 'did not tend to injure her reputation, her business or profession, or expose her to public hatred, contempt or ridicule and thus were not defamatory.' The court described the reference to Tucker as an opinion 'that Tucker was out to hurt rather than to help her fellow African-Americans.'" Along roughly similar lines, an LA Times article appeared which described the civil rights leader's own failures and faults—being fired by Philadelphia Governor Milton Shapp for allegedly asking "state employees to write speeches for which she collected $65,000 in honorariums, some of the money from charities under her supervision." Many rap artists, thus, justified their accusations on these grounds but what Tucker's actions in fact do is simply confirm the message of my entire article, something that Sandra Mills, her campaign manager during the good activist's failed bid for Congress, echoed in the same LA Times piece: "Everybody has some baggage in their past and in C. DeLores Tucker's case, the baggage is in bad property management, but I don't see how that diminishes in any way the public service she is performing for African Americans by fighting against the negative lyric content in rap music." In the same sense, we may apply this to not only Tupac, but all the others like him who've at some point in their lives striven for a better world in which no one can really be perfect.
Now, let's slow down a minute; no one wants to rehabilitate Robert E. Lee, for example, just because he stated the following in an 1856 letter written to his wife: "In this enlightened age, there are few I believe, but what will acknowledge, that slavery as an institution, is a moral & political evil in any Country." Similarly no one wants to romanticize the entire Confederacy simply because at one point in 1864 Patrick Cleburne, an Irish-born American Major General in the Confederate Army, once wrote a pamphlet urging Jefferson Davis to arm the slaves and free them after the war. Indeed, even the Confederacy and the people who served within it were incredibly complex; nevertheless, there's a fundamental difference in the way we must apply this logic for our purposes—while the Confederacy can't get a pass, because it was fighting to protect slavery, individuals like Tupac and others who championed and continue to fight for a better world do deserve some latitude for their shortcomings because they were doing precisely that: Using their power or art to change society for the better.
It may often be the case that it's too late for art to change society—the only thing it can achieve is remind people of a horrific past in the hopes that its message can prevent similar things from happening again at some point in the future; if art has such power, perhaps we can interpret its ability to renew society as a genuine way to reform the world at large, but prospects remain bleak. In the song, "Brenda's Got a Baby," Tupac raps about a twelve year old girl who gets pregnant. Loosely based on a true story of a person the same age, a New York Times article which Tupac had supposedly read or heard about talks about a girl who is "already an orphan, a rape victim and a mother. Now, two days after her newborn son was rescued from the maw of a trash compactor, she has become something more—a symbol of the violence that stalks the young in some corners of this city." Such instances of violence, despair, and hopelessness are precisely the things which Tupac wanted to highlight—it was his way of bringing more attention to these issues.
It might not be Tupac in his most tender moment, but the level of social awareness in the aforementioned song is high, speaking in the most modest sense; likewise, in a very conservative manner, the track "Run tha Streetz," is the exact opposite of "Brenda's Got a Baby," to say the least. Tupac wastes no time telling listeners in the opening lines exactly where women stand: "the secret on how to keep a playa / some love makin' and homecookin', I'll see you later." Not to mention he later repeats the fact that women should prepare meals for him—this time saying please. Tupac's assumption that women must stay in the kitchen is yet again not the worst thing that happens on this track but it nevertheless astonishes—how could a man with such sensitivities, the man who wrote "Keep Ya Head Up" and "Dear Mama," stoop so low? To his credit (whatever is left of it in this instance anyways), Tupac does, at the very least, feature a female vocalist (Michel'le) on this track, and she raps the following lines: "it's a man's world / But real women make the shit go around." Once more, I wish to stress that complexity within individuals doesn't simply excuse whatever mistakes they happened to make; what it should do, however, is give us the opportunity to think about the demons which many good people have; as I've said, we can excuse these negative qualities, if, overall, the person has for the most part dedicated themselves towards fighting for justice.
Speaking of struggling for a righteous cause, no one else in Tupac's family (except the man himself) embodied that trait better than his mother, Afeni Shakur. Having joined the Black Panther Party in 1968 at the age of 21, she wrote for the organization and eventually became a section leader for the Harlem chapter. Along with other Black Panther members, she was arrested in 1969 and subsequently charged with multiple counts of conspiracy to blow up police stations and other public places in New York. Already pregnant with Tupac during her trial in 1971, she chose to represent herself, interviewing witnesses and arguing in court. A 1971 New York Times article states that she, along with the other members, were acquitted and that Mrs. Shakur was "eight months pregnant, [and] represented herself during the trial." The latter alone, without the former, would've been a major accomplishment by itself.
Recognizing the struggles which his mother endured to raise him, Tupac wrote "Dear Mama" as a tribute to the most meaningful woman in his life. Additionally, like in "Run tha Streetz," he naturally mentions that a woman cooks for him (in this case his mother); however, this naturally has no sexist or misogynistic undertones because, firstly, he talks about himself as a child, and, secondly, he also mentions that his mother "comes home from work late," meaning that, although she lives in poverty, she's an empowered individual because of her capability to both work and prepare a good meal for her son—one of the traditional values of motherhood.
As already mentioned, one of the lines in "There U Go" is "Can't turn a ho into a housewife." The line is very denigrating because many prostitutes don't consciously choose to be one—they're often forced into the profession by proxy of human trafficking or because of poor financial resources, as Tupac himself admits in "Brenda's Got a Baby." Furthermore, the fact that his own mother, while never being a prostitute, herself had to undergo hard times and poverty, makes it even stranger that Tupac would speak of women in this way, especially since his mom did manage to overcome difficult obstacles while also being able to raise a child. The song goes on to state blatant hypocrisies such as this:
We're to assume that only men have the right to be irresponsible in clubs, to stay out late, dress up in flamboyant ways, and so on. The double-standard is so blatant that Tupac himself admits it: "It's all good, 'cause there you go / Me I'ma still be a player, all day baby." There's a fundamental disconnect between the type of leisure that Tupac allows himself (and by extension all men), and the type of activities that women are supposed to partake in (staying home, cooking, and raising children).
A lesser known song in Tupac's catalogue called "Mama's Just a Little Girl," from the posthumously released 2002 album Better Dayz, has a somewhat similar message to "Brenda's Got a Baby."
However, despite the fact that the baby also dies in the end, Tupac concludes the song with a heartfelt message, along with the fact that he's probably the only figure in gangsta rap to use the archaic word "thee" in a song:
The rose that grew from concrete is the most powerful metaphor, in my opinion, that Tupac ever created; it's a genuine poetic image in the sense that it can live without music or even his lyrical ability. As Tupac stated numerous times, the phenomenon of a rose growing from the concrete is something so strange and distinct—for this to happen the rose must have a type of will to live that's unequaled by the majority of life. He wrote a poem by the same name, further symbolizing the message that unique and beautiful things can come from hostile environments, but, likewise, stressing the fact that phenomena like these require the greatest willpower on the part of such individuals in order for them to grow in environments everyone claims they can't survive in.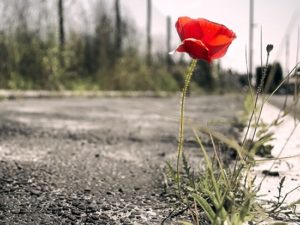 The final song I'd like to contrast is "How Do U Want It." I've purposely chosen to end on Tupac's Mr. Hyde side to really symbolize the fact that people who are in essence good, those who strive for a better world, and those who actually do make some positive changes within it, aren't perfect—they may even have, as in the case of Tupac, very serious flaws, but this shouldn't stop us from celebrating these individuals freely without ourselves being harassed, cancelled, or humiliated; anyways, all this is really material for the conclusion, so let's discuss the actual song before we pursue those matters further.
As we've already seen and as Tupac himself stated on numerous occasions, he was someone who appreciated women, for better or worse. The song can, perhaps, be considered a parallel of Marvin Gaye's "Sexual Healing" for the rap community. It celebrates the female form, sexuality, and worldly pleasures in general—probably to an extent which crossed a few boundaries that Gaye's song didn't; I say this only because in a track which talks about casual sex with multiple women and hitting "switches on bitches like I been fixed with hydraulics," Tupac, somehow, finds a way to diss the ever-present C. Delores Tucker, who was already an unattractive woman of about 69 at the time Tupac released the record in 1996; surely, I don't have to explain the relevance of the age in this matter.
Additionally, the fact that Tupac includes a mention of Bill Clinton in a song about wild sexual escapades is also a statement to his, should we say, talent? I can't speak for Bob Dole, but it seems that contrary to Tupac's premature criticism, the jolly Bill Clinton of forty-nine years really wasn't too old to know how the game is told, given that his decision to have an affair with a twenty-two year old intern called Monika Lewinsky doesn't really favor Tupac's assessment so well, although in his defense, the good rapper himself had already been dead for three years at that point.
Well, it's always good when humor can be brought into a serious environment, but returning to weightier issues, Tupac is the best person to illustrate why we must give people with serious flaws a chance. I've said it and I'll repeat it again: Tupac was the greatest rapper in terms of lyrical composition and delivery, along with being the most influential spokesperson for social justice in that genre. He was a real artist—an actor, a poet, and a soldier for peace, even though his post-imprisonment career began to symbolize the latter less and less. Still, there's evidence that Tupac wanted to walk away from the gangsta rap lifestyle. Even before signing the actual contract with Death Row Records, his manager and two of his lawyers, "argued vigorously with Tupac about his decision to go to Death Row," according to a 1997 New Yorker article called "The Takedown of Tupac." The late rapper, while still in prison, responded to his manager, Watani Tyehimba, in the following way: "I know I'm selling my soul to the devil." Suge Knight paid Tupac's bail in exchange for Tupac's services at Death Row.
Charles Ogletree, his criminal and civil defense lawyer is quoted as saying the following: "I remember seeing him just before his twenty-fifth birthday. He felt it was a glorious day. He never imagined he'd live to be twenty-five—but there was a sadness in his eyes, because he still had these chains binding him. This [Death Row Records] was not where he wanted to be. I said, 'You can be anything you want to be.' He said, 'Can I be a lawyer?' I said, 'You'd be a damn good lawyer!' I sent him a Harvard Law School sweatshirt." Had Tupac fulfilled his dream and actually become an attorney, what would he have said about the times we find ourselves in? There's that would make one believe he didn't have the intellectual capability to attain academic success—just watch this 1992 MTV interview in which he was already speaking about the dangers of living in a Trump-influenced environment, even going so far as mentioning the mogul's name—and you'll be convinced by the way he articulates his points that the man was clearly no idiot. Certainly he had flaws and yes he was reckless, but we shouldn't burn half his catalog and write him out as a human being because of them. When I do wonder what Tupac would've said about our times, I watch this video and it becomes apparent that it's not difficult to image his own take on the Black Lives Matter movement and social unrest in general.
If the previous statement and interview, however, didn't do much to convince, perhaps a more "reputable" figure might. Here's what President Obama himself had to say in Rolling Stone about the so-called "woke" culture back in 2019: "The world is messy. There are ambiguities. People who do really good stuff have flaws. People who you are fighting may love their kids, and share certain things with you. I do get a sense sometimes now among certain young people, and this is accelerated by social media—there is this sense sometimes of the way of me making change is to be as judgmental as possible about other people, and that's enough. If I tweet or hashtag about how you didn't do something right or used the wrong verb, then I can sit back and feel pretty good about myself. Did you see how woke I was, I called you out. Then I'm going to get on my TV and watch my show … That's not activism. That's not bringing about change. If all you're doing is casting stones, you're probably not going to get that far." It's always nice to see that a former president (and a sane one at that) can confirm what you have to say. So let the outrage come. I can handle it.
About David Garyan
David Garyan has published three chapbooks with Main Street Rag, along with (DISS)INFORMATION, a full collection with the same publisher. He holds an MA and MFA from Cal State Long Beach, where he associated himself with the Stand Up Poets. He is currently studying International Cooperation on Human Rights and Intercultural Heritage at the University of Bologna. He lives in Ravenna.