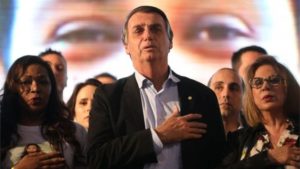 Jair Bolsonaro is one of the most controversial politicians in recent Brazilian history.
The far-right candidate, who has a wide lead in the polls ahead of the second round in Brazil's presidential election, is a man who speaks his mind. And he has revealed his homophobic, sexist and racist viewpoints while doing so.
His supporters have brushed his comments off as bad but innocent jokes or have simply dismissed reports of his more controversial remarks as fake news.
The list of offensive statements he has made is long. He certainly likes to stir. He told a congresswoman she "did not deserve to be raped" because she was "too ugly".
He has justified why women earn less than men by saying they are expensive to employ because they continue to draw a salary while on maternity leave.
He even said that the birth of his daughter had "made him weaker".