Today, 25 July, 2020, is the birthday of Geraldine Maxwell, the UK author who is the UK Editor of Interlitq, and who contributed prose to Issue 13 of Interlitq, poetry to Issue 15 of Interlitq, and an interview with U.S. politician Laura Moser (Interlitq "Featured Interviews").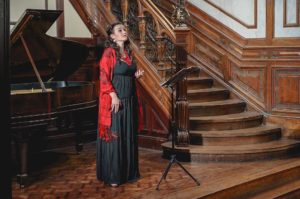 Yamila Musa entrevista (Interlitq Featured Interview)) a Marta Rossi, soprano italiana.
Acerca de Marta Rossi
Acerca de Yamila Musa
Pascale Petit interviewed by Interlitq: read the entire interview.
Interlitq: Would you go as far as to say that your poems are verbal sculptures? Have you given up sculpture altogether?
PP: I have given up sculpture. But I still feel that I'm making sculptures in my poems, with words. I like to make my poems as physical as possible, and the form of the image is crucial to me. I see my poems as objects and installations and the book as an exhibition in a gallery, except… that it's portable! Which is a wonderful idea, that you can carry an exhibition around and store it in a bookshelf! In Mama Amazonica many of the sculptures are tiny, contained in two to ten lines, so you could pick them up if they were made of materials, but there are a fair number of much longer poems, that could be thought of as installations. The title poem feels like an installation to me, or a video film.