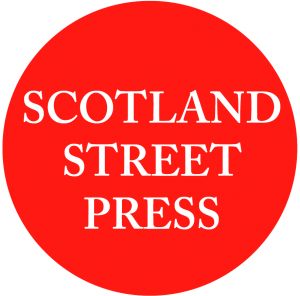 David Garyan interviews Jean Findlay, Head of Publishing at Scotland Street Press
Interlitq Interview Series
DG: As an artist, you've worked and continue to be involved in a wide range of disciplines—from playwriting to having run your own theater company, but also journalism, fiction, and non-fiction. How did it all start and what you led you to become both the Founder and Head of Publishing of an independent label, called Scotland Street Press?
JF: My career did not have a logical or planned progression. I studied Law, French and Philosophy at Edinburgh University. I spent one year of an MA in Photography at the Royal College of Art in London, although at the same time I was running a theatre company in Edinburgh for which I made the posters, raised the funding, acted in and operated the lighting.  The company became huge and by the time I was 26 there were 70 employees and it was touring in Europe to great acclaim. I wrote and directed my first plays with large casts: the first was a group of strippers from the Edinburgh bars for whom I asked the choreographer Liz Rankin, who was working with the Royal Shakespeare Company at the time, to come and direct the movement.  It was unforgettable, especially the piece she developed for opera music. The theatre company burnt me out and I moved to journalism and to London, writing theatre reviews and directing the performance poet Murray Lachlan Young.  This evolved into travel, book reviews and arts features and one salient interview with the Russian poet Irina Ratushinskaya, whom I admire greatly. By this time I had my first son and I reduced work, although there was a short stint as a director at the National Youth Theatre. I kept writing plays while having a second son, and worked at a number of jobs; teaching drama, taking portraits, and eventually winning the commission from Chatto and Windus to write the biography of C.K. Scott Moncrieff. This was a good thing to combine with being a single mother (which is what I had become by this point) and I am grateful to the Hyam Wingate Foundation and the Society of Authors for helping to fund the long period of research and writing.
This book did very well, and more was written about it in good reviews than there is between the boards. However, I still had a vast amount of material and wanted to publish a collection of Scott Moncrieff's own writings: short stories that were originally published by T S Eliot in The Criterion and war poetry.  Chatto and Windus did not want to publish this, so I set up Scotland Street Press, called after the street we were living in at the time in Edinburgh.
DG: Aside from your own impressive artistic career, you also have the good fortune of being the great-great-niece of C.K. Scott Moncrieff—the man who first translated Remembrance of Things Past (also known as In Search of Lost Time) into English and about whom you've already written a fantastic biography published by Chatto & Windus. Can you describe the writing process, along with perhaps some of the surprising things you discovered looking through the family archives, and also how Moncrieff's wonderful, translation shaped all the subsequent ones done by others? Indeed, it was a very good translation, despite what Proust may have thought at the time, and it's still considered one of the best today. 
JF: My mother handed me a battered suitcase full of the papers of her great uncle, the translator of Proust. It contained diaries and notebooks, poems, doodles, limericks and receipts, letters to US publishers and wrangles with Pirandello's agent.   I had never written a book before, but as my mother, grandfather and great-great uncle had all been writers, I took it for granted that I could.  I must admit that my first attempt at the 10,000 word proposal was terrible and my agent must have despaired, however he managed to get a commission and to secure Jenny Uglow, the eminent biographer, as my editor.  Having such a great agent and editor was a stroke of luck.  Jenny took a red pen to every chapter I sent her and I learnt like a pupil at school.  All of Scott Moncrieff's papers were not in the suitcase, there were hundreds of letters in private and public collections in the US and the UK. I travelled to The Berg Collection in New York for the letters to Sir Edward Marsh, to Reading for the massive correspondence with his UK publisher. The National Library of Scotland in Edinburgh holds the correspondence with the poet Robert Graves and the English Faculty Library, Oxford, has those to Wilfred Owen. It was a great adventure, not least visiting the battlefields of Ypres and Arras where Charles fought during the First World War and was eventually wounded.  But it was at the National Archives in Kew where I discovered what no one knew, that during his post war years in Italy, he was working not only as a translator, but as a spy for the British Government.
Scott Moncrieff also translated Abelard and Eloise, Beowulf, the Chanson de Roland, and much of Stendhal and Pirandello. He sold both Proust and Pirandello to the English speaking world.
As for his translation of Proust, many great writers including Joseph Conrad and Scott Fitzgerald held it to be a masterpiece in itself.  Virginia Woolf and James Joyce acknowledge its influence.
DG: Certainly, as a writer, you've had great success and are now enjoying similarly positive developments as a publisher. It would be interesting to hear about a few of the new and exciting things we can expect from Scotland Street Press in the near future, and, perhaps, also to know a bit about the some of the staff and agents who will help make it possible.
JF: Scotland Street Press was founded the proceeds of the US rights sale of the aforementioned biography, so I see us standing on the shoulders of giants: Proust and Scott Moncrieff and the writers they knew.  As I like to take on first-time authors and poets, and translations from Belarus, these are necessary shoulders to stand on. Although the staff have changed constantly over the first few years of start-up, relying heavily on volunteers, we are now a team of four women working part-time: Lucrezia Gaion, Antonia Weir, Kate Jowett and myself.  Last year we were proud to publish Alindarka's Children, a difficult translation of a Belarusian novel in two languages, which won an English Pen Award and was long-listed for the Republic of Consciousness Prize. This year we have a themed schedule called International Women Series 2021, and this includes three poets who have collaborated with artists to create books that are conversations between art and poetry. Do look on our website for the titles : A Song to Keep, Restricted Movement, and Patient Dignity.  The first will launch on the 6th May on our YouTube channel, and everyone is invited to watch this stunning short film about the artists. I am lucky to work with young people who have constant inspiration and enthusiasm.
Like theatre, publishing is a collaborative art.
DG: I would like to speak now about your early days in theater; there will naturally be many who might disagree with me, but I've always felt this particular artform to be more intimate and personal than reading a novel, or even hearing a poem—an experience which does entail the presence of performative qualities. Since you've worked as both a playwright and novelist, it would be interesting to hear not only your perspective on which genre best captures the human condition but also which one you ultimately feel more fondness for, and why? In other words, what are some things you've done in plays that wouldn't have been possible to do in a novel, and, likewise, what are things that now draw you to the novel?
JF: To go from writing plays to non-fiction and then to fiction is like taking giant strides in different directions, while circling around the centre. I agree with you, theatre is the purest, most direct form of artistic communication. My journey away from it was purely for reasons of survival: there is not a lot of funding out there for theatre. I don't think I would have been able to raise a family while working in theatre. There is also the fact that theatre involves much travel and high nervous energy, which doesn't work with providing a stable family home. But ultimately my heart is in theatre, I agree that it best captures the human condition, it speaks directly to the soul of a huge audience; you have a collective response and an individual response, and the power of being able to move people is much greater.
DG: Would you ever consider staging—either in parts or in its entirety—your novel-in-progress, The Hat Jewel, after it has been completed, or are you firmly committed to keeping this particular work on the page? In either case, it would be interesting to know why.
JF: I would love to stage The Hat Jewel!  Actually, the first response of the first reader was, "It reads like a play." There are parts of it, especially the parts with the Fool, which are very funny; and the rest would work as a pageant of Scottish history. Again, it would come down to fundraising, but I expect I am better at that now.
DG: Speaking of the page, many people now wonder about the future of printed books. Having already discussed playwriting, the analogy could, perhaps, be constructed in this way: Flipping through the pages of a printed book (and to make it more interesting, let it be a rare first edition) versus reading the same text digitally is like having the privilege of watching an amazing performance in presence instead of merely witnessing it online—the parallel isn't one-hundred percent accurate, but there's some logic in it. My question, hence, is two-fold: Firstly, how do you see the proliferation of e-books? Secondly, will they completely replace printed ones soon, and if so, will that increase or decrease readership in general?
JF: Just as online performances will never replace theatre, so ebooks will never outsell printed books. As publishers we get yearly data on ebook versus printed book sales and even during lockdown when ebooks had their ultimate boost, printed books were still vastly more popular even though more expensive and more difficult to obtain.  Most people are not fully satisfied by virtual experience. Scotland Street Press publishes books with feel and colour and paintings and different types of covers.  We have an excellent designer in Antonia Weir who is also incidentally a theatre artist. This summer we hope to stage outdoor poetry readings during the Edinburgh Fringe, with the entry ticket being the purchase of a poetry book.  As all of our books are cheaper than your average theatre ticket, we are providing great value.
DG: As you've worked and been successful in a number of artistic fields, what advice would you give journalists, playwrights, and novelists on the eve of their careers?
JF: Do you mean dawn of their careers?  There's not much left at the eve?
If you mean beginning, then I would say: always put the demands of life before the demands of art.  There are many who would put career first, especially women who will put off having children in case they interfere with an artistic career. But I would say there is no art without life. My best ideas have come though working with my own children or with young people, and there is no greater creative production in existence than giving birth.  I'd go so far as to say that if you want to understand creativity in its fullest sense, then you cannot get any nearer than creating another human being. It stretches every faculty, and we are here to be stretched. That of course puts Proust and Scott Moncrieff in a different light, but I expect they would have agreed with me.
If you actually do mean 'eve of career', and I certainly don't think I have reached that yet, then the answer is: never give up, always go back to the blank canvas.  There are novelists like Mary Wesley who started writing at 70 and had a full career beyond, or PD James and Diana Athill who wrote and published well into their 90s.  I look to them and see myself as a youngster.
About Jean Findlay
Jean Findlay was born in Edinburgh. She studied Law and French at Edinburgh University under Peter France and Theatre under Tadeusz Kantor in Kracow, Poland. She co-founded an award winning theatre company and wrote and produced plays which toured to London, Berlin, Bonn, Rotterdam, Dublin, Glasgow and the Pompidou Centre in Paris. She spent years in London writing drama and book reviews for the Scotsman, and has written for the Independent, Time Out and the Guardian.  In 2014 she published Chasing Lost Time: The Life of CK Scott Moncrieff, Soldier, Spy and Translator with Chatto and Windus, now in Vintage paperback and with FSG in New York. She founded Scotland Street Press in Edinburgh in 2014 and now runs this small, award-winning publishing house. For writing The Hat Jewel she won a Hawthornden Fellowship 2018 and a Lavigny International Writer's Fellowship 2019.