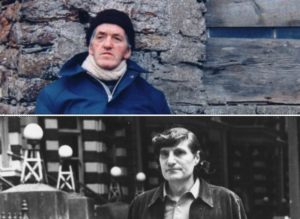 IT'S difficult to imagine two novelists further apart in temperament, disposition, appetite, background and character than George Mackay Brown and Alexander Trocchi. Bringing them together reveals contrasts far more than comparisons. Yet those contrasts illustrate the range of the spectrum of modern Scottish fiction and there's no reason why readers should not take in the whole range. This isn't a matter of exclusivity.
George Mackay Brown (1921-96) was pre-eminently a poet but he was also a playwright with A Spell for Green Corn (1970) and Three Plays: The Loom of Light, The Well and The Voyage of Saint Brandon (1984). Bur more impressive than his plays are his short stories and novels. Perhaps Brown's best stories are in his earliest collections, A Calender of Love (1967), which notes in its Foreword that "Orkney is a small green world in itself", and A Time to Keep (1969). Further story collections include Hawkfall (1974), The Sun's Net (1976), Andrina and Other Stories (1983) – in which the title story is one of the most haunting, economic in style and emotional restraint – The Masked Fisherman (1989), The Sea-King's Daughter (1991), Winter Tales (1995) and, published posthumously, The Island of the Women (1998).
Both A Calender of Love and A Time to Keep establish and return to his favoured themes and questions: archetypes (tramps, ministers, lairds, shopkeepers), Christian rituals (nativity, transfiguration, passion, death and resurrection), worrying matters of technology, progress and commercial exploitation. All these tropes are set against the perennial virtues of the stories, songs and traditions people bear. "Bear" is the word: these things form a people's culture, they are carried, a cargo, a valuable weight that demands effort but also a real nourishment for present and future, drawn from the past. They require both respect and good use.