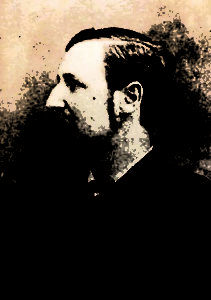 THE identity of Jack The Ripper has been debated for more than 130 years.
But a new book claims the Scottish detective in charge of the gruesome case knew who the serial killer was.
Former trainee school teacher Donald Swanson, from Thurso, Caithness, rose through the ranks of Scotland Yard to head up the Whitechapel Murders.
Five women were slain and mutilated in the East End of London during a bloody four-month period in 1888 — with the twisted Ripper even DISSECTING his final victim Mary Jane Kelly.
To this day 'Ripperologists' continue to hotly dispute the monster'strue identity.
But author Adam Wood believes stoic, mild-mannered Donald — who took the secret of who he believed the killer was to his grave — would be surprised by all the fuss more than a century later.
---
---
He says: "Donald was satisfied that the Ripper died shortly after being committed to an asylum following the final murder.
"As far as he was concerned the case was closed, and there certainly were no more Ripper murders."
The 54-year-old writer was given rare access to the detective's personal archives by his great-grandson Nevil Swanson.
He says: "The family hadn't thrown anything away and when I trawled through it I realised there was a book in it.
"Nevil's father Jim had known Donald, but he said his grandfather would never talk about his work.
"However, apparently it was well-known within the family that Donald knew the identity of the Ripper.