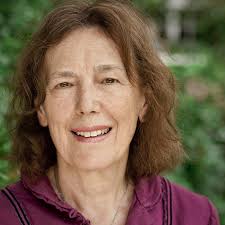 Claire Tomalin interviewed by Rachel Cooke:
She married Frayn in 1993 (though they'd got together years before, following a bit of uncertainty on his part; he was married to someone else) and, eight years ago, shortly after they were both shortlisted for the Whitbread (now Costa) book of the year (she won), they moved from north London to this fabulously comfortable house – it has the biggest garden I have ever seen – where their studies, his neat and hers rather messier, are separated only by a small room full of box files. They are each other's first reader, though he is the strict one. "No, he's not kind. And he's been absolutely savage about my public speaking! I used to read my talks and he said, 'Don't do it, it's so boring, it's absolutely ghastly.' And he was right."
She has, she says, long since come to terms with the isolation of writing; these days, she likes nothing more than "to sink down into the mud", undisturbed. "But my default mode is melancholy. It's partly because of losing my daughter [Susanna committed suicide when she was an undergraduate]; there are things that you never get over. But it's also that writing induces melancholy. It is lonely. You're alone, alone, alone, a hermit, an absolutely intolerable person, and then you finish, and what's coming towards you is talking, talking, talking. I'm in a misery thinking about it."
Except she doesn't look miserable. Her cheekbones glow. My hunch is that she is as close to being contented as any writer can be. Then again, as she knows better than anyone, this might not be saying very much. Dickens – "the meteor… the brilliance in the room, the inimitable" – loved his creations, Smike and Sam Weller, Ebenezer Scrooge and Sissy Jupe. But he could no more have rested on his laurels than he could have become a clergyman or a Cistercian monk.