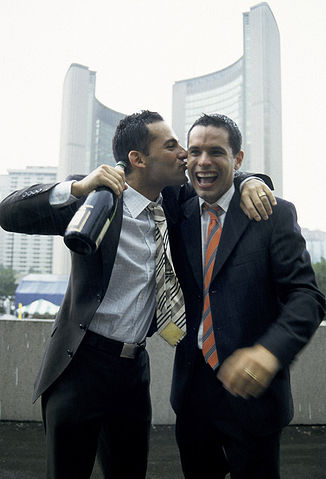 Same-sex couples in Austria will be able to legally marry from 2019 after a ruling by the country's top court.
Its constitutional court said the current marriage law violated non-discrimination rules. The ruling also allows heterosexual couples to enter a civil partnership.
The move will bring the country in line with 15 other European countries.
The Netherlands became the first country to legalise same-sex marriage, in 2001.
The case was heard after a female couple challenged a 2009 law which allowed registered partnerships for same-sex couples, but not marriage.
In a statement, the court said the distinction between the different kinds of unions could not be upheld because it was discriminatory against same-sex relationships, as it forced people to disclose their sexual orientation in situations where that was not relevant.

Es por eso que, aún décadas después de su muerte, la obra del padre del psicoanálisis sigue siendo de interés general. 
A continuación puedes ver un pequeño listado con los libros de Freud más importantes, para que puedas profundizar en sus ideas y valorarlas con sentido crítico. El orden en el que están listados es cronológico, según su año de publicación.

Sigmund Freud escribe:
En resumen: nuestro inconsciente es tan inaccesible a la idea de la muerte propia, tan sanguinario contra los extraños y tan ambivalente en cuanto a las personas queridas, como lo fue el hombre primordial. ¡Pero cuánto nos hemos alejado de este estado primitivo en nuestra actitud cultural y convencional ante la muerte! No es difícil determinar la actuación de la guerra sobre esta dicotomía. Nos despoja de las superposiciones posteriores de la civilización y deja de nuevo al descubierto al hombre primitivo que en nosotros alienta. Nos obliga de nuevo a ser héroes que no pueden creer en su propia muerte; presenta a los extraños como enemigos a los que debemos dar o desear la muerte, y nos aconseja sobreponernos a la muerte de las personas queridas. Pero acabar con la guerra es imposible; mientras las condiciones de existencia de los pueblos sean tan distintas, y tan violentas las repulsiones entre ellos, tendrá que haber guerras. Y entonces surge la interrogación. ¿No deberemos acaso ser nosotros los que cedamos y nos adaptemos a ella? ¿No habremos de confesar que con nuestra actitud civilizada ante la muerte nos hemos elevado una vez más muy por encima de nuestra condición y deberemos, por tanto, renunciar a la mentira y declarar la verdad? ¿No sería mejor dar a la muerte, en la realidad y en nuestros pensamientos, el lugar que le corresponde y dejar volver a la superficie nuestra actitud inconsciente ante la muerte, que hasta ahora hemos reprimido tan cuidadosamente?
Esto no parece constituir un progreso, sino más bien, en algunos aspectos, una regresión; pero ofrece la ventaja de tener más en cuenta la verdad y hacer de nuevo más soportable la vida. Soportar la vida es, y será siempre, el deber primero de todos los vivientes. La ilusión pierde todo valor cuando nos lo estorba. Recordamos la antigua sentencia si vis pacem, para bellum. Si quieres conservar la paz, prepárate para la guerra. Sería de actualidad modificarlo así: si vis vitam, para morten. Si quieres soportar la vida, prepárate para la muerte.
De Guerra y Muerte