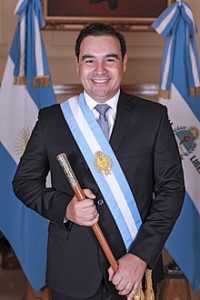 Today, October 15, 2018, is the birthday of Gustavo Valdés, Governor of Corrientes Province, Argentina.
About Gustavo Valdés
Damián Stiglitz entrevistado por Yamila Musa (parte 2).
"La terapia es un recorrido, implica un proceso de trabajo personal que, entre otras cosas, lleva a que uno pueda asumir responsabilidad por las cosas que le pasan y que pueda tener un conocimiento de sí mismo y un mejor manejo de los recursos y herramientas que cada uno tiene para poder resolver situaciones". Así lo analizó para Infobae la licenciada en Psicología María Noel Lucano (MN 34260), quien resaltó que "la Argentina es un país con una cultura psicoanalítica muy importante".
Según la especialista, "la sociedad argentina es una de las más psicoanalizadas de América Latina" y las personas "particularmente eligen el psicoanálisis aunque hay otro tipo de terapias desde ya cada, aunque cada vez están creciendo más".
Antes había como una visión más sesgada de lo que era la psicoterapia y la gente se animaba menos a consultar
Lucano consideró que son "muchas variables" las que llevan a los argentinos a hacer terapia: "Cuestiones personales que tienen que ver con crisis, angustias, malestar, actualmente también la situación social que nos atraviesa como país y las cuestiones político económicas, están entre las más destacadas, pero son variadas las causas que hace que los argentinos decidan hacer terapia".
Una encuesta realizada este año por la Universidad Abierta Interamericana (UAI) reveló que entre quienes hacen terapia, 71,4% lo hace semanalmente, mientras que el 28,6% restante concurre de manera quincenal.