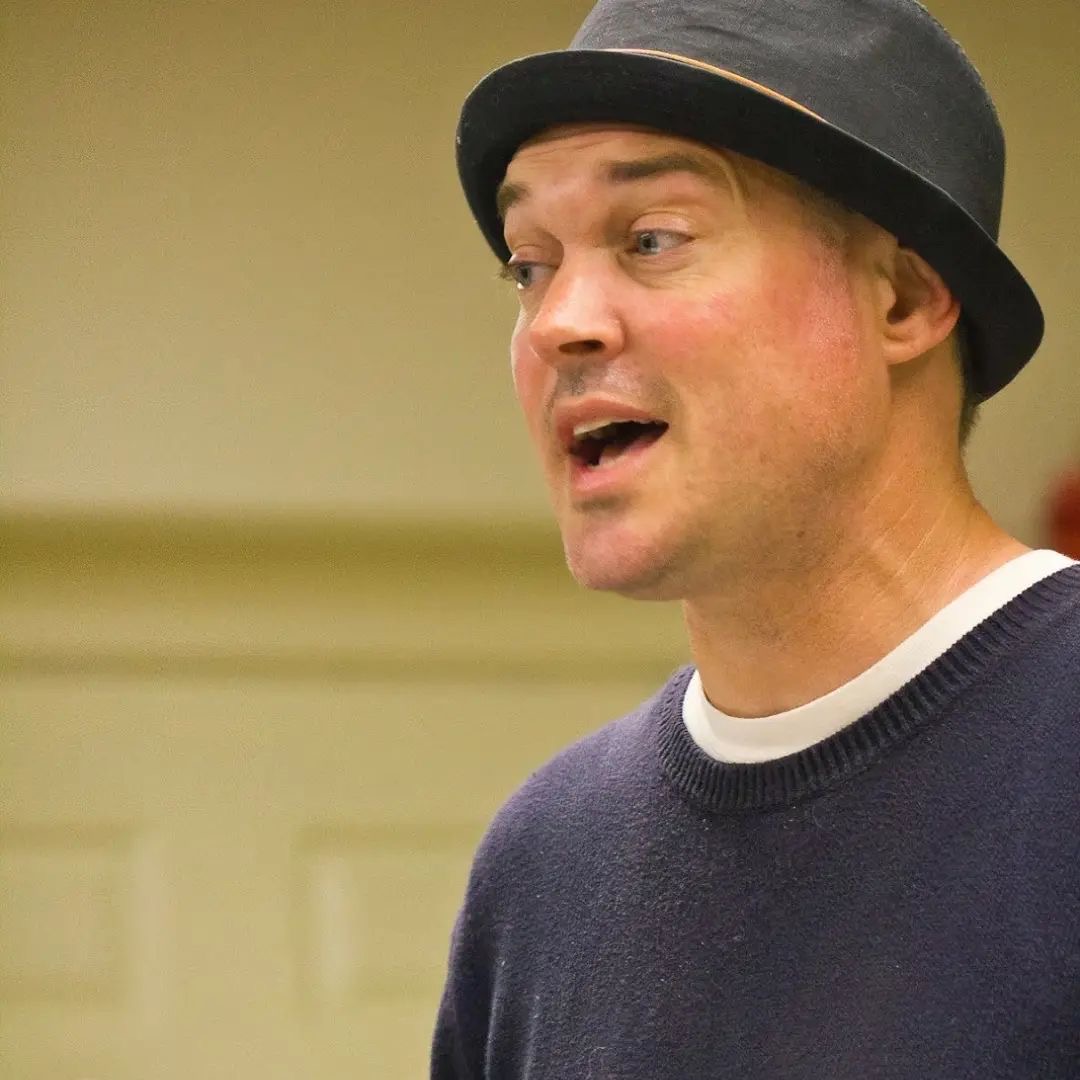 Mike Sonksen (a.k.a Mike the Poet)
Interlitq To Run "Mike's Spoken Word Corner"
Mike Sonksen, Poet, Performer, Journalist, and LA Tour Guide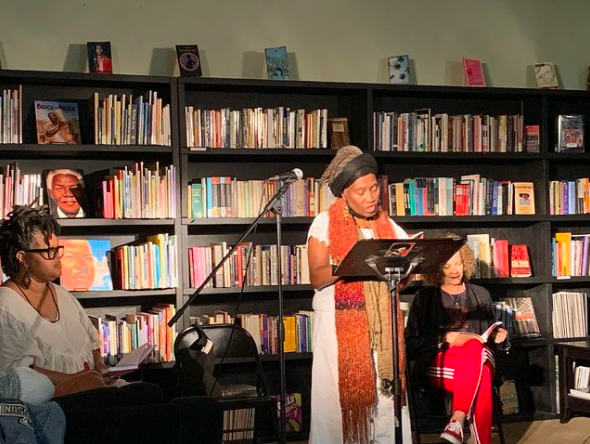 V. Kali reads her poem while Pam Ward and Jaha Zainabu look on
A Whole Ecosystem: Collective Effervescence in Los Angeles Poetry
"It was kind of a snowball effect. My first venue was the Woman's Building downtown on Spring St. where I met Wanda Coleman and Michelle Clinton, both from Watts, like my mom. Wanda was the first to publish my work in an anthology called Women for All Seasons," declares Pam Ward.
Native Los Angeles poet Pam Ward is talking about what happens when you start attending poetry venues across the city. Ward came up in the 1980s Los Angeles Poetry scene. Her experiences with the welcoming poetry community echo legions of poets across America that find the landscape of bookstores, coffee houses, libraries, theaters and galleries that host poetry as the inclusive community they were always looking for.
"Venues were more than readings, they were living, breathing experiences," declares Ward. I joined the poetry community after Ward in the 1990s and I echo her wholeheartedly.
"I loved open mics and always met people who gave me flyers saying they were hosting something and asked if I wanted to read," Ward recalls. "Sometimes I'd run from the Iguana Cafe in Noho and then read at the Roxy then Ya Yas Teahouse." Ward knows LA and she "loved tooling through town and going all over, from Self Help Graphics on the east to Midnight Special Bookstore at the shore."
Ward captures the dynamic zeitgeist of the poetry community. And if you want to get sociological with it, poetry open mics can generate what Emile Durkheim called "collective effervescence," or in other words, a communal shared experience. I know of no better platform than an open mic to build community and empower writers.
When I interviewed Wanda Coleman in 2013 six months before she passed, she shared similar stories to Ward's about running around the city to different poetry venues back in the 1970s. Live poetry's collective effervescence is a timeless phenomenon.
There are too many venues and pioneers to name them all here but this article covers many places and faces that have participated in the rise of the Southern California poetry community. Moreover, in anticipation of a forthcoming column spotlighting audio recordings of poetry, herein also lies a brief history of Spoken Word poetry with a special focus on its evolution in Los Angeles.
(One quick note: If there are any venues in this essay that were missed, I encourage you to write your own history. We can never have too many accounts about the poetry community and the more histories we have written, the more inclusive the history. Some of the venues mentioned here have been written about at greater length elsewhere and when possible, these other histories are linked.)
The Rise of Spoken Word
The rising popularity of Spoken Word poetry across America is because the egalitarian spirit offered in the field of bookstores, coffeehouses, clubs, and libraries hosting readings provides a refuge where all are welcome. This welcoming community spirit is particularly significant in Southern California because the geographic sprawl has made many feel isolated, so the inclusive hospitable world of the poetry scene fills a void for those looking for inspiration and a refuge.
Spoken Word Poetry's popularity has especially emerged in the last generation. There are many factors that have contributed from 35 plus years of poetry slams, hip hop's continued influence, HBO Def Poetry Jam in the early 2000s, the rise of YouTube, hundreds of open mics held across the country to more recent developments like the inaugural poem in January 2021 written and delivered by Amanda Gorman. There have also been thousands of teachers using poetry in their classrooms and the immediate sound-bite nature of poetry is perfect for the short attention span.
Deeper still though is that Spoken Word has always been with us. The roots of its current popularity go back to the earliest beginnings of poetry millenniums ago and are linked over the last century through threads like the Harlem Renaissance, the Beat Generation, the Black Arts Movement, Chicano culture, Punk Rock, performance art, musical theater, let alone hip hop. Before going further a quick definition of "Spoken Word," is necessary.
What is Spoken Word and Why Does it Matter?
The Poetry Foundation states that Spoken Word is "A broad designation for poetry intended for performance. Though some spoken word poetry may also be published on the page, the genre has its roots in oral traditions and performance. Spoken word can encompass or contain elements of rap, hip-hop, storytelling, theater, and jazz, rock, blues, and folk music. Characterized by rhyme, repetition, improvisation, and word play, spoken word poems frequently refer to issues of social justice, politics, race, and community."
Spoken Word is often delivered in colloquial, conversational, direct vernacular language and like the parlance of William Carlos Williams aligned with the "American Idiom." The American Idiom in the 21st Century has evolved since Williams' time but the common thread is that the poet's direct experience is centered anchoring the gravitas of their message. Furthermore, the overall aesthetic is closely connected to hip hop. African-American culture is a guiding influence and many spoken word poets use musicality, a hip hop cadence or rhyming register.
Another way the hip hop spirit pervades Spoken Word is that some of its poets have nom de plumes or monikers similar to hip hop MCs or graffiti artists. This is how Rob Sturma becomes Ratpack Slim, Charles Clayton  —> A Kold Piece, Cory Cofer —> Besskepp, Kevin Stricke —> Stricke9, Phillip Martin —> PhillHarmonic, Gershwin Hutchinson —> Blackbird, Terry Robinson —> Hymnal and countless other examples.
On top of Spoken Word being very hip hop influenced, it is ultimately a timeless form because poetry began with the oral tradition. Former two term United States Poet Laureate Ted Kooser writes: "The original artist-priest sang her stories and poems; today's traditional writer sits at his computer and taps out what might otherwise be sung." Kooser wrote these words in an essay, "Poetry as a Basic Human Need," that was in a 2007 anthology, The Spoken Word Revolution Redux, a book examining Spoken Word with several essays tracing its trajectory.
Evidence of the emphasis on the oral expression of poetry exists globally whether it's the ancient Greek epic poets, West African griots, the troubadours of southern Europe, Irish bards, Japanese haiku poets like Basho, almost every culture had its incarnation of oral poets, even Geofrey Chaucer was known for reciting his poems. The emphasis of poetry on the page is a newer development from the last few centuries.
There have been ideological differences between the different poetry camps, especially in the 1990s and early 2000s as poetry slams, spoken word and performance poetry surged. Kooser notes in the essay quoted above that during his tenure as National Poet Laureate he must have "been asked a hundred times what (he) thought of spoken word poetry."
Dozens of poets and literary scholars have weighed in over the last generation. Some academics criticized Spoken Word and performance poetry a generation ago. This has slowly changed and there are now many well respected poets that thrive on both the page and the stage. Some have even won National Book Awards.
The False Binary of Page and Stage
There are also many poets that "were never caught up in an artificial conflict between page and stage," writes award-winning poet, editor and publisher Michael Warr. Warr served for many years as the Founding Executive Director of Chicago's Guild Literary Complex, a place where poetry performances and books coexisted. "'Performance poets' and 'academic poets' converged upon the same book section at the store," Warr writes in the Introduction to Power Lines: A Decade of Poetry From Chicago's Guild Complex.
Former Los Angeles Poet Laureate Luis J. Rodriguez lived in Chicago for 15 years through the 1980s and 90s and he was Warr's roommate for a time. Rodriguez started his publishing company Tia Chucha Press as the publishing wing of the Guild Literary Complex in 1989. Venues like St. Mark's Poetry Project in New York, Beyond Baroque in LA and City Lights Books in San Francisco share a similar ethos uniting the page and the stage.
Guy Le Charles Gonzalez wrote in a 1999 Poets & Writers essay that the Academy of American Poets created National Poetry Month in April 1996 in part because performance poetry was becoming so popular.  The rise of performance poetry was a gradual process but it took off in earnest in the late 1980s into the 1990s.
The Spoken Word movement surged as an amalgamation of hip hop, poetry slams, the political spirit of punk rock and the presence of poetry in films like Poetic Justice and Love Jones among others. Spoken Word also appeared on the Arsenio Hall Show and in Lollapalooza when Michele Serros and Maggie Estep opened up for musicians at the festival in 1994.
The Chicago poet Marc Smith started the poetry slam in the Windy City around 1984-85 in venues like the Get Me High Lounge and Green Mill. By 1990 there was a National Poetry Slam with teams competing from across America. Nearly every major city had thriving poetry venues, especially Chicago, New York, Boston, the Bay Area, Philadelphia, Seattle, Atlanta, Detroit and of course Los Angeles.
A New York Times essay in September 1994 written by Ken Tucker recounted Spoken Word's rise in the 90s while providing a historical overview. Tucker wrote, "At a time when culture and entertainment frequently seem overrun by computer-era technology and ironic self-consciousness, spoken-word performances radiate a sincerity, simplicity and directness that many listeners find refreshing."
This is even more true now. The immediacy and directness of Spoken Word is especially refreshing in the Covid era as we have been physically and socially distanced on our smartphones and laptops. Before going further, I want to look back through the 20th Century to key developments that influenced the evolution of Poetry.
Poetry As a Transfer of Energy
In the early 20th Century a few poets like William Butler Yeats and Vachel Lindsay were known for their charismatic reading styles. A few decades later Dylan Thomas was also. Many of the poets from the Harlem Renaissance read poetry accompanied with jazz like Langston Hughes.
Charles Olson's "Projective Verse" essay in 1950 was a watershed moment that proposed a poetry that embodies "a high energy-construct and, at all points, an energy discharge." Olson writes about "the kinetics of the thing." His idea of "Open Verse or Composition by Field," considers the breath and how a poem transfers energy to the reader and the listeners. Olson emphasizes the power of the syllable and how "it is from the union of the mind and the ear that the syllable is born."
Olson was writing "Projective Verse" in opposition to what he referred to as closed verse which he saw as the old base of poetry based more on "inherited line, stanza, over all form." Olson's emphasis on the syllable as a core unit of poetry that bridges and electrifies the mind and ear accurately captures the evolution of poetry in the 20th Century and simultaneously foreshadowed dynamic work that came in the following decades.
A few years after Olson's essay, Allen Ginsberg's first public reading of his epic poem "Howl" at the Six Gallery in San Francisco in October 1955 affirmed the transformative spirit of projective verse. Ginsberg's long lines based on the breath channeled the power of his voice and the piece inspired the entire crowd in attendance to stand cheering. Michael McClure was there and he surmised "that a barrier had been broken, that a human voice and body had been hurled against the harsh wall of America…."
Jack Kerouac was also there and he wrote about Ginsberg's poem and that evening in his 1958 book, Dharma Bums. The poem even became so controversial that when Lawrence Ferlinghetti published it in a manuscript for City Lights Books in 1956, the San Francisco Police and US Customs seized the book and it became the subject of a long court trial because many thought the poem was obscene. More than anything this moment affirmed the power of poetry and how the public reading of a work could excite all who hear it.
In the coming years public poetry readings in the similar spirit of Ginsberg became more popular and poetry scenes emerged around America, especially in the Bay Area, New York and in Los Angeles, especially in Venice. Many of these poets read with jazz musicians. More on this shortly.
Generations of Poets
Leroi Jones was originally a Beat poet and close friends with Ginsberg. In 1965-66 he changed his name to Amiri Baraka after Malcolm X was assassinated and then Baraka started the Black Arts Movement. Spirited poetry readings with live music were a big part of this. The Last Poets and Gil Scott Heron emerged with their poetry accompanied to music in the following years. In Los Angeles the Watts Prophets came to rise simultaneously.
The West Coast extension of the Black Arts Movement, particularly the poetry branch flourished at the Watts Writers Workshop from 1965 to 1973. A whole roster of writers became iconic poets renowned for their live readings including Ojenke Saxon, Kamau Daáood, the Watts Prophets, Eric Priestley and Quincy Troupe. Jayne Cortez and Wanda Coleman were also there and both delivered poems like their life depended on it. These poets sometimes performed poetry with jazz, especially with pianist Horace Tapscott and his Pan Afrikan Peoples Arkestra.  (Contemporary LA poets like Daáood and AK Toney continue the jazz and poetry collaborations to this day.)

AK Toney (Photo by Divinity X)
In New York City venues like the Nuyorican Poets Cafe played a seminal role. According to the "About" section of the Nuyorican Poets Cafe website, the venue itself actually opened in 1973 in the living room of writer and poet Miguel Algarin's East Village apartment. Algarin worked with other playwrights, poets and musicians of color like Miguel Pinero to create the space because the mainstream academic and publishing world at the time was not open to them. This gathering of writers became so popular that a "Nuyorican Poetry" anthology was published in 1975 and the New York City poetry community flourished with the Nuyorican as an epicenter.
Miguel Piñero's "Short Eyes," became a Broadway hit and the Nuyorican poetry scene continued to attract bigger and bigger crowds. "By 1981," their site says, "the overflow of audience and artists led the Cafe to purchase a former tenement building at 236 East 3rd Street, and to expand its activities and programs from the original space on East 6th Street."
The Nuyorican started hosting slams in 1989 and in 1994 they published the anthology, Aloud: Voices from the Nuyorican Poets Cafe. New York had many other seminal venues and comprehensive histories of them have been written elsewhere but locations like the St. Mark's Poetry Project, the Black Cat Cafe and the Brooklyn Moon Cafe are frequently grouped with the Nuyorican in NYC poetic histories.
Dozens of writers that went on to distinguished careers came from the NYC slam scene including Maggie Estep, Jessica Care Moore, Paul Beatty, Stacyann Chin, reg e. gaines, Sarah Jones, Taylor Mali, Beau Sia and Saul Williams. Williams, Sia and others starred in the 1998 film Slam and the documentary Slam Nation. In Philadelphia around this same time, the poet Ursula Rucker recorded spoken word tracks with the hip group The Roots. Her debut record Supa Sista in 2001 fused spoken word with hip hop, neo-soul and electronica.
Poetry Every Night of the Week
This brings us back to Los Angeles. Dating back to 1998, I have hosted open mics across LA County from Long Beach to the Los Angeles River, as well as in Venice, Boyle Heights, Echo Park, Highland Park, Koreatown and at Southwest College, Cal State LA, Pasadena City College and Woodbury University. Nonetheless, years before I ever hosted or even read publicly, my friends and I cruised the city soaking up poetry.
When I started at UCLA in 1992-93, I started attending readings in Venice, Long Beach and Los Feliz and underground hip hop shows in Leimert Park. We hit open mics like the Good Life Cafe on Crenshaw and Exposition, 5th Street Dicks, the World Stage, the Onyx, Beyond Baroque and the Midnight Special Bookstore.
The more I attended, the more I met other poets who invited me to new venues. "Word of mouth helped," explains Pam Ward, "and people like Rob Cohen of Caffeine Magazine and Don Kingfish's listing kept us up to speed on places to read." Similar to Ward, I learned poetic geography and history from being immersed. There's an energetic momentum that snowballs the more you attend.
Before you know it you can be out several nights a week attending readings in every neighborhood. This is Durkheim's collective effervescence. And though there are districts like Venice, Leimert Park/Inglewood, Boyle Heights, Watts, Long Beach, Highland Park and Los Feliz/Hollywood that are literary epicenters, there are poetry venues in almost every corner of LA County.
There are even poetry subgenres from more academic and conservative to experimental and avant-garde and other subdivisions. The countless different venues cater to these variations. I've seen all ages of poets read their work from as young as kindergarten all the way into their late 90s.
Pam Ward's stories capture the lit scene's electricity. In addition to Wanda Coleman and Michele Clinton, Ward befriended poets like Amy Uyematsu and Gloria Alvarez. Ward's enthusiasm for the poetry community captures the camaraderie and diversity:
"The variety of venues provided different rhythms, intriguing environments, engaging commentary and cool, badass friends. I heard Merelene Murphy and Michael Lally at Lulu's and a whole New York vibe emerged. I took El Rivera home and she hooked me up with the World Stage. I read with Yvonne de la Vega at the Apex, a hedonist hole in the wall with slasher writing all over and fell in love with her hypnotic delivery. RIP, she was one of the best."
Another poet who schooled me on Los Angeles poetry is Michael C. Ford. Ford filled me in on the earlier days. During the Beat Generation era in the mid 1950s, there were a lot of jazz and poetry events. Ford was in high school when he met Beat poets Kenneth Rexroth and Kenneth Patchen during his senior year. The year was 1958 and it was at THE LA Jazz Concert Hall on Jefferson and Crenshaw.

Michael C. Ford (Photo by Yaryan)
Housed in what is now a church, the space was a former movie palace converted into a concert hall featuring nightly jazz performances. On several nights between 1957-1959, Kenneth Rexroth, Kenneth Patchen and Stuart Z. Perkoff recited their poetry at The LA Jazz Concert Hall with live jazz players. One particular four-day concert series was called "The West Coast Festival of Jazz & Poetry." The Festival is described in Lawrence Lipton's book on the Venice chapter of the Beat Generation, "The Holy Barbarians."
Ford later on became friends with Jim Morrison and Ray Manzarek before they became the Doors when they were all in Jack Hirschman's poetry class at UCLA in 1964-65. Ford did his first public reading in June of 1969 at the Cinematheque 16, a former theater located on Sunset Boulevard where Book Soup now is. Jim Morrison invited Ford, Hirschman and Michael McClure to read while Robby Krieger played guitar. Morrison read the full "American Prayer," for the first time that day. The event was a benefit for Norman Mailer.
Years later Ford collaborated with the punk band the Minutemen when they featured his poetry in their liner notes. (Read A Higher Form of Politics: The Rise of a Poetry Scene, Los Angeles, 1950-1990, by Sophie Rachmuhl for more on Michael C. Ford and 1980s Los Angeles Poetry.)
Ford was a key member of the Beyond Baroque Literary Arts Center's early cadre that included Harry Northup, Holly Prado, Wanda Coleman, Laurel Ann Bogen, Eloise Klein Healy, Jim Krusoe and John Harris among others.
Poetry and Punk Rock
During the same time I first attended open mics, I also hit punk rock concerts at UCLA, Sunset Boulevard and at the Palomino in North Hollywood. On several occasions I saw spoken word poets open up for punk bands. There was an intersection between poetry and performance art. (This connection between poetry, performance art and punk rock was even stronger in New York, see Patti Smith, Jim Carroll, the band Television and many others.)
Spoken Word was often grouped under the performance art category, especially in the early 1980s. The poet and Los Angeles River activist Lewis MacAdams told me that when he arrived in LA in 1980, poetry, performance art and punk rock intersected at warehouse parties, galleries, small clubs and bars in undercover corners of the city.
(Read Doggerel Life: Stories of a Los Angeles Griot by Ulysses Jenkins for a firsthand account of LA's early 1980s performance art scene. Jenkins is especially known for his pioneering video art but he's also a poet and he writes about performance art events with poetry he did at the Lhasa Club and along the LA River.)
The punk band X formed from Beyond Baroque's poetry workshop in the late 1970s. The band's founding members met each other at the weekly Wednesday workshop. Beyond Baroque was founded in Venice in 1968 by the author and former Santa Monica High School teacher George Drury Smith. Smith loved surreal literature and was deeply involved in the day-to-day operations for the first dozen years, but by 1980, he stepped aside.
Beyond Baroque continues as a seminal location for Los Angeles poetry. They have been an epicenter for the intersection of the Beat Generation, poetry and punk rock. (Read Hold-Outs: The Los Angeles Poetry Renaissance, 1948-1992, by William Mohr for more on Beyond Baroque and this era.)
Steve Abee is a poet that bridges punk rock, the Beat Generation and the spoken word scene that emerged in the late 80s, early 90s. "Beyond Baroque is really the connection between Beats and Punk," Abee states. "That's literally where it happened. That place housed LA Beats. I think the poet aspect of punk rock was more interested in spirit and promise, as well as protest, but poetry is by nature more personal and contemplative."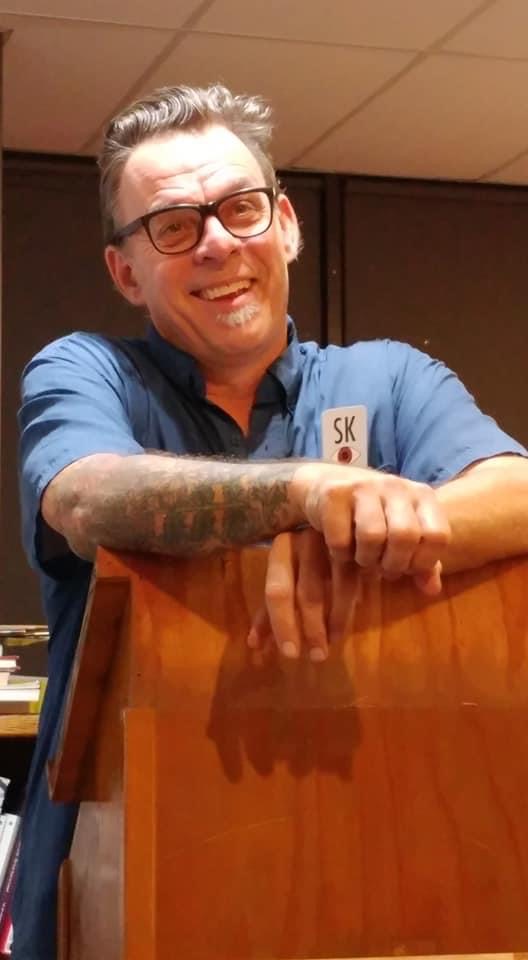 Steve Abee
When many people think of punk rock and poetry they think of Henry Rollins. Rollins was the lead singer of the punk band Black Flag and has also had a successful career doing spoken word since the mid 1980s..
The poet S.A. Griffin was deep in the LA punk scene in the late 70s and early 80s. Griffin's shared several stories with me about the Lhasa Club and similar spaces like the Water Espresso Gallery, Al's Bar and The Anti-Club. Griffin hosted countless events featuring poets like Wanda Coleman, Dave Alvin and Laurel Ann Bogen. "The Lhasa was ground zero for most of what happened during the '80s in Hollywood," Griffin recalls, "whether it was music, performance, poetry or whatever. We all read here as single acts, and performed here countless times."
The Lhasa Club was also the first place Abee read while he was a high school senior in 1985. He described the scene he came up in: "I think there was also an egalitarian vibe to all of it, punk, beat, spoken word, you know, saying all voices are to be heard. We censor nothing. We want it all."
The Egalitarian Spirit
"And all voices should do what they need to be heard," Abee continues. "Do it yourself (DIY). I think both poetry and punk embraced the local due to that DIY egalitarian ethos. You and your friends are a band, a zine, an experience, a voice. Punk rock was really a continuation of the underground culture vibe that stretches back to the bohemians of Paris."
Abee was also a frequent reader at the Onyx Café coffee-house on Vermont in Los Feliz. It was an old school neighborhood coffee house with couches and comfortable furniture. In the 90s there were still many indie coffee-houses scattered across the city before Starbucks took over. There was a popular reading there for many years that melted spoken word, punk, hip hop, slam poetry and the unexpected. Milo Martin. Ben Porter Lewis and Nathan Green hosted its popular Sunday series in the late 90s.
According to SA Griffin, the Onyx Café opened in 1982 and was originally located by the Vista Theater where Hollywood and Sunset Boulevards intersect.  A few years later, the Onyx moved a few blocks west on Vermont.
The Onyx was one of the first places I ever read my poetry around 97-98. I was inspired by all the voices. I remember seeing reg e. gaines and Jerry Quickley read memorized pieces and they both rocked the house. The spirit was bohemian but also subtly Hollywood because it was just north of Hollywood Boulevard. The Onyx was also somewhere Beck performed before he had a record deal.
Many of the poets who read there remain connected and can still be found around LA reading their poetry. The vibe was so memorable that even though the Onyx closed in late 1998, there's still an "Onyx Survivors" Facebook page.
Theory, Praxis, Strategy, Tactics
Ruben Martinez wrote about the vibrant Latino poetry community of the 1980s, especially at a space called Cafe Cultural. I first heard Martinez read about this venue at Beyond Baroque in 2010. His piece vividly described the venue circa 1984 and the writers who were there.
"Café Cultural was at 2036 East First Street," Martinez writes "on the southwest corner at the intersection with St. Louis. The building has a brick façade with elegant cornices of urns and vines and flowers. Inside the ceiling was tall, the space dark and deep, and there was a concrete floor. This is where we made revolution— which is made with speeches and songs and poems and paintings, by selling books and magazines and buttons, with endless arguments over theory and praxis and strategy and tactics, lots of food and drink—ah, Norma's famous chile rellenos. Jackson Browne loved them." (It was like that! Jackson Browne even attended and he's been a big supporter of LA poetry, most recently with the Get Lit Players, a teenage performance poetry troupe.)
Martinez mentioned poets like Rubén Guevara, Marisela Norte and Sesshu Foster who read with him there. Foster ended up publishing the above quoted piece on his blog. Foster and Martinez mentored youth poets at Hollenbeck Middle School in Boyle Heights in an afterschool poetry club during the 1980s.
An important cohort of women poets emerged from the Eastside of the city in the 1980s. Women like Gloria Alvarez and Marisela Norte have been writing for over 40 years now. Boyle Heights, Lincoln Heights and El Sereno have been important neighborhoods for poetry. Luis Rodriguez has written about the Los Angeles Latino Writers Association that started in 1976. When he started working with them in 1978, they were holding writers' workshops in Highland Park on Figueroa.
Founded by Victor Valle as an extension of the Chicano arts and literary magazine, ChismeArte,  this group was instrumental for Rodriguez because they published his first story. They also introduced him to Manazar Gamboa. "Manazar became my friend, teacher, mentor," Rodriguez recalls, "since I also lived the street life and poetry/words were my life line out of my own traumas, losses, and addictions."
Writers of All Genres
The Los Angeles Latino Writers Association moved to Echo Park around 1979-80. The group continued to expand and they started the Raza Reading Series where they invited poets like Lorna Dee Cervantes, Jose Montoya, and Gary Soto to feature. "We created the Barrio Writers Workshop for Chicano writers in all genres," Rodriguez remembers. "Well known people such as Naomi Quinones, Marisela Norte, Helena Viramontes, David Diaz, Jesus Meno, Roberto (Dr. Cintli) Rodriguez, and artists like Barbara Carrasco were part of these circles. We met the ASCO arts collective, people like Harry Gamboa, Pattsi Valdez, Gronk, Diane Gamboa, and Willie Herron."
Rodriguez and the Barrio Writers Workshop began working with Self Help Graphics in East LA. In 1982, Rodriguez became the director of LALWA and the Managing Editor of ChismeArte.
Simultaneously, Rodriguez also worked with Manazar Gamboa to start the Galeria Ocaso on Sunset and Micheltorena. Rodriguez was the poetry curator and they kept the space busy with readings, music, art & workshops. By the mid 80s, Rodriguez moved to Chicago to join its literary community, but it was his early days in LA with Victor Valle, Manazar Gamboa and these writing groups where he got started.
When Rodriguez moved back to LA in 2000-2001, he and his wife started Tia Chucha Cafe Cultural Gallery and bookstore. Tia Chuchas has become an institution and it continues to this day. In many ways the roots of Tia Chucha's date back to these earlier spaces and workshops.
A Reading in Every District
Throughout its history, countless writers have lamented Los Angeles's lack of one central focal point. The city's literary community abides by this to some extent but within the sprawling landscape of literary venues, there are a few central nodes that have served as significant hubs in the city's poetry and community arts scene like Venice, Leimert Park, Boyle Heights, Long Beach, Northeast Los Angeles/Pasadena and Los Feliz/Silverlake/Echo Park. Over the years there have been efforts to bring these communities together.
Among many seminal moments in Los Angeles Poetry there's the Los Angeles Poetry Festival founded by Suzanne Lummis and Sherman Pearl in 1989. It ran from 1989 to 1994 and in its heyday, the festival did one poetry event in each of Los Angeles's 15 city council districts. Funded by the Los Angeles Department of Cultural Affairs, they not only did events in libraries, bookstores, coffeehouses, museums and galleries, they often used more unconventional sites like Kelbo's Ribs on Pico, and St. Bede's Episcopal Church.
Suzanne Lummis sent this list of some of their specific events. The readings included "Poets React to L.A.," "Representations of Exile—Language Poetry in Los Angeles: Reading and Symposium," "Poetry in the Arroyo: 1900—1991," "Deaf Poets Evening," "The Poetry of Russian poet Anna Akhmatova," "Tribute to Black Bards," "Work and Heart: Poets Reading About Work," "Poetry and Conscience," "Halloween and Dia de Los Muertos Closing Party (Reading of scary poems and elegies for the dead) and "The Poem, the Play and the Song."
Following the festival's five year run, Lummis published Grand Passion: The Poets of Los Angeles and Beyond, an anthology from 76 Los Angeles poets—published by the Festival's imprint, Red Wind Books. Through the second half of the 90s, the festival alternated years and then transitioned into a reading series at the LA Central Library called "Newer Poets Reading. " Lummis has also done other iterations of the festival like the 2011 Poetry Noir Festival.
Previously mentioned locales like the Woman's Building, the World Stage, Beyond Baroque, Self Help Graphics, Tia Chuchas, Avenue 50 and other sites like Barnsdall Park and the William Grant Still Center have been epicenters for poetry events. Guided by community principles, these venues have gone a long way towards creating collective effervescence.
In the years between 1997 and 2000, six seminal poetry venues emerged around the same time: Avenue 50, Da Poetry Lounge, A Mic & Dim Lights, the Flypoet Showcase, Tia Chuchas and Tuesday Night Cafe. They have all flourished consistently over the last two decades with a longevity seldom seen. As vibrant as the literary community is, many spaces come and go.
Though for most of its existence the Flypoet Showcase has been a feature-only monthly event showcasing about 5-6 poets since 2001, it began as a weekly open mic in 2000 at the Monsoon Restaurant at Santa Monica's Third Street Promenade. Hosted by John Hensley aka the Flypoet, it was held on the eatery's second floor in a big room.
Phillip Martin and I attended the first several months and during that time we ended up meeting two other poets we became close friends with: Cory Cofer aka Besskepp and Ladon Seven Epperson aka Hollywood 7. 22 years later we all remain close. The Flypoet Showcase continues to this day and it often includes a performance painter, a few spoken word poets, a singer-songwriter or two and even sometimes a soul singer or some other vocalist.

Cory Cofer (aka Besskepp) with DJ JB
Founded in 2000 by Kathy Gallegos, Avenue 50 was recently featured in a Los Angeles Times essay written by Vickie Vertiz. "Gallegos created the space to help Chicanx and Latinx visual artists who were being rejected by local museums," Vertiz wrote and because Gallegos knew writers face similar gatekeepers, she embraced hosting poetry events in Avenue 50 also. There have been multiple reading series there over the last 22 years, usually on Sundays. Hosts over the years include Suzanne Lummis, Jessica Ceballos, Don Newton and Angelina Sáenz. Luivette Resto remembers Avenue 50 as the first place she read her work in Los Angeles 17 years ago.

Luivette Resto

Jessica Ceballos
Little Tokyo to Historic Filipinotown
The Tuesday Night Project in Little Tokyo has also been called Tuesday Night Cafe. For the last two decades, the Tuesday Night Project has been a mecca for hundreds of LA's Asian American poets. Founded by traci kato-kiriyama in 1998, countless poets have started here. When the event initially began, traci was working at the Japanese American National Museum (JANM) and she had just graduated from Cal State Fullerton. Community leaders at the Little Tokyo Service Center, specifically Evelyn Yoshimura and Bill Watanabe gave her permission to host poetry in a prominent Little Tokyo courtyard.

traci kato-kiriyama and Amy Uyematsu
traci was assisted by her JANM co-workers Cara Chow and Vicky Murakami. The series took off quickly because there were so many who needed a creative outlet including the band Visiting Violette composed of Lee Takasugi and Glenn Suravech, the here and now theater company, the Union Center Cafe and supporters at Visual Communications including Linda Mabalot and Abe Ferrer. DJs Mike Nailat and Byron Dote played between poets and an early open mic performer Johneric Concordia, became the host for several years. Concordia is now the co-owner of The Park's Finest, a popular eatery in Historic Filipinotown.
After all these years traci is still involved with the Tuesday Night Project as the director of the organization. Their flagship series Tuesday Night Cafe is now curated by Sean Miura with a team of young organizers. Moreover a related event, Sunday Jump, held in Historic Filipinotown has emerged from the Tuesday Night series.

Allan Aquino
Tuesday Night Cafe is where I met the poet and Cal State Northridge Asian American Studies Professor Allan Aquino. Aquino started in September 1994 when he read his poetry at the Festival of Philippine Arts & Culture in the Cabrillo Marine Aquarium theater stage, an event hosted and curated by Irene Suico Soriano. Soriano bridged communities and brought a lot of poets together from across the city. She has many fond memories:
"I remember co-hosting my first literary reading with the Festival of Philippine Arts & Culture at Cabrillo Beach with Wendell Pascaul who incorporated his own reading series 'Our Path To Follow' (toured SoCal Universities and colleges) into the program we put together! It was so exciting to invite writers to a Filipinx centered venue and also be able to offer an honorarium for their creative labor!" Soriano went on to host events at the Japanese American National Museum, the Japanese American Community Cultural Center and the Highways 18th Street Complex in Santa Monica.
Soriano even hosted an event at the Getty Museum in November 2002 for a CD project called  "In Our Blood: L.A. Enkanto: Filipina/o American Poetry and Spoken Word from Los Angeles." The album featured Filipino poets representing different L.A. County neighborhoods. The album was co-produced by Aquino, Soriano, Cheryl Deptowicz, Dorian Merina, and James Ardena. The response to the album was so strong that they not only did the reading at the Getty but at several colleges.
An Entire Ecosystem
Compton College Professor David Maruyama was one of the editors of disOrient Magazine, an Asian American Literary journal from the late 80s and early 90s. Maruyama also worked with Irene Soriano, the World Stage in Leimert Park and Barnsdall Art Center in East Hollywood. He describes a time in the 1990s when many of the community arts centers mentioned above cross pollinated.
"There were a lot of collaborations," Maruyama recalls. "One was called, 'When Words Collide.' There were poetry performances by the LA River. At one point, Beyond Baroque poets read at World Stage. For Asian American Pacific Islanders (AAPI), we never had a space. We did read at 5th Street Dicks coffee as invited by Father Amde from the Watts Prophets. It was an entire ecosystem."
And this ecosystem continues to this day. One of the other longest running venues besides Beyond Baroque is the World Stage in Leimert Park. The World Stage was founded by the great poet Kamau Daáood and the legendary jazz drummer Billy Higgins in 1989-90. The Stage has evolved a lot over the years but it remains in Leimert Park on Degnan Boulevard. They even now have a publishing wing, World Stage Press.
In the 1990s and much of the 2000s, their writing workshop, aka the Anansi Writers Workshop was run by Michael Datcher who modeled the workshop after June Jordan's "Poetry for the People Program."  Datcher was mentored by Jordan at UC Berkeley and he carried on her legacy at the Stage with Daáood, Pam Ward, S. Pearl Sharp, Imani Tolliver, Conney Williams, Peter J. Harris, Shonda Buchanan, V. Kali, AK Toney, Alice the Poet and so many more. Shonda Buchanan published two anthologies that came from the Stage: 2006's Voices from Leimert Park and a follow up in 2017, Voices From Leimert Park Redux: A Los Angeles Poetry Anthology.
Now in 2022, the Community Literature Initiative and Sims Library of Poetry started by poet and professor Hiram Sims are also affiliated with the World Stage. Sims teamed up with Conney Williams to start World Stage Press. World Stage Press has published almost 70 books in the last five years, including collections by Williams, Pam Ward, V. Kali, Niki Billingslea, Cynthia Guardado, Imani Tolliver, Kuahmel, Charles Clayton, Karo Ska and Jaha Zainabu.
Los Angeles poetry keeps growing. Poets like Rick Lupert and Don Campbell have hosted events for 30 years. There's also the Los Angeles Poets Society based in the San Fernando Valley closely connected with Tia Chucha's. Another significant reading is the Sandra Bland series started by F. Douglas Brown at ArtShare in 2016.
There are traveling series like Sparring with Beatnik Ghosts which has hosted 88 shows between San Francisco and LA with one-offs in Santa Cruz, Oakland, Berkeley, and various bookstores and galleries along the coast. Daniel Yaryan started his Sparring series at the Li Po Lounge in San Francisco's Chinatown on August 23, 2008. He even hosted a reading at the original Six Gallery site where "Howl" was first read in 1955 on Fillmore Street.
Over 400 poets have read in the series including Lawrence Ferlinghetti, Ramblin' Jack Elliott, Wavy Gravy, ruth weiss, Jerry Kamstra, Michael C. Ford, David Meltzer, Lorna Dee Cervantes, Wanda Coleman, Jack Hirschman, Floyd Salas, Lewis MacAdams, Julia Vinograd and QR Hand.
Yaryan's Sparring series has bridged generations, poetic styles and West Coast poetry. When asked why he started it, he says, "I was compelled to see a legacy of poets live on. This would be done through honoring the living elders and the recently deceased poetic giants. Also, seeing to it that there's a voice for now and into the future. It's important to recognize the past to ensure a new chapter for the artform — to rejuvenate it and keep it alive."
Yaryan recently published Sparring With Beatnik Ghosts Omnibus, a 600 page book dedicated to Michael C. Ford with hundreds of poems from dozens of poets and tributes to departed poets like Lawrence Ferlinghetti, Wanda Coleman and F.A. Nettelbeck.
Slammin' Poetry
When it comes to Los Angeles Poetry Slams, Da Poetry Lounge on Fairfax at the Greenway Court Theater has been a slam epicenter over 20 years. Many poets who were on HBO Def Poetry Jam performed here like Gina Loring, In-Q, Sekou Andrews, Besskepp, GaKnew, Poetri, Shihan, Steve Connell and Thea Monyee. The actor Omari Hardwick was also one of the originals before transitioning into TV shows like Power. Another regular, Javon Johnson started as a Slam champion before going on to get a Ph.D. and writing a book called Killing Poetry, a treatise on the poetry slam and how spoken word transformed 21st Century poetry.
Similar to Nuyorican Poets Cafe, Da Poetry Lounge also started in a living room. Founded by Dante Basco, Poetri, Brotha Gimel and Shihan, the four poets began in Dante Basco's living room around 1997-98. (The name "Da Poetry Lounge," came from "Dante's Poetry Lounge.")
The reading became so popular that they moved around before landing at the Greenway Court Theater on Fairfax where they continue every Tuesday night. Recently, they have staged the annual LA Get Down Festival a week-long of spoken word and hip hop programming. The City of West Hollywood just honored Shihan along with Amanda Gorman.
Spoken Word venues like Da Poetry Lounge emanated a deep hip hop thread. A Mic & Dim Lights in Pomona founded by Cory Cofer aka Besskepp and James Brady, aka DJ JB is another location that was open for 20 years with a heavy hip hop vibe. Held Thursdays in the Pomona Arts Colony on Second Street, countless poets from the Inland Empire read here until it stopped in October 2020.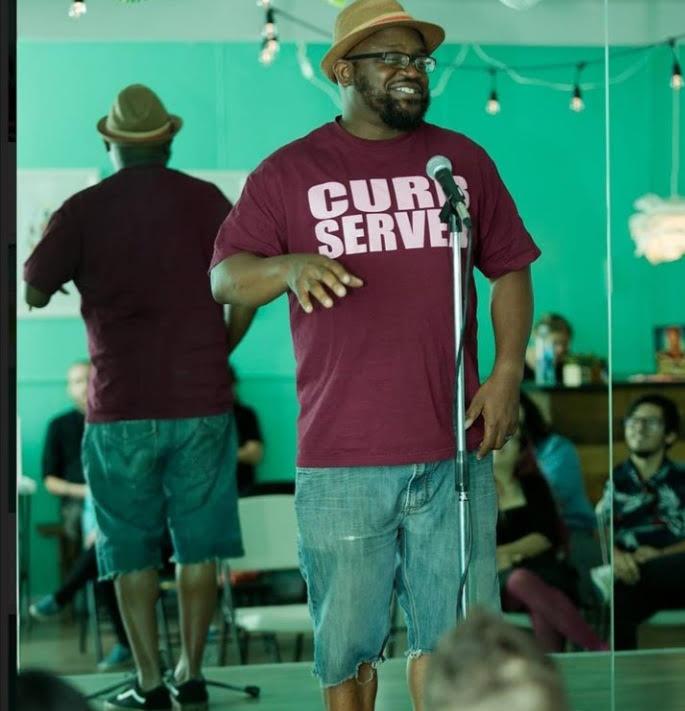 Cory Cofer (aka Besskepp)
In between poets, DJ JB mixed beats by J Dilla, DJ Premier. Pete Rock and other golden era hip hop producers. Journalist Lee Ballinger paints the picture, "People you've never met greet you warmly. And the lights are very, very dim. The hip-hop vibe is deliberate. Besskepp says hip-hop is what inspired him to become a writer."
Besides Besskepp and JB, their core team included Brother Dvooa, Tamara Blue, Simply Kat, Ghetto Spear, LaVoice, Bomani, Judah One and Mark Gonzalez. In later years they were joined by Metaphysics, David Romero and Matt Sedillo. There have been offshoot readings like Lionlike Mindstate that spawned from A Mic & Dim. Lionlike Mindstate has had its own 14-year history and its founder Judah 1 started a two-week poetry festival in May 2022 in conjunction with the LA County Fair.
There was an infectious warmth at A Mic & Dim that reflected Besskepp. Every time he ended the night he'd recite the same 20 line poem and most of the crowd chimed in because they all knew it by heart. This was collective effervescence at its finest. The last four lines go:
I'm tired of fist fights
Just like  i'm tired of gym tights
I'd rather be in a cafe or something
With a mic & dim lights!!
Sacred Spaces
Besskepp, similar to Pam Ward, has memories of running around the city multiple nights a week. "I was grateful," he recalls, "to encounter three of the dopest weekly open mic's a poet could ask for during my first couple of years in the poetry scene. 33 1/3rd on Mondays, Da Poetry Lounge on Tuesdays and World Wide Open Mic in Leimert Park on Wednesdays."
33 1/3rd was at Luna Sol Cafe on the north side of 6th Street by MacArthur Park. Besskepp recalls: "Hip hop, revolutionary, dim lit, vegan food and host Jerry Quickley. Definitely a vibe and energy I longed for, and the venue I mostly tried to model Dim Lights after."  The resident DJ at Luna Sol was the late great Al Jackson. I was there in 2002 when the power went out midway through the night and the reading still continued. Saul Williams and Besskepp rocked in the dark and nobody left.
Besskepp remembers Da Poetry Lounge for their "big receptive crowds, Hollywood, Slam Poetry, with super funny and engaging hosts in Shihan and Poetri that offered the biggest stage in SoCal."
The World Wide Open Mic, according to Besskepp embodied "love, nostalgia, Leimert Park, OG poets to learn from and host Scrap Lover Zulu making you feel welcome like you were sitting in his living room." These venues were formative to Besskepp.
"Being present at these sacred spaces weekly," he says "fed my soul, spirit and appetite to be creative." And as Besskepp noted, each one had charismatic hosts. Venues usually embody their host's personality.
The Still Waters Experience is a spoken word event that began in 2007. Founded by Oshea Luja aka MrFood4Thought and his wife, Queen Socks, it's an intergenerational jam that's moved between Watts, Inglewood and Carson. MrFood4Thought grew up in Watts and he's a caretaker of the Watts poetic legacy. Over the years they have honored the Watts Prophets, Amiri Baraka, Sonia Sanchez, the Last Poets, Raspoet Ojenke, Dee Dee McNeil, Kamau Daáood and other luminaries. The featured poets are presented with handcrafted awards for contributing to poetry's past, present and future.
One more seminal venue was the Venice MoZaic which ran from 2003 to 2014. Venice MoZaic was started by bassist Nickie Black, Poet Joanna Silva, Evolve, Artist Kristen Corning and DJ Gann. The crowd mixed spoken word poets, singer-songwriters, old Venice Beats and eclectic creative folks. DJ Ordell Cordova spun records. Nickie Black was inspired by the Venice Beats who hosted Salons in the 60s and 70s.
Nickie is a Venice native that remembers the old Venice poets who were still around when he was a kid in the 1970s. Nickie met Phillip Martin aka Phillharmonic on Abbot Kinney one day in 2003 and invited Phil to come read on the opening night. I went too and the rest is history. We read there together almost every month over 11-years.
Phill and I met in the Fall of 1992 at UCLA. One day he saw me writing and told me he wrote poems too. Slowly we started reading our poems in the dorm and eventually started hitting open mics. The first one we hit on a weekly basis was at the Westwood Brewing Company next to UCLA. This is where we met poet, publisher and founder of Writ Large Press Chiwan Choi who we remain close with. The Brewing Company open mic was hosted by Ordell Cordova and called "House of Green." It was eclectic with poets, singer-songwriters, comedians, rappers, punk bands, even headbangers. Chiwan Choi remembers it as "chaotic, diverse, you never knew what to expect from week to week."
Phill's poetry melts hip hop, surrealism and existential electricity. Here's an excerpt from one of his popular poems:
The Spirit Joins The Flesh so all the elements can positively mesh, time & space is the treble clef, It's neither black or white…dance…delight in night….the moon is my shadow I cannot fight…but fight the fight that set us free to feel the breeze…I'm confused by my wants and these are my needs…& these days I'm a scholar of need…plant seeds that grow to trees…I'm just one of the leaves…1 + 1 = we… The spirit joins
the flesh..
Poet Laureates & Poet Teachers
A quick word needs to be said about poet laureates across America. Poet Laureates are ambassadors of poetry that publicly read and write specific poems for city events or other official civic occasions like inaugurations, parades, specific holidays etc.
In 2012, Los Angeles started its Poet Laureate program. Through the 1990s and 2000s, Wanda Coleman was called Los Angeles's unofficial poet laureate but by the time the program started, Coleman was in ill health and ended up passing the following year. The city's first official Poet Laureate was Eloise Klein Healy, she was followed by Luis J. Rodriguez, then Robin Coste-Lewis and now Lynne Thompson.

Left to right: Lynne Thompson (LA Poet Laureate), Natalie Graham (Orange County Poet Laureate), Hope Anita Smith (El Segundo Poet Laureate), David "Judah 1" Oliver (Pomona Poet Laureate)
West Hollywood started their official City Poet program in 2014 with Steven Reigns and they are now served by Brian Sonia Wallace. Other local cities like El Segundo, Pomona, South Pasadena, Altadena and Anaheim have Poet Laureates. Altadena is served by Peter J. Harris and Carla Sameth as Co-Poets Laureate, El Segundo's Poet Laureate is Hope Anita Smith, Pomona has David "Judah 1" Oliver and Orange County's Poet Laureate is Natalie Graham.
There's been a National Poet Laureate since 1988 and a California Poet Laureate since 2005, though there were earlier versions of a California State Laureate dating back to the 1910s. Al Young was the California Poet Laureate from 2005 to 2008, Carol Muske Dukes served from 2008 to 2011, Juan Felipe Herrera from 2012 to 2014 and Dana Gioia was appointed from 2015 to 2018. The next California Poet Laureate is in the process of being selected. Los Angeles started its Youth Poet Laureate Program in 2014 and the first one was Amanda Gorman. In 2017 Gorman became the first National Youth Poet Laureate.
Long Beach is starting its own Youth Poet Laureate Program. There's been Poet Laureates in San Francisco for the last generation and the first one was Lawrence Ferlinghetti. A distinguished list has followed: Janice Mirikitani, devorah major, Jack Hirschman, Diane di Prima, Alejandro Murguía, Kim Shuck and now Tongo Eisen-Martin. In Philadelphia, their first official Poet Laureate was Sonia Sanchez.
There are thousands of American teachers who use spoken word, open mics and slams to teach. Many teachers are also poets and there are organizations like 826LA, Street Poets, the Get Lit Players and WriteGirl, that mentor teen writers and use poetry to empower youth and encourage literacy. Add all this up and poetry books are also selling better than ever.
I have hosted open mics at every school I have ever taught at. Spoken Word poetry and evolving youth are compatible. I use the open mic format in every class I teach to foster student expression whether it's on the high school or university level. Several of my former students now host their own open mics.
All and all, Spoken Word is for the people and it has been for time immemorial. Whether poetry is used to inspire students, help people deal with reality or celebrate public and civic history, it is indisputable that poetry has a utilitarian value that yields collective effervescence for its participants. It is an entire ecosystem that flourishes because it nourishes so many spirits.
The egalitarian spirit of the poetry community provides a refuge for anyone looking to express themselves and hear others do the same. Pam Ward breaks it down: "One thing Michelle Clinton said that I never forgot, 'don't wait for someone to bestow a writing moniker on your head, if you write, you're a writer.'"
"The scene was vibrant and bustling all over," Ward exclaims. "I couldn't get enough. I never waited for invites to read. I always supported other poets and so people put me on. If not, I hosted my own thing and kept it pushing, baby!"
***************************
Postscript: On June 9, 2022, as this essay went to press, the Recording Academy announced that it is adding an award for the Best Spoken Word Poetry Album. Though they have been awarding the best spoken word album for many years now, it was always a celebrity or a celebrated author's audiobook awarded and not specifically a poet. This is a big deal for spoken word poets and reaffirms the rise of spoken word discussed in this essay.
Author's Note: I have recited poetry in almost every space above and most in the list below. There are hundreds of poets to thank and even more groups to honor like the many graduate writing programs and workshops like Cave Canem, Kundiman, VONA and others but this piece is 9,000 words so I leave anything unsaid to the next writer. Gratitude to F. Douglas Brown for our conversations about this essay. To anyone I have missed, you know who you are. Thank you for your energy building the poetry community.
Further Reading:
Suggested Books:
Voices from Leimert Park; Edited by Shonda Buchanan
Voices From Leimert Park Redux: A Los Angeles Poetry Anthology; Edited by Shonda Buchanan
Cross-Strokes: Poetry Between Los Angeles and San Francisco; Edited by Neeli Cherkoski and Bill Mohr
The Spoken Word Revolution Redux; By Mark Eleveld
Poetry Los Angeles: Reading the Essential Poems of the City; By Laurence Goldstein
Doggerel Life: Stories of a Los Angeles Griot; By Ulysses Jenkins
Killing Poetry; By Javon Johnson
Grand Passion: The Poets of Los Angeles and Beyond; Edited by Suzanne Lummis
Hold-Outs: The Los Angeles Poetry Renaissance, 1948-1992, By Bill Mohr
The Coiled Serpent: Poets Arising from the Cultural Quakes and Shifts of Los Angeles; Edited by Daniel A. Olivas, Neelanjana Banerjee and Ruben J. Rodriguez
A Higher Form of Politics, By Sophie Rachmuhl
Power Lines: A Decade of Poetry From Chicago's Guild Complex; Edited by Michael Warr
Sparring With Beatnik Ghosts Omnibus; Edited by Daniel Yaryan
The Following List organized alphabetically includes many iconic poetry venues of the last three decades in LA. If any were missed, write your own history. We need all the accounts we can get.
A Mic & Dim Lights
ArtShare
The Atlas Supper Club
The Anti-Club
Avenue 50 Studio
Barnsdall Park
Battery Books
Beyond Baroque
Blue Chips
Blue Line Poetry Readings (on the Metro).
Blue Nile Cafe
Booksoup
Bootleg Writers Underground
Chattertons/Skylight Books
Chevalier's Books
Cobalt Cafe
Coffee Cartel
Collab/Oration
Corazón del Pueblo
Da Poetry Lounge
Dime Slot
Downbeat 720
Eastside Café
Eso Won Books
Espresso y Cultura
Fais Dodo
Fifth Street Dicks
Flight School
Flypoet Showcase
Gasoline Alley
Gatsby's Books
George Sand Bookstore
Green
Groundworks Venice
Highland Grounds
Highways
The Iguana Cafe
Industry Cafe & Jazz
The Kickback Coffeehouse (Melrose)
La Luz de Jesus
The Last Bookstore
Lhasa Club
Lionlike Mindstate
Los Angeles Central Library
Los Angeles Poets Society
Los Angeles River Center
Lucy Florence
Luna Park
Luna Sol
McCabes
Midnight Special
My Place Café
Onyx
Open Books
Organic Soul Movement
Page Against the Machine
Papa Bach Books
Poetic Research Bureau
Poetry in Motion
Portfolios
Psychobabble
Rapp Saloon
Re/Arte
Redondo Poets
Sacred Grounds
Self Help Graphics
Sims Library of Poetry
Sisterhood Bookstore
SpellCast Open Mic Expressions
Spread Love-n-Spoken Words
The Stella Adler Theater
Still Waters Experience
Stories Books
Sunday Jump
SWAAM
33 1/3rd Books
Tebot Bach
Temple Bar
Tia Chuchas Centro Cultural
Tonalli Studio
Tribal Cafe
Tuesday Night Cafe
The Ugly Mug
The UnUrban Cafe
Valley Contemporary Poets
Vinegar Hill Books in San Pedro
The VirgiL
Water Espresso Gallery
Woman's Building
Words
The World Stage
Zen Sushi
About Mike Sonksen
Mike Sonksen aka Mike the PoeT is a 3rd-generation Southern Californian. Poet, professor, journalist, historian and tour-guide, his latest book Letters to My City was published by Writ Large Press. He's written for KCET, Poets & Writers, Wax Poetics, PBS SoCal, LA Taco, LA Review of Books, LAist, Boom and the Academy of American Poets. His poetry's been featured on Public Radio Stations KCRW, KPCC & KPFK & Spectrum News. Sonksen teaches at Woodbury University and taught high school before that. Follow him on Twitter & IG @mikethepoetLA