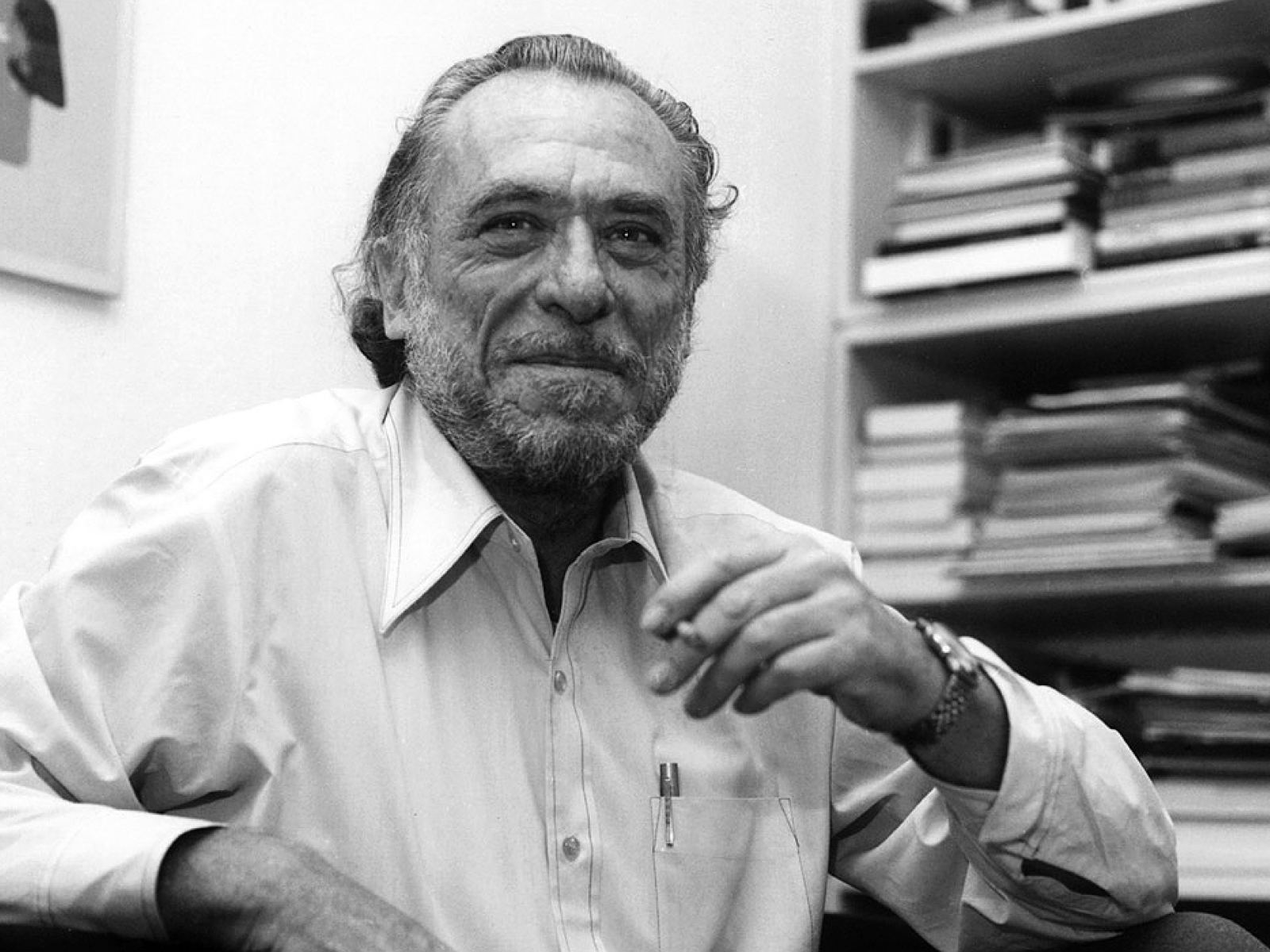 Charles Bukowski
Big Night
a memoir*
Michael D. Meloan
*Author's note: This is a short memoir about a wild New Year's Eve party at Bukowski's San Pedro home in 1983
Driving up the long incline toward Bukowski's New Year's Eve party, we could hear music. Cars were parked on both sides of the street, all the way down the block. We walked along the dark and narrow driveway toward the front door. Chrissie rang the bell and we waited. Then she rang it again. Finally, I knocked hard. Linda Lee Beighle appeared smoking one of Buk's Indian Beedie cigs.
"Oh my God! You have got to be kidding!" She laughed uproariously, then called people over to see Chrissie's leopard print Lycra spandex body suit. A number of other women started laughing too. Chrissie shot me an angry look. It was my idea. We stepped inside.
A man with a heavy German accent said, "I like it!"
Chrissie's face was flushed. I grabbed her arm and led her past Linda into the living room.
There was a long sofa and wooden table in the living room where Bukowski held court. People were perched on big pillows arranged next to the table.
Chrissie and I sat down on the sofa. Buk said nothing as we arrived. He was already drunk, and in the midst of a story. There were long pauses as he sucked on a Beedie. The group hung on his every word.
"I read in the downtown public library during the day, and slept in the alleys at night. Told stories in the bars to hustle drinks. Normal people bored me–I couldn't live that life, couldn't be around that. But in the end, the bums bored me too. The only thing that lasts is wine." He took a puff. "Just drink, and drink…and whatever else happens, is just what happens."
Bukowski's speech was slow; his eyes were like slits. He continued. "Later, I had my own room in a skid row hotel. After a long night of drinking, I started puking-up blood and foul-smelling chunks of flesh. It just came and came into the toilet. The stench was overpowering. They took me in an ambulance to the charity ward at County General. One of the doctors said he'd level with me–I had about a 50-50 chance. I stayed there for a month, and slowly got better. When it was time to go, a doctor sat down with me in a little white room. He said if I EVER drank alcohol again, I would die." Long pause. "So I walked out and found a shitty little bar right down the street. It smelled good–cigar smoke and stale booze. I sat down and ordered a glass of beer. No hard liquor, because I was trying to go easy. I watched the bubbles rise up for about 30 seconds, then drank it down fast." He paused and took a puff. "I didn't die."
"Amazing story!" blurted out a young guy.
"Wow," gasped a middle-aged woman. Everyone murmured with approval as they took deep pulls of wine.
Bukowski stared out the window toward the harbor. Then he turned to me. "I was wondering if you'd show up, man. I thought you might be grist for a poem if you have enough wine. So drink up!"
He raised his glass to me. I clinked it and took a drink. Then I glanced over at Chrissie. She was scanning the room looking for rock stars and listening with one ear to a young hipster's monologue in the other room. He had scorched platinum hair and was surrounded by a small group, while laying out some shit about the Marqis de Sade and the French Revolution.
A guy sitting on the other side of Bukowski said, "You're the most important writer of the late twentieth century."
Bukowski slowly turned and asked, "What do you do, kid?"
"I'm an actor," the guy said. He had a finely trimmed goatee and wore a black turtleneck with black jeans.
Bukowski paused and looked into his face, then took a drink. "You'll never make it man…your eyes are dead. There's nothing there. Give it up now, before you waste any more time. Go into insurance or real estate."
The group went silent. Bukowski took another drag from his cigarette as the guy nervously got up and walked away.
Suddenly I noticed that Chrissie was standing next to the hipster, looking at him adoringly. I got up and walked past that group on my way to the kitchen. He was telling Chrissie more about the antics of de Sade.
"The Marquis whipped the people into a frenzy, with political rants and kinky sex monologues." I saw him glance at her chest. Then I heard him say, "I like your outfit. It's chic. I think you're making a unique fashion statement."
I sat back down on the sofa next to Bukowski.
"I'm glad you're here man," he said. "I need somebody with a brain sitting next to me."
He stared at me, waiting for a response. I took a drink. The crowd around the sofa had thinned out since the encounter with the actor. Nobody wanted to get too close. Linda came over and sat on the floor next to Buk, with her legs crossed in a semi-lotus pose. Long strawberry blond hair flowed halfway down her back. She lit up a joint.
"I've got my own rock 'n' roll groupie," he said. "She parties all night in the brand-new convertible I bought her. And I don't even ask who she's fucking. Do I?"
"This is not the time," she said, taking a drag from the joint. The muscles in her jaw tightened.
"You've been riding my coat tails for years. If it wasn't for me, where the hell would you be?"
"I have no idea," she said. The room was silent. Linda's eyes blazed with anger.
"I think you're being too hard on her," I said.
"I think you'd better shut up, motherfuck. You haven't been very entertaining tonight. In fact, you're beginning to bore me," he said, moving his face close to mine.
His eyes were mean and glassy, like a vicious animal. As he got up to go to the bathroom, he reeled and started to lose his balance. I reached up to steady him, but he swatted my hand away. Then he staggered across the room and disappeared into the bathroom.
A group of Linda's friends from the health food restaurant stood near the bathroom talking about how much they liked John Tesh's music. Suddenly the bathroom door flew open. Bukowski emerged and walked quickly toward a balding man in a cardigan sweater.
"Where's your drink?!" Bukowski demanded.
"This is my drink," said the man, holding up a Calistoga water.
Bukowski turned to a woman nearby, "Where's your drink?"
"I don't drink," the woman cheerfully replied.
Bukowski went nose-to-nose with her and said, "Then get out! You bore me!" He turned to the man and said, "You get out, too!" Then he looked around the room and shouted, "In fact, I want everybody out. I should be upstairs typing. I might die tomorrow, and I DON'T want to spend my last night on earth with this bunch!"
He started walking around the room screaming in people's faces, "GET OUT! GET OUT! GET THE FUCK OUT OF MY HOUSE!"
People quickly gathered up their purses and coats. Most looked afraid as they headed toward the front door.
Bukowski continued to scream, "GET OUT, GET OUT!" The arteries on his neck bulged and his face had turned purple. He occasionally planted his hand on a back, male or female, and pushed them out the door.
Linda watched in silence, still seething with anger. Bukowski stood guard until the last stragglers had gone. As I left, I looked over my shoulder, but there was no hint of recognition.
I walked slowly down the long driveway and scanned the crowd. Chrissie was missing. When I got to the sidewalk, three men in their early twenties were craning their necks, trying to look inside the house.
"What is happening? What is happening?" one asked, with a heavy German accent.
"Bukowski threw everybody out…because we weren't drinking enough."
"This is very cool," he said. "Very Bukowski!"
"We've come all the way from Munich to meet him!" said another guy.
"It's a bad night to ring the doorbell," I said. "He'll bite your head off."
"We saw a guy who said he was a director!" he added. "Got his autograph as he was leaving in a limousine with a nice prostitute." Then he smiled, "I'm sure he got a blowjob as soon as they were inside."
My throat knotted up.
I got into my old Citroën a few minutes before the stroke of midnight. Skyrockets whizzed into the darkness. Gunshots erupted from the neighborhoods at the bottom of the hill. Rounds were going off in all directions. Suddenly I heard the buzz-and-zing of a nearby bullet.
Driving aimlessly, I screeched around corners and floored the accelerator, almost hoping the engine would blow. When I got home, the message light was on. I thought it would be Chrissie giving me some bullshit story about where she was. Then I recognized my mother's voice. She was sobbing uncontrollably.
"It was…almost midnight. One more day…and we would have been gone on our cruise. Just one more day!" She gasped for breath. Then the message ended.
McIntyre and my mother had stepped onto the balcony of the Jonathan Beach Club for some fresh air. He lit a cigarette as they gazed out at the sweeping arc of lights spanning toward Palos Verdes Estates.
"This is the happiest night of my life," he said, turning to look at her. "I want to marry you."
She hesitated for a moment, then turned, and they kissed.
He looked at his watch. "It's nearly midnight. I'll get some Champagne."
My mother stared at the towering Christmas tree covered in fairy lights and hundreds of ornaments. It reminded her of New York City, when she was a young woman.
She made eye contact with McIntyre as he left the bar. Smiling broadly, he walked toward her. Then his expression suddenly changed and his eyes widened. He abruptly stopped as his face became a twisted mask of pain. The glasses dropped to the floor. Clutching his chest, he staggered then fell to his knees.
"My God! Somebody help! My God!" she screamed, as she ran into the ballroom.
I called my father. He said McIntyre was dead on arrival at the emergency room at St. John's in Santa Monica. My mother had ridden in the ambulance. Then she called my father, and he picked her up at the hospital.
"She's here with me now." He sounded more himself than he had in months. I could hear her crying in the background. "I have to go," he said.
I turned on the TV. It was a replay of the ball-drop in Times Square. Counting down, 5-4-3-2-1…then explosive crowd noise.
Happy New Year.
I cracked open a beer and turned on my computer to write an email to my boss Lamont at Hughes Aircraft. The company had demanded that I break up with Chrissie because of her drug busts, or my top-secret clearance would be denied.
But in the middle of the note, I deleted it. Instead I started writing a story. By 3:45 am, I had knocked out seven pages rapid fire. I had the machinegun rhythm of Bukowski's black Underwood typewriter in my head.
Then the telephone rang. It was Chrissie. Her voice sounded faint. She was in the lobby of the Château Marmont hotel.
"That guy was a drunk and a bore and an asshole," she said. "He promised to put me in a movie. How stupid could I be? You're the only one who really gets me. I think I love you. Will you let me come back?"
I sighed and paused. "Yeah…come back. I think we should hit the road–Prague, Morocco, India, who knows where. Are you ready for that?"
"Cool," she said without hesitating. "I'm there."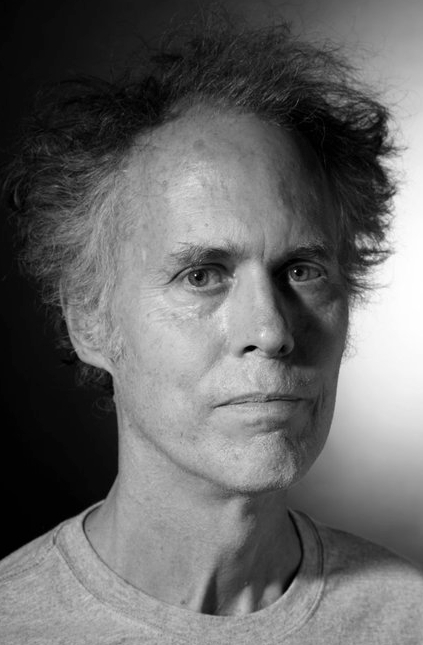 About Michael D. Meloan
Michael D. Meloan's fiction has appeared in Wired, Huffington Post, Buzz, LA Weekly, Larry Flynt's Chic, and in many anthologies. He was an interview subject in the documentaries Bukowski: Born Into This and Joe Frank: Somewhere Out There. With Joe Frank, he co-wrote a number of radio shows that aired across the National Public Radio syndicate. His Wired short story "The Cutting Edge" was optioned for film. And he co-authored the novel The Shroud with his brother Steven. For many years, he was a software engineer. In addition, he does killer karaoke.