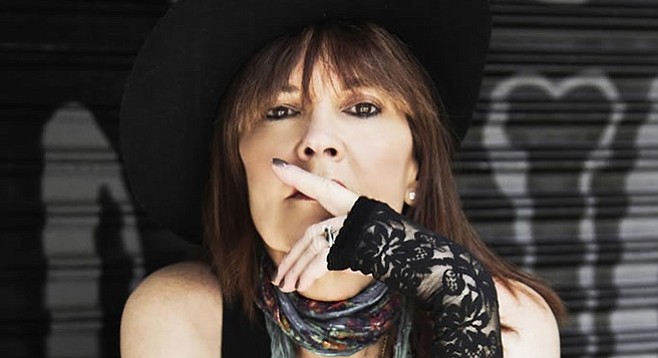 Alexis Rhone Fancher (photo credit: Baz Here)
Interlitq's Californian Poets Interview Series:
DG: Your work has the quality of being uncompromisingly raw—all in the best sense. Too often, poetry is viewed as a "high art," when, in fact, it resonates most with people when the words descend to near, if not total deviance. In this respect, when did you decide that you would not only be a poet, but also write the way you really wanted to?
ARF: I came to poetry rather late, after a successful career in advertising. I consider myself to be a "feral" poet, ie: I have no degree in English or literature or poetry (my degree is in Theatre with an emphasis on acting/writing). I have no poetry MFA or PhD. So no preconceived ideas about what poetry "should be." I did study for 5 years with the great Los Angeles poet, teacher, mentor, Jack Grapes, who taught me to trust my voice and write my truth. It never occurred to me to sensor my words or dumb down my poems. Once a rebel …
DG: It seems counterintuitive, yet individuals censor themselves not out of necessity, but out of fear. What advice would you give emerging writers to help them overcome this impulse?
ARF: I work with emerging writers as an editor, teacher and mentor, as well as running a business, SubmatCentral, that submits poems to literary markets for poets who, for whatever reason, can't or won't submit their own work. I often encounter nascent poets who, censor themselves on the page, afraid to offend a relative, parent, lover or ex-spouse. I explain that it is highly unlikely that these fearful people will read the poet's work. I mean, I have a brother whom I adore who has never picked up one of my books or read my work! Poetry does not float his boat. If I were to write about him, he'd never know! If a poet is seriously afraid of their own truth, writing under a pseudonym is always an alternative. But that's putting the cart before the horse, yes? First write your unvarnished truth. To paraphrase that old saying, "Write like no one is reading." Then worry afterwards as to how it will be received.
DG: Aside from poetry, you're also an accomplished street and portrait photographer. Some of the most established names in literature have sought the creative energy of your studio, and your urban photography is equally amazing. In this respect, is there a different psychological and creative approach you adopt when photographing artists, for instance, as opposed to those who aren't "creative?"
ARF: Thanks for your kind words about my photos. And what an interesting question! I approach all my sitters as "creatives." That is what I hope to connect with during a shoot. That inner spark that makes each of us unique. Actors are the most outgoing and least self-conscious when posing for my camera. Also musicians. They are used to being onstage, in the spotlight. They come alive when the lights go up in the studio—great fun to shoot, high energy, extroverted. Poets, on the other hand, are all over the map. Some are dramatic, bigger than life, while others are timid and introspective. Hard to get them to open up. My job, as the photographer, is to make the sitter feel at ease and to trust me to discover their inner self. The best compliment I ever received was from a poet who, when she saw her portrait, said: "This looks exactly how I see myself in my mind, on my very best day." That's what I work for, whether I'm photographing an architect, bartender, professor, electrician, or a famous actor or writer. Capturing their essence—that's my goal.
DG: Do you prefer to take pictures of people or landscapes and why?
ARF: People. I've been fascinated by faces my entire life. I like to get up close and personal; peer deep inside their psyche—not in some devious, evil way, like that old superstition, that a photographer will "steal your soul." But with intense curiosity. What makes this person tick, and how can I photograph that? Shooting bucolic landscapes, other than the view from my terrace (of the Port of Los Angeles and the Pacific Ocean) rarely excites me. I prefer urban jungles, cityscapes, catching the interaction of people and pavement. Whether it's the well-heeled denizens on Rodeo Drive in Beverly Hills, or the lost souls on Skid Row, even my landscapes are populated.
DG: What are some particularly interesting photoshoots you have fond memories of, and what are some of your favorite locations in LA?
ARF: Most Memorable: Since 2012 I've been working on a project dear to my heart, documenting/photographing the poets of Southern California, Los Angeles, in particular. In April of 2015 I had a One Woman Show at Beyond Baroque, in Venice, (California), in honor of Poetry Month, where the first thirty of the poet portraits were viewed for the first time. The opening was a celebration of poetry in Los Angeles, and was followed by a reading of all the photographed poets, depicted below.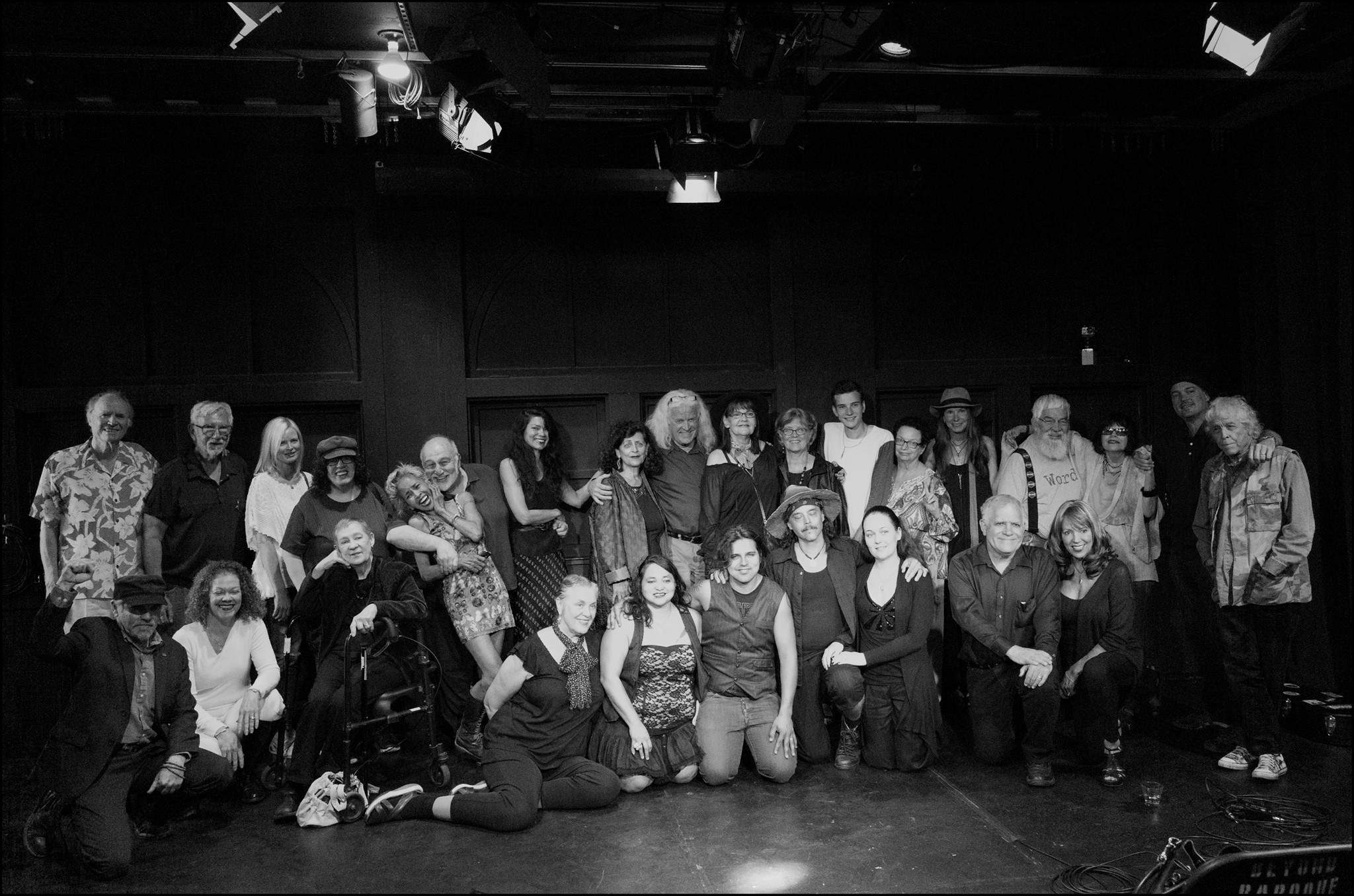 (photo credit: Alexis Rhone Fancher)
Favorite Locations: The 1/2 mile long Fishing Pier in San Pedro off Cabrillo Beach (photo bellow), the Marina, Venice Beach Boardwalk, Downtown Los Angeles. I love taking off for a drive, riding shotgun, going anywhere, my window down and my latest model iPhone (I just upgraded to the new iPhone 13 Pro Max, which has a spectacular camera) poised and ready. It's like one of Forest Gump's chocolates, I "never know what I'm going to get."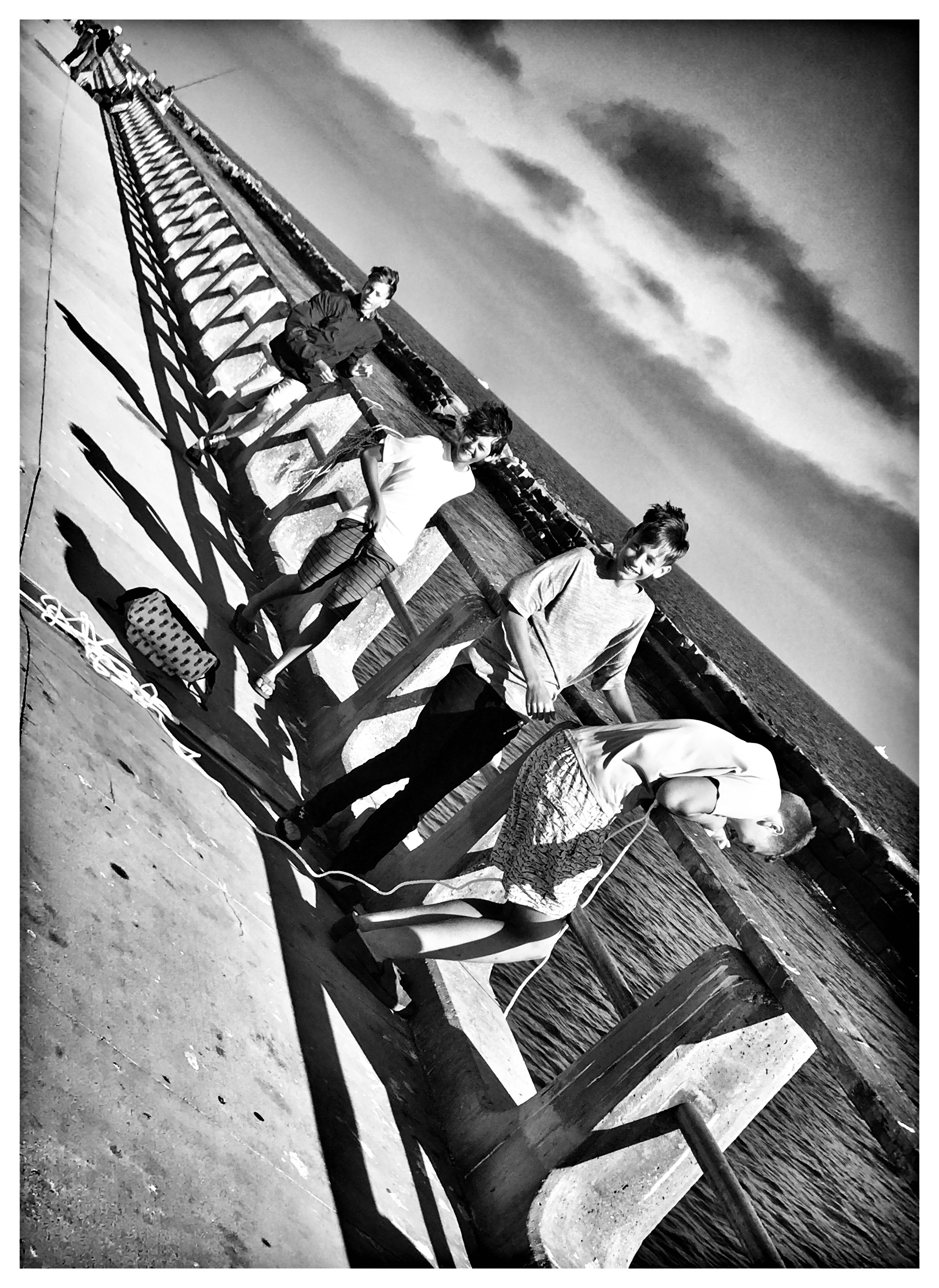 (photo credit: Alexis Rhone Fancher)
DG: Many critics place your work in the confessional category; the label itself, however, looks to be self-defeating and apologetic. The direct, unflinching candor of your style seems, in my opinion, to be the total opposite of what it means to "confess," in the strictest sense. In other words, the steadfastness of your writing suggests that you don't possess the guilt which would give rise to the impulse of apologizing for anything, let alone confessing, even if what you're writing about might be true. Would this be an accurate assessment of your approach, or are you aiming for something different?
ARF: I agree with your assessment of "confessional" poetry, and thank you for your keen understanding of my work. You're right. I have absolutely no guilt over what I write. I don't believe in sin, either as a concept, or a condemnation. I am writing my truth. I own my story. It is what it is. I make no judgment, moral or otherwise. I leave that to my readers.
DG: As a poet who writes candidly about erotic themes, would say that words can ever be a bigger turn-on than a sensual photograph, even if photographs are more immediate?
ARF: I've read that women are more into the written word, erotically speaking, and that men are more turned on by the visual. Me? I like them both, although a well-told tale gets me hotter than a mere photograph ever could. As a photographer, I've been fortunate to pair my photos with my poems in all of my published books. I think of them as co-dependent.
DG: You're the poetry editor at Cultural Daily, the well-known online platform for independent voices. How does reading submissions inform your own work? In this respect, something which is closer to your aesthetic or radically different material?
ARF: I'm a fool for (really brilliant) poetry! I read voraciously, both print publications and online, always on the lookout for poets who astonish and provoke. I cast a wide net, and I am interested in reading work vastly different from my own as well as poems that share my aesthetic. To that end I don't have a submission portal via Cultural Daily. Submissions are by invitation only, with the exception of our annual poetry contest, The Jack Grapes Poetry Prize, which runs from July 1st through August 31st each year. This year's contest received 1,835 poems, sent by well-known poets as well as neophytes. One young poet from Nigeria recently shared that this was his first poem ever written in English! (His poem made it to the semi-final round, ie: the top 10% of submissions!) Quite a feat.
DG: What are you working on at the moment?
ARF: My next, full-length, erotic book, (with photos), BRAZEN, publishes in 2022 by New York Quarterly. Stiletto Killer, a full-length collection (in Italian) by Edizioni Ensemble, Italia, will also be published in 2022. DUETS, a chapbook written with Virginia poet, Cynthia Atkins, featuring ten of my photographs paired with 10 ekphrastic poems each, will be published this summer by Harbor Editions. And a coffee table book, Poets of Los Angeles, with portraits of over 100 poets I've shot over the past several years, will be published in 2023 by Moon Tide Press.
About Alexis Rhone Fancher
Los Angeles poet, Alexis Rhone Fancher is published in Best American Poetry, Rattle, Hobart, Verse Daily, Plume, Tinderbox, Cleaver, Diode, The American Journal of Poetry, Nashville Review, Poetry East, and elsewhere. She's authored six poetry collections, most recently, Junkie Wife (Moon Tide Press, 2018), and The Dead Kid Poems (KYSO Flash Press, 2019). EROTIC: New & Selected (NYQ Books) dropped in March, 2021. Her photographs are featured worldwide including the covers of KYSO Flash, Witness, and The Pedestal Magazine. A multiple Pushcart Prize and Best of the Net nominee, Alexis is poetry editor of Cultural Daily.