Interlitq's Californian Poets Interview Series:
DG: Not many can say they've had the privilege of finding renown in two different artistic fields—for you that has been acting and poetry. Usually, we conceive of the former as bringing the voices of others to life, while the latter is seen as a quest to find your own voice, and then express it. Is the matter really that simple, however? In other words, how has poetry informed not only your work as an actor and vice versa, but also, how are they, generally, closer than we may initially think?
HN: In poetry you learn how to make good use of time and space. Films are very expensive and they go down fast, so you have to be prepared, know what you are going to do in that frame. Poetry gives you confidence—the making of a poem, the focus of craft, finding value in the craft. It's not really a matter of informing but the doing. Writing poetry, to me, is like breathing, walking; I just do it all the time and have been for over fifty years.
In Method acting you learn how to evoke memories with sense memories, emotional memories—your body is your "instrument." You learn to use your experiences, your memories to evoke emotions, to create belief in the role, belief in yourself; you're the character.
Acting and poetry are two disparate fields. In acting you can explore, let your emotions go; in poetry you have to learn the tradition, know the craft by practicing it daily, being receptive. Holly once said that the actors are extroverts and the poets are introverts.
In Method acting, you chose an emotion—or it chooses you—or a situation that you have experienced and concentrate on an emotional memory that is similar or close to the character's emotion, what's going on in the scene: objective correlative. That's a similarity. Method acting, using my real experiences, is my foundation not only for acting but poetry. Not an external but an internal thing.
In film, there's the actor, director, editor, writer. In poetry, you have to do it all. Even taking your books to the bookstore and the publicity.
DG: You've appeared in over thirty movies and worked with some of the biggest names in Hollywood. What project do you look back on with the fondest memories, and did that particular period also coincide with a strong literary output, or did acting take up every minute? 
HN: Over the Edge (1979). Jonathan Kaplan, the director, came up to me at my first audition, in the outer office, kneeled down beside me and said, "I want you for Sgt. Doberman. You have to go in there with four balls, look at the producer, make him like you, show warmth to him." I did five auditions. On the last one I had five scenes memorized and plenty of improvisation material ready to use.
George Litto, the producer, gave me a six-week contract to play Sgt. Doberman, the best part I ever had. On location, in Greeley, Colorado, at lunch time, about a week into the picture, George said, "I'm giving you top billing." That was the only time I ever got top billing in a film. Over the Edge was the first or second film Orion did when it was at Warner Brothers. It became a cult film. It was Matt Dillon's first picture. My character, Sgt. Doberman, shot and killed Richie (Matt Dillon).
I loved working with Jonathan Kaplan. He's got great depth, a large emotional range, a strong narrative sense, and strength as a filmmaker. He hired me as an actor 12 times in movies, TV shows, MTV video ("Wild Night," John Cougar Mellencamp). I still stay in touch with Jonathan.
The cast was great, Dillon, Vincent Spano, Michael Kramer, Pam Ludwig, Andy Romano. Litto liked me. He, Andy, Associate Producer Joe Kapp, and I would eat out together most nights.
My future wife Holly Prado came to Denver and stayed with me for ten days.  She said that was the best vacation she ever had. That was early in our relationship. She helped me a lot with dialogue.
I grew up in Sidney, Nebraska, 165 miles from Denver, so shooting in the Denver area was like I was home. I was 37, 38, so I was in good physical shape for the role.
I always have a notebook with me and I wrote some poems—2 are in my book, the images we possess kill the capturing. I always write poetry, but oftentimes films go down so fast that I channel that creative energy on my character, including sometimes contributing new dialogue.

Harry E. Northup (Sgt. Doberman) in Over the Edge
DG: Starting out, did you sometimes share your writing with those you worked with on set, or did you prefer to keep that aspect of your life separate and private?
HN: When you shoot a movie, it goes down fast, so you have to focus on your part. Also, most people in the movie and TV fields are not into poetry. They don't know the tradition of poetry, the innovations. There are a few people who are into it. Martin Scorsese came to a publication reading for my second book at The Bridge, on Kenmore, above Hollywood Blvd, in late 1973, or early 1974. After I had read, he said some nice things about my poetry and told me he had a part for me in his next film, Alice Doesn't Love Here Anymore, which I did. Jonathan Demme liked my poetry and our press, Cahuenga Press. He sent C.P. a check one time for 5 grand. Jonathan Kaplan, also, liked my poetry. Hector Elizondo, who was in my acting class, knows poetry. But, I never worked with him in a film. Later in my life, I met two splendid actors who are also wonderful poets, Michael Lally and S.A. Griffin. They are both erudite about poetry and acting. I never worked as an actor with them, but I have learned about poetry and acting from both of them and value them deeply.

Left to right: Matt Dillon (Richie White), Harry E. Northup (Sgt. Doberman) & Michael Kramer (Carl Willat) in Over the Edge
DG: The poetry you write reflects the raw, gritty material of everyday life and it draws heavily upon blue-collar experiences. Although you did study literature and writing at university, the aspects which make your work unique aren't often encouraged by professors who teach writing. Why do you feel it's important for literature to speak on behalf of the so-called "common man," and what can college instructors do to promote writing which is not only art-affirming, but also life-affirming?
HN: I studied Verse and Structural Grammar with Ann Stanford, at CSUN, where I received my BA in English. She is one of the best poets to come out of LA. She would go down to her studio and write every day. She always liked my poems. Poetry is one person talking to another person. It has nothing to do with status. Obviously, you have to learn the tradition, which I have done, and you have to read and write poetry. Some professors do not hold poetry primary. Poetry and acting are primary with me. It has been said that poetry is praise and affirmation of life.
DG: Do you believe acting and writing can actually be taught, or merely encouraged?
HN: Acting and poetry can be taught, have been taught, and are taught. I am not a teacher. My late wife Holly Prado was a beloved teacher. She had the ability to see the authentic self in the other. Ann Stanford would point out what was good in a poem. The work of Stanislavski at the Moscow Art Theatre, the Group Theatre and the Actors Studio in America are part of the best acting tradition in the 20th century. In Frank Corsaro's class, the one I was in from 1963-1968, some of my fellow students, and I, all made their living in acting: Harvey Keitel, Hector Elizondo, Salome Jens, Richard Bradford, Christopher Jones, Ralph Waite, Lane Smith, Billy Bush. I love Frank Corsaro. He taught me how to relax, concentrate, how to behave realistically in front of the camera. I think the best American actors studied acting. Studying poetry with Ann Stanford deepened and broadened my understanding of poetry. We had to write the different forms: sestina, villanelle, Petrarchan sonnet, Shakespearean sonnet, ode, syllabics, and so on. 2 poems a week of a particular form for the semester. In college, I was fortunate to have two great, inspiring teachers, one in poetry: Ann Stanford, and one in theatre: Wes Jensby.
DG: If you only had the chance to write one poem in your entire life, which one would that be and why?
HN: My latest book Love Poem To MPTF is one poem. I was the primary caregiver to my wife Holly for many years and LPTM shows my devotion and love for her and hers for me. Plus we both loved, and I love, living at MPTF, which celebrates its 100th Anniversary in 2021. MPTF received the Jean Hersholt Humanitarian Award from the Academy of Motion Picture Arts and Sciences in 2021. It is the first time that prestigious award was given to an organization.  MPTF has a legacy of giving.  I believe that poetry is grace & grace is giving. Writing that work—it covers two years from July 18, 2017, when we were displaced by an electrical fire—the first poem begins with us living in a motel. It ends on June 14, 2019, in the ICU room at West Hills Hospital where Holly died. After living in the Dunes Motel on Sunset Blvd just west of Western Avenue for 22 nights, Holly and I lived in a room in Phoebe's and Ron Ozuna's home in Pasadena for 45 days. On September 25, 2017, we moved into The Villa at the Motion Picture and Television Fund in Woodland Hills, Ca. I was grateful to take care of Holly; it was a privilege. Somehow I feel there is a transcendence in this work—a transcendence of the personal. I like the language in the book. It's about the last two years of Holly's life. I just feel blessed to have been with her. Many family members, friends helped us get here and I will always be grateful to them, and to MPTF for inviting us to live here, and to its caring and helpful staff. MPTF is a magnificent place.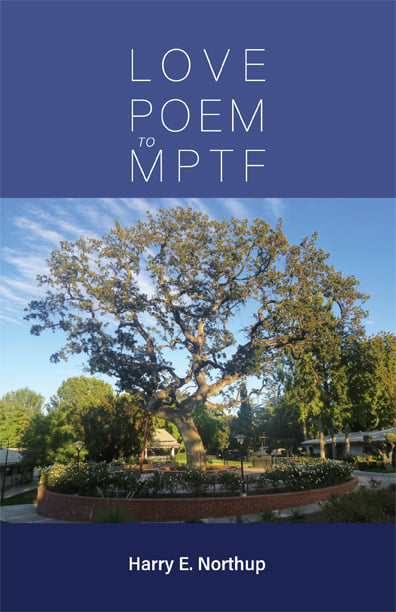 DG: Let's talk about inspiration. Whitman and William Carlos Williams are two names that naturally come to mind, as both are known for their direct, uncompromising style, and the decisiveness with which they portray life as we live it. Indeed, both are great role models, but your biggest inspiration must have been your wife, Holly Prado, whose debut collection, Feasts, the CSULB scholar and poet, Bill Mohr, described as "an experimental book of prose poetry far more audacious and memorable than contemporaneous texts such as Lyn Hejinian's My Life." Along with a discussion of both her work and life, can you talk about the ways in which her aesthetic ended up influencing your own?
HN: In a 4-part, 3 hour and 45 minutes documentary that Channel 22 filmed of Holly and me, she said "I love to write. It's the deepest pleasure I know." I fell in love with Holly's poetical, autobiographical, fiction, Feasts, in 1977.  After reading it, I called her, took her—with my son Dylan—a dozen red roses. Holly and I met for lunch, took a walk in a park and began going together. I fell in love with her. We talked poetry morning to night.
Holly wrote. That's what she did. She did not talk bad about other writers. She quit teaching so she could write. She wanted to write full-time, work part-time. She taught in her home, and later, our home for decades. Holly was my love, an inspiration. I would read her poetry that I had written the night before and she was always loving and supportive, nonjudgmental. She was in my poems. Holly put the body in the poem. She had a healthy, sexual vitality in her poetry. She was experimental. She would start a poem with an image. Her rhythms were asymmetrical. Our love was a miracle. I miss her every minute of the day. Once I thanked her for helping me. She said, "You help me more than I help you." "We help each other," I said. Another time I told her, "I'm glad you chose me." Holly loved American poetry, especially Wallace Stevens. She loved the writers she worked with. She loved Cahuenga Press. She loved my son Dylan.
DG: Over the years, you and your wife worked hard to bring poetry to the forefront of people lives—a formidable challenge everywhere, but perhaps even more so in LA, a city whose poetry she felt "the entire world is blind to," due to its iconic association "with film, television and music industries," a fact, that, according to her, forced poets to work in "a kind of vacuum." It would be interesting to hear about some of the projects, events, and readings you organized together for the sake of poetry.
HN: In 1979, I had a ten-week contract to play Carmine in Used Cars, directed by Robert Zemeckis, in Phoenix, Arizona. During the time I wrote and sent Holly 40 Picture Postcards from Phoenix. On one of them I wrote, "Someday we should do a small press." In late summer of 1989 I brought the subject of creating a small press up again to Holly. She said yes. I said let's ask two poets who have had poetry books published and two who haven't, and let's have an equal amount of women as men. We decided on Bill Mohr and Phoebe MacAdams, who had books out, Cecilia Woloch, who had not published any books, and James Cushing—I believe Jim had published a chapbook. We loved and respected them and their poetry. We asked if they would like to be founding members of a small press poetry publishing cooperative. They all said yes. We had our first meeting on September 16, 1989, at Phoebe's home, on Rowena, in the Los Feliz area. Our first book was Holly's Specific Mysteries, which got good reviews and sold out.  Holly gave the money she received for sales of the book to Cahuenga Press, which set a precedent. From that moment on, all the money from book sales went into the CP treasury, which helped pay for the next book. To this day, no poet makes any money from book sales.
Bill Mohr and Cecilia Woloch have left the press. We recently asked Jeanette Clough if she would like to be a poet-member of Cahuenga Press and she said yes. We have published 29 poetry books, the last one was my Love Poem to MPTF in late 2020. Tangled Hologram, by James Cushing, will come out next spring. We support each other. We're all different poets in terms of literary styles. We help each other.
In the LA Times Book Review, on Sunday, April 12, 1987, the Book Editor wrote that the Times would no longer publish reviews of poetry books and would instead publish a poem once in a while. After reading that, which displeased Holly and me, we talked about what we could do. One of us, I believe it was me, came up with the idea of doing a protest in front of the Times building and by Thursday we had called many poets to join us. It seemed like there were about 35 protesters. I had never taken part in a protest before. We made sure we followed the rules. It got a lot of coverage.
In early 1991, as part of the Los Angeles Poetry Festival, I curated an all-day event at Skylight Books, on Vermont Avenue in LA. It was "40 Years of Small Presses in Los Angeles," that began in the 1950s with "California Quarterly."  It featured 19 small press editors/publishers who talked, from 10 AM to 8 PM on a Saturday, about their own presses: Beyond Baroque's many manifestations of its literary magazine, Sunset Palms Hotel, Momentum Press, Invisible City, among others. One day about a week before the event I sent a proposal about the event to the Book Editor at the LA Times. Kenneth Turan happened to be sitting in for the Editor and he liked the idea, called me at home—the first time a big city newspaper editor called me at home—and fulfilled my request for the Times coverage by sending a first-rate journalist, Carolyn See, to cover it. "L.A. Poets: The Meter Is Still Running," by Carolyn See, LA Times, appeared on the front page of the Book Review, on Feb. 24, 1991. It was the first time a review of a poetry event had been published on the Book Review's front page. This event was tape recorded by Michael C. Ford.
Holly and I did a lot of readings of "long poems" together. The epic and the "long poem" have long been a passion of mine. Paul Vangelisti put together many of these. I put together an all-day reading of Tom McGrath's 404-page Letter To An Imaginary Friend to celebrate McGrath's 100th birthday. 40 poets, actors read at Beyond Baroque.  At MPTF, I curated a presentation of The Bridge, by Hart Crane, in 2018, and one from Leaves of Grass, by Whitman, in 2019. Both of these were presented to celebrate Poetry Month. One time, Holly and I invited 8 poets over to our home on Mariposa in East Hollywood to read out loud H.D.'s Hermetic Definition. Holly made soup; she put out bread, cheese, drinks. I chose the sections for each reader to read, put the reading together. Holly and I always talked things over when I put together poetry events and readings. All of this would not have been possible without the love and passion for poetry of our fellow poets, including Phoebe MacAdams, James Cushing, S.A. Griffin, Richard Modiano, Michael C. Ford, Laurel Ann Bogen. Holly was the main person in all of the readings I put together. She always helped me. People loved her. She was a magnificent leader in poetry. We would never have been able to do this without the extraordinary poets in LA. I have said before that it's important to have a community of poets so that each poet could go further.

Cahuenga Press poet-members: Standing: Jeanette Clough, James Cushing; sitting: Phoebe MacAdams and Harry E. Northup (photo credit: Ron Ozuna in 2021)
DG: And also your thoughts on the future of the art as well—aside from poetry theaters which will probably never exist, what else can be done to make verse as relevant and immediate to people's lives as film?
HN: Film is a popular art form; poetry is a more intimate art form. Poetry is the one thing, along with film and acting, outside of my family, that has meaning to me. I find a sense of warmth in reading and writing poetry. I love to keep learning. Film and acting, and poetry have been my passions ever since I was a young adult. It would be nice if people talked about poetry as much as they do film. I don't see that happening. I helped Aleida Rodriguez get a reading at Beyond Baroque several years ago, when Richard Modiano was the Director. There were only about 14 of us in attendance. Just a poet standing in back of a podium with a microphone in a black painted room with light on her as she read about her entrance into writing when she was a teenager in LA—Aleida and her mother were emigres from Cuba—was transfixing. Poetry is a quiet, elevated form—one person talking to another person—putting the mind on the page the way you actually think, a blessing. The poetry tradition goes back millennia; film is 125 years old. I love poetry and movies. There's a debate these days about the future of movie theatres; platforms have changed.
When Covid-19 hit, all gatherings and activities were cancelled at MPTF. Jennifer Clymer, Director of Media at MPTF, began doing ZOOM shows four days a week that are streamed on Channel 1390, an on-campus TV channel for the approximately 227 residents & staff. Jennifer asked me to do a one-hour, weekly, poetry show.  Last Tuesday, Sept. 28, 2021, 1-2 PM PST, was the 75th Harry's Poetry Hour.
DG: What are some places in L.A. where you particularly enjoy reading or listening to others read?
HN: Beyond Baroque, Library Girl Reading Series at the Ruskin Theatre, and Harry's Poetry Hour, Creative Chaos MPTF, on ZOOM.
In late 1968, or early 1969, when Beyond Baroque opened, I began attending its Friday night readings. (I was an original member of the free Wednesday night poetry workshop that began in February 1969. I went for 5, 6 years.) I have seen readings by Leland Hickman, Robert Peters, Jack Hirschman, Jackson Mac Low, Robert Kelly, Eloise Klein Healy, Holly Prado, Wanda Coleman, Martha Ronk, Diane Wakoski, among many others, there. My first featured reading at Beyond Baroque was with Michael C Ford in 1974. Beyond Baroque is the most important poetry center west of St. Mark's Church in NYC.
Susan Hayden's creation of her Library Girl Reading Series at the Ruskin Theatre in Santa Monica shows how one person can make a significant difference. She has hosted an astonishing array of brilliant poets, prose writers, playwrights, with grace, erudition and generosity. Her series is right up there with Beyond Baroque. Library Girl Reading Series is a blessing!
My third choice is a very personal one: Harry's Poetry Hour, Creative Chaos MPTF. My purposes in doing a one-hour poetry show every Tuesday, 1-2 PM PST, for the past year and a half have been: 1. To present excellent poetry, including the poetry of Horace, Whitman, Dickinson, H.D., Anna Akhmatova, Robert Frost, William Carlos Williams, Louise Gluck, Gary Snyder, Allen Ginsberg, Ann Stanford, Holly Prado, The Symbolists, Langston Hughes, Phillis Wheatley, Audre Lorde, read by excellent readers who are MPTF residents, including Corinne Conley, Helen Richman, Brett Hadley, John Towey, Valerie Elson, Kay Weissman, Toni Sawyer, & CEO/President of MPTF, Bob Beitcher, & Jennifer Clymer, Director of Media at MPTF; 2. To invite splendid outside poets, including Carol Muske-Dukes, Sharon Doubiago, Alison Townsend, Paul Vangelisti, Bill Mohr, Jim Moore, Michael Lally, Phoebe MacAdams, James Cushing, Cecilia Woloch, S.A. Griffin, Susan Hayden, Pam Ward, Jack Grapes, Ron Koertge, Jack Hirschman, Michael C, Ford, Mark Rhodes, Jamie O'Halloran, Alexis Rhone Fancher, Jim Daniels, John Feins, Doren Robbins, Aram Saroyan, Gail Wronsky, and Sarah Maclay to read their poetry; 3. To keep the tradition alive and to show innovations in poetry; 4. To celebrate the possibilities of poetry.
To build a community through words. To be devoted to poetry. To keep learning. All in all, I am humbled and grateful to Jennifer Clymer for her kind invitation & for all the superlative work that she & the Creative Chaos Team have done to present Harry's Poetry Hour in such an outstanding way. At least 43 of the 75 shows have been posted on MPTF Studios Harry's Poetry Hour Youtube.  The content and production values are outstanding. Jennifer Clymer and Bob Beitcher both have a loving support of the Creative. Bob has initiated a number of these poetry shows. They are here to help each one of us residents "extend our creative lives," as Bob once wrote to me. I am deeply thankful to them, the residents and the poets who have read their poetry on the show.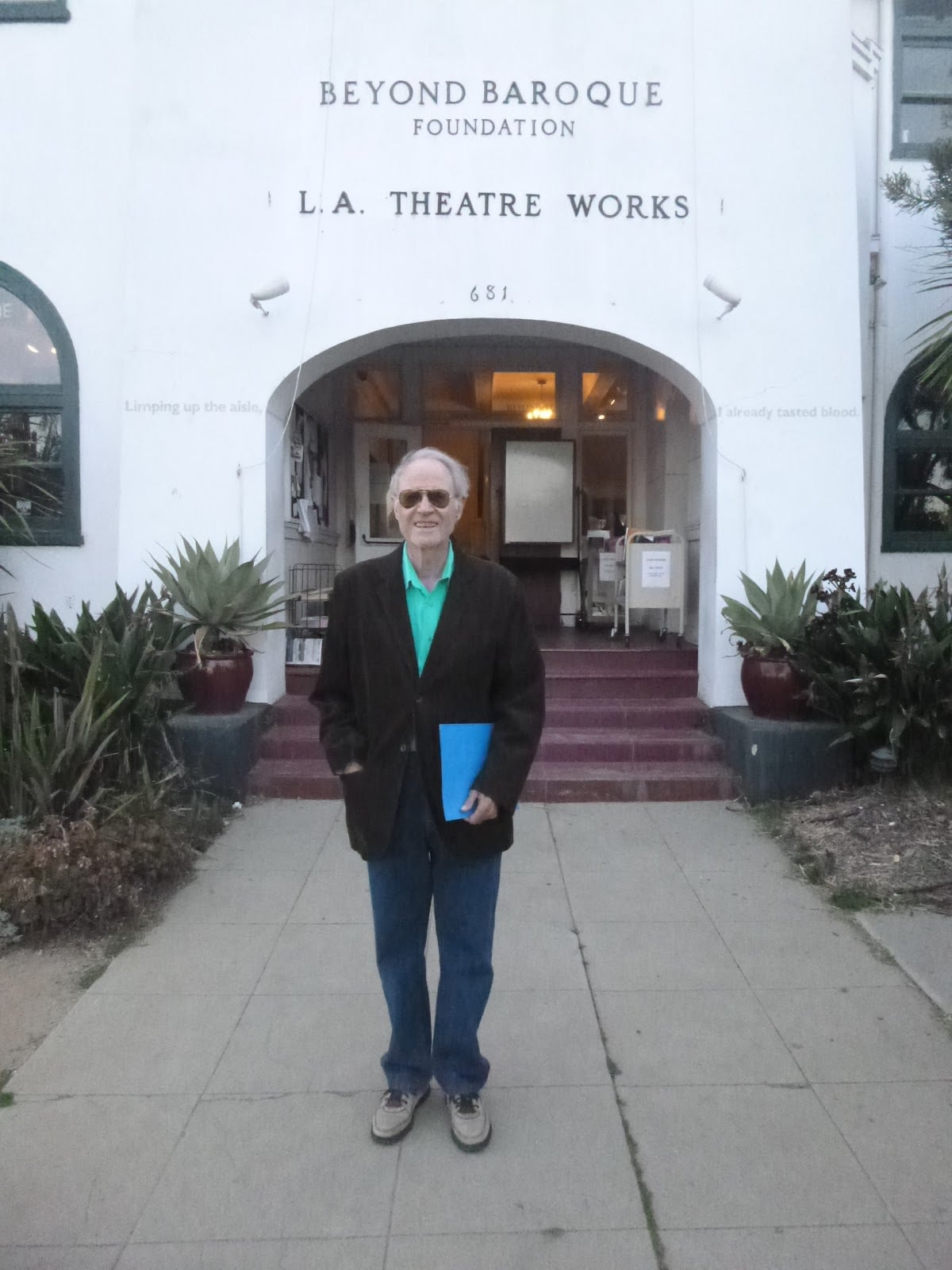 DG: If you were forced into a situation where lying was the only way to save a person's life, would you choose an actor or poet as your accomplice, and why?
HN: I believe candor is the way. My dad used to say to me, "You would lie when the truth would serve better."
Didn't Plato ban poets, calling them liars? It's okay to invent in an art form. I believe in candor but breath is necessary to keep living. When I was a young man I wrote I will do anything for my career and I will kill to survive.  Being an actor and a poet, the answer is arbitrary.
DG: Are you writing or working on anything at the moment?
HN: I write every day. My main theme is grief since my wife died a little over two years ago. There have been days when I have said I would give up every work I've written if she were still alive. She was my love. She was my protection.
I focus on my experiences. I still believe that it's important to write about what you see, what you perceive through your senses, what inner visions you receive from the Muse, what your mind tells you, what you imagine. Love and loss are themes, as place is. Just to write a good, clean line. To be receptive and grateful to the Muse is my journey.  Simplicity, empathy, gratitude.

Holly Prado and Harry E. Northup in front of The Villa, MPTF, in 2018
Harry Northup is an accomplished actor and poet who has appeared in over thirty films and published twelve collections of poetry, the most recent being Love Poem to MPTF (Cahuenga Press, 2020). He received his BA in English from CSUN where he studied poetry with Ann Stanford. As an actor, his credits include Taxi Driver (1976), Over the Edge (starring role), and The Silence of the Lambs (1991).