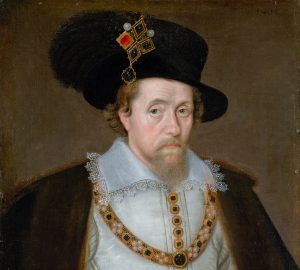 The Mirror of Great Britain worn by James VI and I
28/03/2021
Read Jean Findlay's interview with David Garyan
Read David Garyan's review of Jean Findlay's biography on C.K. Scott Moncrieff, Chasing Lost Time
Read David Garyan's review of Ant by C.K. Scott Moncrieff, an anthology compiled and edited by Jean Findlay
Price Beyond Rubies: On Writing The Hat Jewel
an article by Jean Findlay
It is strange to write about a novel that is not yet fully complete, but one that feels the magnetic pull of history.
This jewel, worn by King James VI of Scotland and I of England, was a political bauble: it represented the four nations of Great Britain: Scotland, England, Ireland and Wales, and was commissioned by the King who desperately wanted this Union for the sake of peace and power. But was it only that?  "Do you want more than you need?" asks Alastair Gray on the ceiling of Oran Mor in Glasgow. James VI certainly did:  more jewels, more power, more wealth.
After twenty years away, I returned to Scotland in 2014, the year of the Independence Referendum.  I had just launched a book about the translator of Proust, a gay man translating a gay man.  And now I found myself at a crossroads in political history:  would the United Kingdom come apart?  The architect of the Union, James VI, was also a translator, he had been working on his own metrical translation of the Psalms for years at the Scottish Court, and it was guessed that he was also gay, or at least bi-sexual. A book centring on another gay translator proposed itself.
But much has been written on James, too much perhaps, and I like to find the unknown, the uncut gem.  A man about whom little was written was a courtier at James' court, he was also a makar – a maker, an artisan, and not just that, he was a superb accountant who became the money lender to the King and Queen and eventually richer than them and left to posterity a greater gift.
George Heriot was a goldsmith, a cutter of gems, a man with a job for life as jeweller to his king and queen, and a man who left the gift of education for the poor to his home city of Edinburgh.  I wandered through the cloisters of the school that was built on his instructions in 1628, as new today as if it was built yesterday, but blackened by the Edinburgh air, as are all the majestic buildings in the city, giving them an air of Gothic mystery, although built long before the Gothic was a name or fashion. There is a neat statue of the man inside the main quadrangle, bearing a fitted jacket with wide sleeves, a ruff, padded breeks, and tights.  He wears a beard and a benign air. In June he is bedecked with a wreath of white flowers by pupils at the school. Underneath is a Latin inscription with the words, "This statue shows my body, this building shows my soul".
But outside of fiction, in the real world, what did Heriot stand for, apart obviously from a belief in the soul?  From whence did he come?  And what do we know about him?  There is a book sold at the school by an ex pupil, Brian Lockhart, an eminent historian, which tells what little there is to know of the man's life and much about the history of the school. What does exist still in the National Archives of Scotland, are his financial accounts, and you can tell a great deal about a life from accounts. In my last book, a biography, I discovered minute details about C.K Scott Moncrieff from receipts kept in notebooks: meals were eaten at particular restaurants, nights slept in particular hotels – all in the 1920s, but still existing.
Although a biography would have been more in keeping with my last effort, it was a novel that presented itself.  The subject is a jewel that represents the Union of the Crowns , worn by the king who wanted that Union, wrought by his courtier and servant; a book that delves to the hearts of both men and discovers that their lives works are nothing compared to the power that they both invest in their wives.
The novel concerns these four young people, very much the same ages, king and queen, courtier and wife, between 1587 and 1628, the time before the Union in Edinburgh and Denmark, and the time afterwards in London.
The intellectual James VI of Scotland was a canny ruler who hated war and violence and tried his best to promote peace at time when bloodshed tore religious difference.  We see his own development from a witch- hating youth to a King who ruled in peace. In Scotland in 1599 he wrote the Daemonologie, a learned work on necromancy, sorcery, divination and witchcraft  which hastened the hunts that saw hundreds of innocent women tortured and burnt or drowned as witches. This from a man who was brought up to believe his mother had murdered his father.
History books call Anna, his Danish Queen, stupid, selfish and spendthrift, mainly because she was foreign and female – yet her influence on the flowering of literature in their court was great.  Here Shakespeare is given his job-for-life as King's playwright –  a tradition taken from Anna's childhood home in Denmark where there were theatres and playwrights in all the royal palaces. At this point the King, who speaks many languages, and has started his own translation of the psalms when a child, decides to employ fifty-four translators to translate the Bible.  The court is a crucible of the alchemy that influenced English literature forever. Here Middle Scots comes and rules over Elizabethan English; but Latin, Greek, French, Danish, German and Italian are all spoken. The court is a Babel of invention, yet rigorous religious discussion is still navigated, the Reformation is not over and James' own influence is about to spill into Europe and the Thirty Years War.
These scenes are all seen through the prism of the important courtier, George Heriot – both an artisan and a financier, he does well in two worlds.  His private life is tragic, losing both wives and all legitimate children to the common illnesses and accidents of the time, although two natural girl children survive him. Life is short, women frequently die young in childbirth, but as both men discover, their 'price is beyond rubies' (psalm 31). Without them there is no future, witness the childless Queen Elizabeth, but at the same time they continue to terrify. It is Anna's thirst for jewels that keeps James constantly in debt to Heriot; and Heriot's thirst for immortality that build's his school.
About Jean Findlay
Jean Findlay was born in Edinburgh. She studied Law and French at Edinburgh University under Peter France and Theatre under Tadeusz Kantor in Kracow, Poland. She co-founded an award winning theatre company and wrote and produced plays which toured to London, Berlin, Bonn, Rotterdam, Dublin, Glasgow and the Pompidou Centre in Paris. She spent years in London writing drama and book reviews for the Scotsman, and has written for the Independent, Time Out and the Guardian.  In 2014 she published Chasing Lost Time: The Life of CK Scott Moncrieff, Soldier, Spy and Translator with Chatto and Windus, now in Vintage paperback and with FSG in New York. She founded Scotland Street Press in Edinburgh in 2014 and now runs this small, award-winning publishing house. For writing The Hat Jewel she won a Hawthornden Fellowship 2018 and a Lavigny International Writer's Fellowship 2019.