24/11/2020
Beirut, Lebanon
The Stillness That Follows
in memoriam.
I Hishadag.
the scene unfolds
in echoes.
listen to the silence—
in the name of Glory.
the sacrifice has been performed—
the pomegranate slit in half.
a thin smear of blood
runs in the midst of the heart as though river
shouldering the awakening
of the let-down dead,
liquidated.
our earth has yet to soak up
the fallen bones and flesh—if she can.
in my dreams i hear the brittle splintering
of their somatic minerals; the calcium phosphate,
the collagen, the muscle tissue, all in their prime,
decomposing into food for the Empire
of their birthright.
each of the fallen thousands, entireties of
their existences, reduced
into their names and years,
turned keepsake, left to desiccate
upon epitaph.
but in the gentle Caucasian updraft, their seeds
now disperse over the mesocarp,
inner wall of the fruit,
turned land.
and in a few years we will see them
putting forth shoots,
taking root in the ancestral
land once again,
and forevermore.
this is Divine law.
Dedicated to the fallen souls of the six weeks long war over the Armenian region of Artsakh (Nagorno-Karabakh), launched by Azerbaijan and Turkey on the 27th of September, 2020.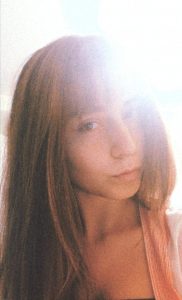 About Pėrla Kantarjian
Pėrla Kantarjian is a Lebanese-Armenian writer, journalist, editor, and literature instructor, from Beirut. Her written works have been published on numerous platforms, including Rebelle Society, Bookstr, Annahar Newspaper, The Armenian Weekly, WalQalam.org, and Elephant Journal.