14/11/2020
Yerevan, Armenia
In the Midst of War: Family, Friendship, and Death
In his book, Soliloquies in England and Later Soliloquies, the Spanish-American philosopher George Santayana said the following: "Only the dead have seen the end of war." With the countless wars humanity has fought and the countless ones that will have to be fought still, it really isn't difficult to accept the reality captured in Santayana's sentiment—those possessing the privilege of being able to read what's written here will at some point or other be exposed to war, if they haven't been already. The extent of this exposure will vary greatly for each individual and depend on factors that are both completely outside of a person's control but also very much within: For one, we can't all choose to be born in Switzerland; at the same time, however, people can exercise agency; they can try building closer relationships with the people who hate them and thereby attempt to prevent an attack, but this has rarely produced results, especially if you reside in a country situated between two nations with whom both borders are closed—the land to the west is the one who committed genocide against you one hundred years ago and the one to the east is hell-bent on "recapturing" the lands on which your people have lived on for thousands of years; to make the situation even more absurd, the land to the west has now decided to help the land in the east achieve their vain ambitions.
That's precisely the fate my friend, Garik Arevikyan, inherited when he was born on November 7th, 1997, in a little Armenian village called Panik, with a population of just over 2,000 residents. Indeed, it was both Garik's great fortune and also misfortune to be born on this ancient land, which has seen conquerors of every complexion and temperament; from the raging Mongol to the blond-bearded Russian, back to the stately Roman, all the way down to the mystical Arab. That the Turk—who had almost once conquered all of Europe—likewise, at some point, also made his presence felt in Armenia is, therefore, not a surprise; what's surprising is that he has come back, attempting to exercise his dominion over this tiny nation yet again. It's not all bad, however; in the same vein, Garik was born in a country with an incredibly rich history, one which goes back far longer than anything the Turks or Azeris can claim. A quick look at this map showing territories held by Armenia roughly 2000 years ago reveals no trace of either Turkey or Azerbaijan—for the mere fact that the Turks entered Europe a mere 600 years ago, more or less.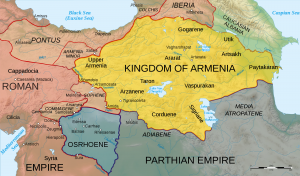 I've always believed in free will—at the same time, I've never questioned the power of fate, of destiny's cold expression that never changes, even when it's confronted by the most desperate pleas for mercy on the part of humanity; that's the world Garik was born into and not just because his birthplace was Armenia but because in the end we're all, as individuals, bound by this oath—this is especially true for Armenians, however. Looking in from the outside, very few understand our existential struggle. As the great Armenian-American writer, William Saroyan, once wrote: "our wars have all been fought and lost," (so much for the present) and though we've laughed in the face of every enemy, something which allowed us—until this very day—to preserve our ancient traditions and Christianity in an environment very much hostile to them, I'm not sure how much longer we can continue to do it. I think forever sounds reasonable enough and I'll continue to believe that just to honor my friend, Garik, who made the ultimate sacrifice.
I met Garik in 2017, when I decided to attend my first Brazilian Jiu-Jitsu course in Yerevan. The head trainer (sensei) paired me up with him; at the time, I thought he would be an easy challenger—just a skinny, innocent-looking kid. Before I knew it, he had forced me into submission three or four times in what must've been less than five minutes. I was dumbfounded, but it was precisely Garik's talent that made me fall in love with the sport, which I continue practicing to this day.
Garik's talent, work-ethic, and determination was infectious—it made a great impression on me. As a white belt, he was already having great success in various competitions, winning the AJP Tour in 2018, previously known as UAJJF Russia National Pro when Garik won it; below is the picture of him with his medal.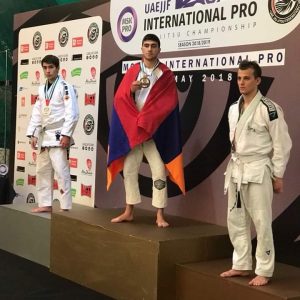 It seemed like my best friend never suffered fatigue during training; he was absolutely committed to achieving greatness. His energy was my fuel and when he was called up for military service, I began spending less time at the dojo. I dearly missed my friend and his competitiveness; challenging him was like playing chess with human bodies.
Garik didn't abandon the principles of hard work, integrity, and honesty when he was sent to serve. In the military, he utilized the grit he had developed during his martial arts training to help him get through the dangers and difficulties of war. He saw his closest friends die around him and said that he was heading into a dark place, stating he had become martaspan—literally translated as mankiller or people-killer. Even strong individuals like Garik, however—built to endure every physical and psychological difficulty—are just people in the end; they're searching for what we all want, which is love, compassion, and understanding, as this picture shows so well.
After enduring horrors in Jabrail, where he was first stationed, Garik was transferred to Martuni, where he died under rocket fire, supposedly when he was asleep. During his thirty-three days of combat, he described sleeping no more than one or two hours, as the enemy was shelling them uninterruptedly.
My fondest memory of him occurred in December of last year. During a short period of leave from the military, he called me and I invited him to dinner at one of the best restaurants in Yerevan to celebrate our reunion; it was also the last time I saw him. After our meal, I hugged him, not knowing there would never be another chance. Shortly after, he returned to his military duties and I to my civilian ones. I thought of him often, eagerly awaiting his return; I think of him now, knowing it's not to be.
Garik passed away some time between October 31st and November 1st; it's not exactly clear. What can't be doubted, however, is that he died just about a week before his 23rd birthday and less than two weeks before the ceasefire. His birthday on November 7th will now be the most difficult day of my life, not simply because Garik is gone, that his funeral had to be conducted in a closed casket manner, that he leaves behind a sister, his father and mother, but because my own brother, Tigran, passed away on the very same day one year ago. What else can I do but post their pictures here?
What other choice do I have but to live for their memories? I can do nothing else but live for the memories of family and friends. I must do this. Defeat is no longer an option.
About Armen Palyan
Armen Palyan was born in the United States but returned to his homeland in order to study dentistry. He divides his time between Los Angeles and Yerevan. This is his first publication.