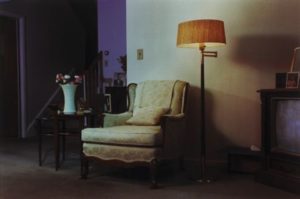 We Carry our Grandmother's Ghosts
1. For Marian, Marie, or Mary-Anne O'Leary
Both my grandmothers are dead,
but only one is a ghost. Barely a name,
and even that was wrong. A school report,
'always tidy, extremely good
at needlework'. A black and white
portrait, hair pinned in upright comb,
a sweet smile for someone out of shot.
She died before our time, remembered
only when my grandma visited. She tapped
the windows, afraid to touch the door for fear
contamination lingered in the house,
in my mother's silent inevitable connection
of TB with immorality, illicit sex and dirt.
When I was eight, we found the last of her,
a yellow handkerchief sachet,
stitched with chain stitch marigolds.
I keep it yet, and last year, made a copy
for my sister, the DC stranded cotton
still sold in the identical shades she used,
eighty years ago. My work is clumsy,
but my wavy stem stitch flower-stalks
deviate from true at the exact same place
hers did, as if she held my hand,
as if she lived in me.
2. Channelling Hanora
Glimpses filter through the history, erased
and redefined, of the first Hanora,
six generations since, whose barn was used
for hedge schools in the Penal Times,
though she risked hanging for it.
'What could they do?' she said. 'The boys
needed their education'. Note that 'boys'.
The next Hanora, the one who looked like me,
Went to school herself, took her turf
for the schoolhouse fire and her penny.
No small sacrifice then to educate a girl.
Her daughter was a bookbinder; her daughter's
daughters went to a convent High school,
joined the Civil Service.
The third Hanora went to Africa,
to run a school to teach a thousand children.
Within a day she knew their names,
made them line up, be quiet, say please,
made sure that all of them got fed,
that apartheid could not close the schools.
Her passion for educating girls
came down to me. She saved my life.
3. Rebel Lizzie
The name is right, her place of birth
plausible at least. A woman who
rode shotgun with a man who said
he was her husband, and smuggled
weapons for de Valera's men.
I have no evidence we are related,
but I claim her as my own.
I need her myth.
About Elizabeth Rimmer:
Elizabeth Rimmer is a poet, editor for Red Squirrel Press and occasional translator. She has published three collections of poetry with Red Squirrel Press: Wherever We Live Now (2011) The Territory of Rain (2015) and Haggards (2018), and is working on a fourth Burnedthumb, which will be out in 2021. Her website is at www.burnedthumb.com.