25/09/2020
Calcutta, India
My Gertrude Stein: Sunil Gangopadhyay—The Man Who Taught Me How to Write
I was hardly a boy of nine when one autumn afternoon I picked up the prestigious annual children's magazine, "Anandamela," and started reading a young adult novel named, The Diamond of Vijaynagar (Vijaynagarer Hirey); it was my father—himself a voracious reader—who suggested the work to me. I was immediately hooked and even read it at night. Indeed, I had fallen in love with Kakababu, the central character, who was always in search of mystery and adventures. When, for the first time, I glanced at the name of the author who had written it, my life changed forever.
In two months I had finished reading all of Kakababu's adventures. In my dream I saw him often, wondering: "Sunil Gangopadhyay himself was Kakababu?"
I asked my father; he said: "Sunil is perhaps the best writer of this generation. The more you grow up the more you will find him amazing."
I realize now that my father was absolutely correct. Later, in my adolescent years I received a book called Those Days (Sei Shamay). "It is a masterpiece of Sunil. No one has written anything quite like it about Calcutta," my father said.
"Is it a history book, Father?"
"No, son, it is a historical novel. Never in my life have I read such a glorious novel where all the historical personalities become characters of flesh and blood. Read it, my son."
When I finished the big book, I cried, promising to myself that I would do everything in my power to meet Sunil Gangopadhyay.
****
It all began on a Sunday when I reached the tenth floor of the apartment named, Parijat (White Pigeons, also symbolizing flowers from heaven) where the legend, my favorite writer, Sunil, Sunil Gangopadhyay, stayed.
When I rung the bell, none other than Sunil opened the door and welcomed me inside in his deep, loud voice—Bhitore Aso!
I cannot describe the feeling of stepping into his house for the first time. I cannot describe the feeling of seeing him sign my Kakababu books for me. I cannot describe the feeling of hearing him ask: "Which one is your favorite?"
Sitting across from the legend—in awe and amazement—I could hardly talk.
The following Sunday I had a chance to visit him once more.
Getting into the elevator … the steps to the tenth floor … nine, ten.
And my eyes never failed to gaze at the nameplate … every time.
Sunil Gangopadhyay.
****
What can I really say about him? He is a dream—a never-ending film of images, a journey into continuous Deja vus. He is a Satyajit Ray script.
Fade in. Fade out.
Sunil—the man who traveled to America and won a scholarship from the celebrated International Writing Program of Iowa. The man who gave up whatever prospects he had in the New World, returning to Calcutta, jobless, alone, uncertain about everything but his confidence in himself as a writer Bengali literature. Sunil—the man who fell in love with a French girl named Margarite, whom he never can forget. She was the girl who made him fall in love with France—Paris is the city he frequented most of all. Was it a love for Paris? Was it the search for Margarite—to find her once more?
Sunil—the man who created scenes of corrupted Bengali society and with them gave birth to a new Bengal renaissance, no different than the one of Raja Rammohan Roy, Ishwar Chandra Vidyasagar, Debendranath Tagore, the birth of a new religion named Brahma; the first flame of the Indigo rebellion rising against the torture of British cultivators; the Young Bengal group who were against all forms of idol worship; among them the rise of talent like Kaliprasanna Singha who was the first person along with Vidyasagar to bring Bengali prose style and the modern Bengali language. Sunil, perhaps, embodied all these things.
Sunil …. Nillohit (his nom de plume), the eternal traveler who saw the world with a Bohemian soul.
Sunil—the man who wrote about the untimely death of Swami Vivekananda in his other masterpiece, Prothom Alo (First Light).
Sunil—the man who ignored Tagore and created a new style of Bengali literature—breaking rhythms, bringing colloquial language into poetry—the birth of a new poetry rebellion named Kritwibas of which he was the founder along with Shakti Chattopadhyay, Tarapada Roy and others.
Sunil—the man who was also inspired by Tagore, making him a character of Pratham Alo. Once he wrote: Tagore was mine. I will tear him, kill him, destroy him but at the next moment I will recite him word for word.
Sunil was my Gertrude Stein.
His door was always open to new writers and poets. Like Stein, Sunil had the same passion for guiding those who loved literature and art. In Kritwibas (the literary magazine which he founded and where I was fortunate enough to be published several times), he encouraged writers to be innovative in all sorts of ways.
And still, aside from writing, Sunil for me was a man who gave me all the freedom and light.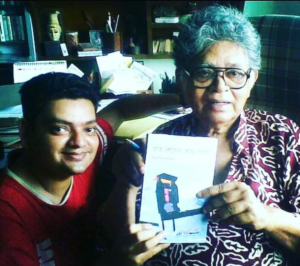 With the all the bad poetry I wrote in my youth, I ran to him and he always read them patiently. He never criticized. He had his own way of pointing out to a young poet what was wrong with the writing: "Why don't you use an alternate word? Why don't you think of the scene with a blue moon in the sky, with the sound of a rickshaw visiting the air?"
He loved the rain; he was that poet who becomes childishly excited by seeing it. He had a lovely voice for singing Tagore songs. I still remember his face one spring morning when he hummed Ai Udashi haoar pathe pathe (a famous Tagore song.)
He instilled in me a patient love for writing. Each time I rushed into his house, he called me straight into his study where he wrote. I always saw him writing. He wrote every morning (except on Sundays) and he was never tired of it.
He loved youth, women, and life but he also toyed with death. He was a devout atheist and often laughed at God. He did not care about anything except love, literature, and beauty. He worshipped beauty all his life.
All those numerous times I spoke with Sunil—the conversations were always about literature and art. Dostoevsky, Kafka, Neruda (his greatest inspiration), about Mark Twain, Picasso, Camille Pissarro, Auguste Renoir, Van Gogh and Rembrandt.
Sunil was a legend who met legends. He was among the Beats in Greenwich Village, living there for months in the shabby house of Allen Ginsberg open to all, where they chanted "Hare Rama Hare Krishna." Jack Kerouac, Gregory Corso, Peter Orlovsky were all there. One story I cannot resist sharing which inspired the word Chobir Deshe, Kobitar Deshe (In the land of Painting, in the land of Poetry) about Gregory Corso.
Corso was the lifelong Bohemian while Sunil always lent money to friends who never gave it back. Ginsberg had already warned young poet not to give him any money; one evening, however, Corso asked Sunil for fifty dollars. Sunil gave it to him. Corso thanked him and left. Sunil only had twenty dollars left. It was his last night in Greenwich Village before he had to travel to Paris. Sunil came to regret his foolishness; at midnight, however, entered Gregory Corso, utterly drunk, and shouted, "Sunil, here is your 50 dollars! I will give you 60 with my best compliments!" I guess Corso did pay his friends back, and then some.
Sunil, Allen Ginsberg, and all the beats there were stunned. What they were seeing was a miracle! Gregory Corso—for the first time in life—returning money and the receiver was a young Bengali poet!
Sunil wrote a lot, mostly in the mornings with coffee in hand, just like Kerouac. He loved Allen Ginsberg, his friend. Allen Ginsberg even mentioned him in his poems. Once in "September on Jessore Road," where he wrote: Is this what I did to myself in the past? / What shall I do Sunil Poet I asked?" Then also  in his last poem before death, "Things I'll Not Do (Nostalgias)," where he wrote:
Never go to Bulgaria, had a booklet & invitation
Same Albania, invited last year, privately by Lottery scammers or
recovering alcoholics,
Or enlightened poets of the antique land of Hades Gates
Nor visit Lhasa live in Hilton or Ngawang Gelek's household & weary
ascend Potala
Nor ever return to Kashi "oldest continuously habited city in the world"
bathe in Ganges & sit again at Manikarnika ghat with Peter,
visit Lord Jagganath again in Puri, never back to Bibhum take
notes tales of Khaki B Baba
Or hear music festivals in Madras with Philip
Or enter to have Chai with older Sunil & Young coffeeshop poets
I owe a lot to Sunil. He taught me to dream, to write: "Keep writing. Edit ruthlessly, cut everything unnecessary. Think a hundred times about the use of each word. Think of the characters and write when you can hear them whispering to you. Let whatever happens in your life happen—never stop writing. If you are disciplined, the words will be yours. Words will let you go out into the world and the more you will travel, the more you will write."
I will write Sunil, until the very end, until the very last moment. I promise, because there is nothing that gives me more fulfilment than writing. I travel. I write. I write. I travel.
In Amsterdam, I still find Sunil talking with Dutch waitresses. I still find him at Apollinaire's grave in Pere Lachaise. I find him at the juncture of a remote village in southern France named Poertiers, standing alone, searching for his French lover, Margarite. I find him in Rome, in Istanbul, in Chicago, in New York, and in our very own Santhal Parganas.
I still remember the moment when I reached Rome and walked out of the train station. The memory of young Sunil—when like me with almost no money he entered Rome and managed to find a small room in a cheap hotel.
Or when I reached Budapest. I left my backpack in the hostel and took the yellow number 61 to the bridge. Then I walked down to the river about which Sunil spoke so much that I always dreamt of it.
To this day, I still have the note he wrote me fourteen years ago: "Beauty is hidden within one's own inner heart."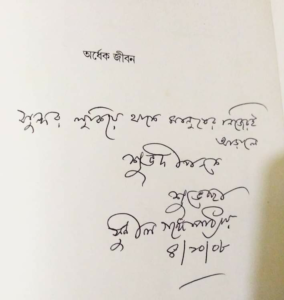 On the 23rd of October, 2012 I was in Bangalore when I got the news that the previous autumn night of Maha Ashtami (an auspicious day of Durga Puja as per the Bengali calendar) he had passed away. I was numb. The phone trembled in my hand.
Only two months before in August my mother had suddenly passed away.
Now Sunil.
I was shocked.
Will you come? My sister asked me.
I decided instantly.
I will not come back to Calcutta to pay my last tribute to Sunil.
It seemed strange but I could not see Sunil dead.
When my mother died, I could not bear to see her either.
Sunil and Ma are still alive in me.
The next day I read his obituary in the paper.
"Born in Faridpur in present-day Bangladesh in 1934, Sunil Gangopadhyay went on to become one of the most popular Bengali writers on both sides of the border.
A prolific writer, Gangopadhyay authored more than 200 books over six decades, with his magnificent range of creations touching upon diverse segments like novels, children's fiction, poetry, literary criticism, travelogue and essays."
I was without words, but acceptance came slowly with time.
When I met Sunil, I was a confused Bengali boy looking for a job, a stable life. He brought out the authenticity in me. Like him in his novel, "Atmaprakash (Self -Revealation"), there came the real me.
"Write. Keep writing, Subhadip."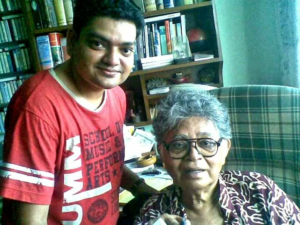 Now, when I look back at those mornings and afternoons of the orange-colored sun, first occasional thunderstorms, and blue colored rain, I find myself fortunate. I am the one who had the moment of Providence with the greatest living legend of Bengali literature. "It is always the third line of a poem that is the hardest to write," he would say. "I disdain immortality because of poetry." I think, perhaps, I understand what he means now.
I continued meeting Sunil into my late twenties. He was old by then, but he still possessed an incredible capacity for writing even in that age. Many of his friends by then were long gone, but his loneliness was never apparent when he wrote.
I now recall one of Hemingway's lines from The Old Man and The Sea: "Everything about him was old except his eyes, and they were the same color as the sea and were cheerful and undefeated."
Sunil was undefeated in that sense and what better way to end than with Sunil's own words from his work, Dekha Holo Bhalobasa, Bedonay (Love, we meet in Pain).
"We, who have mixed moonlight in the Sun and sat by the river in darkness. We, who colored the grey and brought Spring-like lightning. We, who walked through the rain-washed Thonthoniya Kali Temple and reached the steps of heaven, We, who with our dance awake the midnight and laugh aloud …. Yet, we in history faded evenings roared in ecstasy and shout, How wonderful it is to live."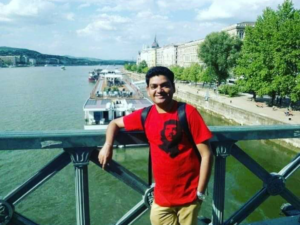 About Subhadip Majumdar
Subhadip Majumdar is a writer and poet from India. He received an online certificate in Creative Writing from the University of Iowa. He was also a long-time editor for a reputed Bengali poetry journal. Subhadip also participated in the Tumbleweed program run by the Shakespeare and Company bookstore in Paris, France. His works are available for purchase on Amazon.