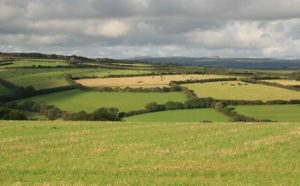 27/08/2020
Good Fences, Good Neighbours
I have been reading Kei Miller's fabulous new collection In Nearby Bushes which came out late last year. The title is a Jamaican phrase meaning not just undergrowth, but backwoods, maquis bandit country, – a refuge for criminals and illicit behaviour, but my first response was to remember the 'little gardens' in front of our row of council houses when I was young. These were not the front gardens, which quite clearly belonged to each house, and were looked after with varying degrees of efficiency and expertise, depending on who lived there, but small patches of grass, set with a hawthorn tree in front of each house, and enclosed with hedges of privet (mostly) and hawthorn where the trees had sowed into the hedge. These were a kind of no man's land. I don't know who maintained them, or if, in fact anyone did. Some householders must have done, because their hedges were kept low and neat, and the grass inside was short, but others clearly weren't. Their hedges grew to shoulder height, bristling with thorns, and the patch within had grasses higher than our heads, clumps of nettles and weeds of a variety unknown to town children. I remember finding a big purple patch of cranesbill in there once, and thinking that its bright elegance was the most exotic and luxurious thing I'd ever seen. No-one could identify it, but a bigger girl told me it was called 'mother of millions'.
The little gardens were forbidden territory of course, but that didn't stop us. We jumped the hedges when they were low enough and pushed through where they weren't. I discovered the word 'meuse' lately – an old name for a gap in a hedge made by the passage of animals – and instantly remembered the phenomenon – all the hedges of the little gardens had meuses created by children, and most of them had desire lines in the grass too. It was a rite of passage to be able to get into, and through, all the gardens of the street from one end to the other. Not getting caught by irate householders was part of the challenge, and so was not being intimidated by the prickles and thorns. Big boys hid in the ones with high hedges to jump out at the unwary, and smaller ones laid traps for them by tying bunches of grasses together across the paths. The principle was that the bad boy would catch his foot in it and trip up, but we never really put it to the test. To be caught in the little gardens was to be in trouble. They are all gone now, paved for off-road car parking, but that in-between space, neither exactly private, nor explicitly public, was a formative part of my childhood, and it started me thinking.
I thought some more when I got to the poem Here That Was Here Before.
When I did my MLitt. in (ulp!) 1984-8, I came across an article (in PMLA, and dating from, I think, the fifties, if anyone has access to it, and the stamina required to wade through all of it), describing the gradual creation of nation states, and with them the notion of fixed borders. I never referred to it in my dissertation, so I didn't keep the reference, but I think of it often now. The process was a gradual one, from about 1350, and completed by the upheavals consequent on the Reformation, but the point I remember is that before about 1370, you could go from one end of Europe to the other, and guides from each village were able speak to the people in the next, because the languages they spoke merged and melted into each other. Once there were borders and boundaries, their languages developed independently, gradually becoming standardised within the separate nation states. Once, you had neighbours, for good or ill. Now you had foreigners, and strangers, and immigrants.
I'm not sure that good fences make good neighbours. Good fences are a means to establish control over a place

They can palliate our anxiety about who owns what, about who we can trust within our designated allotment, and how we can define a trespass. But they don't teach us how to handle proximity, adaptation, blending, withdrawal, the definition of acceptable (and unacceptable) risk, or the halting rollercoaster process of communication and coming to an understanding.
Boundaries are important, but they need not be barriers – they could be bridges. I wrote Haggards about the 'places in between', places where neglect allowed wild things like my cranesbills, and forgotten things like Latin in Ireland during the penal times, to thrive. Permaculturalists write about the 'edge effect' where separate zones – field and hedgerow, woodland and heath, water and land, can blend, and where species from both can live. Perhaps borderlands might not be lawless places, but places of dialogue, of shared stories, of memories and aspiration – they could have meuses for people from both sides to experience adventure, wonder, resilience and co-operation.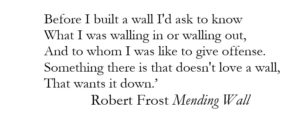 About Elizabeth Rimmer:
Elizabeth Rimmer is a poet, editor for Red Squirrel Press and occasional translator. She has published three collections of poetry with Red Squirrel Press: Wherever We Live Now (2011) The Territory of Rain (2015) and Haggards (2018), and is working on a fourth Burnedthumb, which will be out in 2021. Her website is at www.burnedthumb.com.