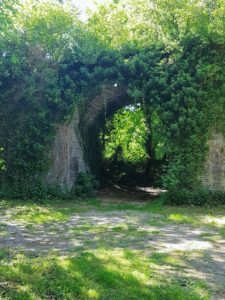 (Image: the meadows near our house)
25/06/2020
Life under Lockdown by Jessica Rydill
I may have had the virus, but I don't know, and won't know until they make antibody testing more widely available in this country. It's possible I picked it up on a visit to friends in London in late February, when we attended a packed exhibition at Tate Britain on the work of 18th century artist, visionary and writer William Blake.
Some time after returning to Bath, my husband and I came down with what seemed like two odd viruses: one gastro-intestinal and the other causing a cough. Neither of us was seriously ill, but the viruses were noticeably unusual, and we lost our sense of smell.
In my case, the cough persisted for a long time, and there were episodes at the start where I coughed so badly I nearly passed out. I went to the doctor twice, and there was no evidence of problems with my lungs, but the cough persisted for months afterwards.
It is possible that it was a different type of coronavirus, not COVID-19 at all; there is no way of knowing. But what happened was that in late March, a week before the government put the whole country into lockdown, Stephen and I decided to self-isolate because we are in a high-risk category.
This meant that we stopped going out, except for exercise, and started to order our shopping online. We also bought some antiviral snoods, rather odd tubular things that you pull over your head and which make you look a bank robber in a stocking mask.
In the end, we remained under lockdown from late March to mid-June. We were not in one of the groups instructed to shelter by the government, but we were extremely fearful.
It is difficult to sum up the experience, but I think the word "terrifying" is apposite. We did not experience great hardship, like some people. We have not lost anyone dear to us, though friends have; but it is impossible not to recognise that something has happened, not just to England but to the world.
What do I think of? How kind some people were, especially at the outset. Our younger neighbours sent us notes offering to do shopping for us. The local pharmacy delivered our medications for a nominal charge. One neighbour brought round armfuls of bluebells from her garden. Every Thursday, we stepped out the front door to "clap for carers" and said hello to our next-door neighbours.
This was important for morale because apart from the odd visit to a local shop at the very beginning, we saw nobody.
At first, we could not for love nor money get our groceries delivered by any supermarket. They were all booked solid. And everywhere was cleaned out of loo roll, hand sanitiser, and staples like pasta and rice. A kind of mass hysteria set in and there were scenes on TV and social media of people fighting in the supermarket aisles, and of empty shelves.
Because we live on the edge of the countryside, we were able to place orders over the phone with local farm shops, and drive there to pick up our shopping. They would emerge from the store with a box of food and put it in our car boot. It all felt absurd, and exciting, and slightly frightening.
My mental health dropped off a cliff because though I see a therapist on a regular basis, the start of the lockdown coincided with the Easter break. After that, consultations continued by phone, but the three weeks of the Easter/Passover holiday were not good.
I was fairly convinced that I must have the virus, and that I was going to die. I spend quite a lot of time worrying about dying, and always have. This time, it felt like a certainty.
In fact, there have never been high levels of infection in this area, and relatively few deaths. But what one became aware of was other people dying, and the daily death toll; the reporting by government figures on television, and the bravado of the Prime Minister until he too became seriously ill.
And it was strange how people online turned to plague mythology and tropes. To reading The Plague by Albert Camus and The Journal of the Plague Year by Daniel Defoe.
(Image: Lormes and friends by Seed Arts)
I own two tiny figures made by resin artist Seed Arts that she calls Lormes. They are miniature versions of the iconic figure of the Plague Doctor, named after Renaissance French physician Charles de Lorme. Somehow, I found these tiny figures comforting, as if they had apotropaic properties, and was slightly distressed when I dropped one on the floor and couldn't find him.
It made me aware once again how important culture and art are at a time like this. And we learned how to talk to friends via Zoom and Skype, so that we could have meetings and even birthday parties!
But the isolation played on us. We started to become reluctant to leave the house. To begin with, we had ventured out into the beautiful meadows at the rear of where we live, and tried to walk reasonably often. As the lockdown continued, we seemed to spend more and more time asleep in the daytime, and to stay up all night until long past dawn.
The astonishing peace and lushness of the countryside was noticeable, together with the flourishing of birds, animals and insects in the absence of humans. There were many fewer cars driving past out house; and once we went out for a drive and saw the city of Bath looking emptier than it had ever before.
And then the news came out about Dominic Cummings. The government's chief adviser and the eminence grise to Boris Johnson. He had driven up to Durham with his wife, who was ill with the virus, and their children. He had stayed on his parents' property and gone on an experimental drive to Barnard Castle to test his eyesight.
After that, it seemed somehow the government could no longer sustain the lockdown. It seemed as if they would do anything to preserve the reputation and status of this unelected individual, who refused to resign though in clear breach of regulations he himself had instituted.
What frightens me is the thought, however fugitive, that in order to justify their position, the government might have moved to relax the lockdown rules earlier than they would otherwise have done. Or because the public mood had shifted drastically due to Cummings and his excursion.
Politics can't be left out of this altogether. This country has had an exceptionally high death rate for its size. And there is clear evidence that old people were discharged from hospital into care homes, where they infected other residents with the virus, and many died.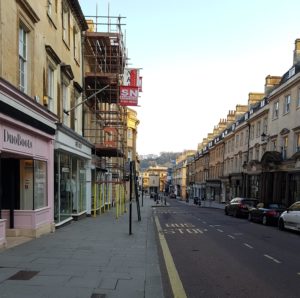 (Image: Empty Bath)
The government were supposed to be shielding these people. And in some instances, hospitals refused to treat gravely ill people who were suffering from conditions that were not coronavirus; they were sent home, and they died.
Though hospitals have been undoubtedly dealing with impossible circumstances, such as years of government underfunding of the NHS, and a lack of the PPE needed to keep their staff safe, it seems as though people have died who should not have died. They should have been protected.
Several of us whose parents died in recent years admitted that we were relieved that neither they nor we had to live through this crisis. But other friends did lose a parent; and there must be thousands of people across Britain (and the world) whose lives have been affected, and changed, by the virus and how it was dealt with.
Don't even ask me about Trump or Bolsonaro.
So the current state of play is: not dead yet. We have started to emerge from lockdown. But we will be wearing face masks in the shops, even if people give us funny looks. And they do.
Whatever the government predicts, we will move at our own pace. But not everyone has that luxury, and that is wrong. No-one should be forced to return to work without adequate protection.
There has been something about the lockdown that is irreducible, impossible to capture. The incredible stillness of the fields with long grasses and wild flowers in the meadow. The silence. The city of Bath almost empty of cars and people.
It's like a warning. A wake-up call. We live and die, we stand or fall, together. Or as Tom Lehrer said, "We will all go together when we go."
Jessica Rydill is a fantasy author from the west country in England. Her first novel, Children of the Shaman, was short-listed in 2001 for the Locus award for best first novel.