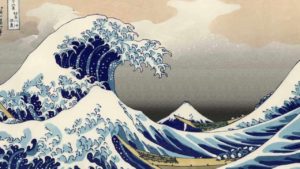 Mortality
If only Heaven will give me just another ten years … Just another five more years, then I could become a real painter.
—Hokusai's last words, at 89
In provincial Obuse,
an aged Hokusai
was granted permission
to keep the body
of a peasant, found bobbing
in Chikuma River.
Time has forgotten
if the pale limbs were male
or female, young or old,
and whether their submersion
was accidental
or intentional, but it
remembers that Hokusai
kept the lifeless model
in his studio for days.
Accounts say he dissected
the remains, but aren't clear
on whether he used
a brush or a blade.
Hokusai had a few hours
to bring the body home
and decide on a pose,
before rigor mortis
chose for him.
His first sketches
likely proved inaccurate,
as patches of blisters
filled with fluid
turned the skin's
surface into an artist's
speckled palette.
By the second night's dusk,
the body would have
given off a lustrous sheen—
those fatty blisters rupturing.
Maybe, Hokusai's brush
vibrated with the thought
of capturing the sad glow
of an earthbound soul.
By morning,
his model's luminous skin
would have sagged, crumpling
as whole decades in minutes.
On this third day,
Hokusai might have
started painting all over again,
with sulfur bruising
his subject in purples,
browns, and yellows
until it rose—
doubling in size.
What compelled the master's
fishing for sallow skin
and hairs soaked
like rural midnights?
What did Hokusai see
in the still cadaver of his
spine-wrecked old sugar farmer,
who had lost his footing,
after dinner had slipped
from his horsehair line;
or that dutiful daughter,
who tailed the phoenix-
inked underside
of a rice paper kite
beyond retrieve;
or the bearded beggar,
sake-blitzed and seeking
something better
below the rushing mirror,
to find only ayu fish
and a bed of stones?
How did Hokusai pose
leftover sinews and bones,
fetal or prone; or did he
have them strung up
with reeds, as if standing tall
upon a riparian bank?
The finished painting
was lost, but all the villagers
who saw it agreed,
it reeked of death.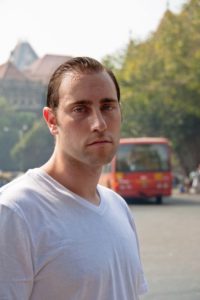 Author Bio:
Michael Ventura-Rogers operates an athletic training facility and K-12th charter school in Los Angeles. His work with nonprofits has helped athletes from underserved communities earn over 200 college softball scholarships in the past decade. After receiving an MFA, he founded a software company, SeamsUp, which seeks to democratize personal sports instruction, making it available to athletes worldwide. Michael's poetry often explores scientific and philosophical concepts through narrative arrangements.