If These Keep Quiet
(Luke 19:40)
The earth is quieter now, without the stress
of so much traffic. The people are walking
for their lives, standing apart, two meters,
the measure of a dead relative between
grandmothers and their hugs of children,
between the customers in the queue.
The earth is resting, animals draw closer
to the edge of town, the chained-up swings,
and empty carparks. And on the doorsteps
people clap, and call, 'Stay safe!' to neighbours
while bad news seeps through forms and emails
of jobs lost, operations cancelled, the tide of grief.
The earth is quieter, but it hears the tears
behind locked doors, the solitary patients,
the lonely dead, the queues on hold to helplines
which give no help. The children, consoled
with rainbows and bears on windows
miss their friends, torment their parents.
There should be an outcry, a roar of protest –
the woods and rivers shouting out for those
who learn too late they are betrayed
by bureaucratic forms which say their lives
will not be saved, their rent will not be paid,
their jobs are gone for good. When those
behind locked doors come out, we should make
a declaration that all of us are loved.
If we do not, the stones that build our homes,
the streets themselves will cry that we are one,
we are together on this earth, not one of us is lost.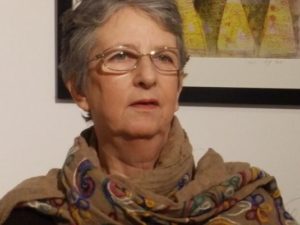 About Elizabeth Rimmer
Elizabeth Rimmer is a poet, editor and occasional translator who is widely published in magazines and online. She writes poems based in landscape and community, exploring the many different dimensions of the dialogue we hold with whatever environment supports us – biological, social, spiritual – how we live on the earth and with each other, how we react to the passage of time, what beauty we find in living, and the ways we deal with grief and loss and hard times. She is influenced by her experience of growing and using herbs, producing a modern translation of the Old English Charm of Nine Herbs in 2017, by her study of geopoetics, permaculture, folklore and the mythological traditions of northern and western Europe, and by the mystical and philosophical traditions of Christian monasticism. Elizabeth Rimmer has published three collections of poetry with Red Squirrel Press, Wherever We Live Now, (2011), The Territory of Rain, (2015), and Haggards (2018), and is working on her fourth Burnedthumb, which will appear in 2021. She has edited eight poetry collections and two pamphlets for Red Squirrel Press, and anthologies the Federation of Writers (Scotland) and the Scottish Writers Centre. She is a member of Scottish PEN and the Scottish Centre for Geopoetics.