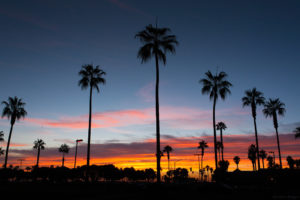 June 6th, 2020
Ravenna, Italy
Foreword to Interlitq's California Poetry Feature
California is a land of great diversity—not just in terms of its population, but also in the geographic sense. Although Los Angeles in the southern part of the state and San Francisco in the north are the most cosmopolitan examples (both in terms of breathtaking landscapes and cultural capital), there are plenty of talented artists, writers, and other creative professionals producing incredible work in cities like Sacramento, Fresno, and Santa Cruz, just to name a few.
The tension, thus, which arises in assembling a feature devoted only to California poets is that in doing so one both captures a great array of voices yet also excludes all the other forty-nine states that could have made the collective even more diverse.
Any kind of literary feature—even if its aim is to empower unrecognized individuals—will paradoxically always necessitate some forms of exclusion because it seeks to expand the visibility (and rightly so!) of a disenfranchised group at the expense of those who are not included in the project.
Nevertheless, literary features should continue to be organized. We have chosen California as our lens of focus precisely because it is this state that provides the biggest opportunity to find the best representation of diverse talent—poetry being no different in this regard.
Interlitq has always been international in scope, publishing literary pieces from writers working in Europe, North America, South America, Asia, and the Middle East; it has likewise featured interviews and works by an archbishop and imam, both of whom serve on the editorial board of the magazine.
Originally, we had planned for a single release of thirty California poets; however, as submissions began to come in, we decided to divide up the feature into ten poets each, spread out across four months—both to sustain readers' interest and to make it more streamlined on our end; in this respect, we will publish ten or so every month, so long as we get quality submissions; this strategy will, thus, will give us greater opportunities to be as inclusive and flexible as possible.
Even then, it is impossible to capture all of what California's writers have to offer, but we do hope you will enjoy this first compilation of poets scheduled for publication in the upcoming weeks.
Stay tuned.
Peter Robertson, General Editor and Founder of Interlitq
David Garyan, Italy Editor at Interlitq
Peter Robertson – Bio
Peter Robertson was born in Glasgow in 1960, of Scottish and Irish descent, son of William John Robertson, formerly Chairman, West of Scotland Refractories, and Isobel Murray Imrie; he was the step-nephew of Ames Lyell Imrie CBE, variously City Chamberlain of Edinburgh, City Chamberlain of Dundee, and Consul of Sweden at Edinburgh. He was brought up in Perthshire, and educated at King's College, Cambridge. He is the President, Publisher, and Founding Editor of The International Literary Quarterly (Interlitq), a not-for-profit corporation in the State of New York.
A journalist by profession, he also taught for the British Council in Madrid, and was later employed as an Editorial Assistant for the Alfaguara Publishing House in Buenos Aires. He was then contracted by the International Monetary Fund as a linguist, and for which organization he also conducted research. Subsequently, he acted as a Consultant for a number of international agencies, including the World Bank, the European Investment Bank, the Organization for Economic Cooperation and Development, and UN Women.
As an author, his fiction has been translated into several languages, and he has published translations of work by authors such as Jorge Luis Borges, Rosalía de Castro, Rubén Darío and Paul Éluard.
He is a Fellow of the Royal Society of Arts. a Fellow of the Society of Antiquaries of Scotland, a Fellow of the Chartered Institute of Linguists, and a Fellow of the English Association.
He lives in Argentina and Scotland.
David Garyan – Bio
David Garyan has published three chapbooks with Main Street Rag, along with a full collection, (DISS)INFORMATION, with the same publisher. He holds an MA and MFA from Cal State Long Beach, where he associated himself with the Stand Up Poets. He is currently studying International Cooperation on Human Rights and Intercultural Heritage at the University of Bologna. He lives in Ravenna.