28/04/2020
StAnza Scotland's International Poetry Festival
by Elizabeth Rimmer
The photo is of Festival Director Eleanor Livingstone, and Programme Co-ordinator Annie Rutherford, whose meticulous and imaginative teamwork has created this outstanding event, now in its twenty-third year.
If it's March, pretty much the whole of Scottish poetry comes to St Andrews in Fife – a pretty coastal town usually known for its university and golf courses – for StAnza. More than a festival, it has become something like a cross between a poets' reunion and our AGM. Officially, however, it is a festival presenting some of the best poets from all over the world, and some of the most innovative poetry you are likely to see anywhere – poetry in films, installations, translation, comics, spoken word, poetry responding to music, art, politics and history.
The stated themes this year were Due North and Coast Lines, with focuses on Nordic and Gaelic language, and a celebration of Scotland's Year of Coasts and Waters. The festival opened with the formal StAnza Launch, introduced by Val McDermid, who spoke about the importance of poetry in her life,  showcasing the work of Anthony Anaxagorou, Matthew Caley, Anna Crowe, Suzannah V. Evans, Jen Hadfield, Katrine Lyck, Maitreyabandhu, Alannah Moar, Jeda Pearl, and Agnes Scott Langeland, Gaelic poetry from Robbie MacLeòid and Deborah Moffatt, a filmpoem by Shetland poet Roseanne Watts, and Sami poetry, including yoiking from Johan Sandberg McGuinne.
After that came several crowded days of events. People were already being cautious about social distancing, and washing hands (never known the soap dispensers in the Byre Theatre, the Festival hub, to go through so much so quickly!) but not yet cancelling public gatherings, and the importance of being there only seems more obvious now that we are in lockdown. The idea that I might not have heard, say, Jen Hadfield's poems from her forthcoming collection The Stone Age, Carolyn Forché's reading from her memoir What You have Heard is True as well as her poetry, Zoe Skoulding's Footnotes to Water or Pauli Tapio's surreal Sparrows and Time or Catherine Eunson's music written in response to Pauline Prior-Pitt's North Uist Sea Poems, seems an appalling deprivation.
Diversity seemed to be the underlying preoccupation of us all – diversity of language, race, medium, gender and ability came up a lot, as we began to get to grips with the restrictions on movement and communication indicated by Brexit. Jen Hadfield evoked the way a neurodivergent brain processes language and emotion differently from a neurotypical one. In Matthew Caley's lecture, we were reminded of how Modernist women poets had been as innovative and as well respected by their contemporaries as the men, and how their reputations had been allowed to lapse under the focus of the New criticism of the Thirties. At the Scottish PEN reading we heard poems from the forthcoming anthology entitled Declarations, and were alerted to the numbers of poets who were, and are imprisoned for their political witness. At Carolyn Forché's reading, she described how a man from El Salvador had come to her house saying that his country was on the brink of civil war, and he needed a poet (and not a journalist) to document what was happening in the hearts and minds of the people.

(DA Powell giving his Centrestage reading)
The highlight for me was an event called On the Same Page: chaired by Edna Longley, it was a panel discussion by Jay Bernard, Sophie Collins, and Sabrina Mahfouz, on the political scope of poetry. It was inspired by the famous Auden quotation 'Poetry makes nothing happen'. The consensus of the panel was that yes, it does make things happen, but maybe not as much as we'd like to think. Sabrina Mahfouz pointed out the tendency towards self-righteousness and complacency of the artistic community, and the fact that popular video games were very resistant to the more liberal outlook promoted by the culture sector. Jay Bernard pointed out that there had never been a period of history without artistic endeavour of some sort, and it reflected the human condition, its aspirations and ideals, however individualistic the artist was. Sophie Collins pointed out that a writer is inevitably politically engaged as a human and therefore also as an artist. They unanimously condemned the reductionist tendency of the media to focus on one aspect of a person's identity, reducing representatives of one social group to no more than an issue, and denying them the right to produce fully -rounded work on all the aspects and topics that shape their life. They pointed out that poetry is a medium uniquely suited to the task of expanding this one-dimensional way of looking at people and situations, creating space for subtlety, texture, multifaceted perspectives and genuine originality.
In an age of instant reaction and the speed with which social media demands that we should instantly 'pick a side' on any topic, I'd have to say that the most significant moment of the whole festival was Sophie Collins claiming the right to take her work seriously, and not to have to speak about an issue until she has had time to 'sort her thoughts out'. This value for thought and consideration and thoughtful rather than reactive conversations will stay with me for a long time, especially in this new situation where we find ourselves. When we see the world only through a computer screen, we have to learn to resist the easy push-button reactions, the gifs and emojis, and create something thoughtful, of the heart. We must learn to take our job seriously. The world needs poets to make sense of what's happening here.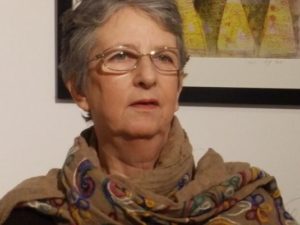 About Elizabeth Rimmer
Elizabeth Rimmer is a poet, editor and occasional translator who is widely published in magazines and online. She writes poems based in landscape and community, exploring the many different dimensions of the dialogue we hold with whatever environment supports us – biological, social, spiritual – how we live on the earth and with each other, how we react to the passage of time, what beauty we find in living, and the ways we deal with grief and loss and hard times. She is influenced by her experience of growing and using herbs, producing a modern translation of the Old English Charm of Nine Herbs in 2017, by her study of geopoetics, permaculture, folklore and the mythological traditions of northern and western Europe, and by the mystical and philosophical traditions of Christian monasticism. Elizabeth Rimmer has published three collections of poetry with Red Squirrel Press, Wherever We Live Now, (2011), The Territory of Rain, (2015), and Haggards (2018), and is working on her fourth Burnedthumb, which will appear in 2021. She has edited eight poetry collections and two pamphlets for Red Squirrel Press, and anthologies the Federation of Writers (Scotland) and the Scottish Writers Centre. She is a member of Scottish PEN and the Scottish Centre for Geopoetics.