28/04/2020
Feature on 4Word Press, by Angela Topping
4Word is a fairly new press and these three small collections are the first ones they published. Although they refer to these as pamphlets, they are perfect bound, so feel more substantial and sturdier than stapled or stitched books. These first three have different but matching, art deco inspired covers, very stylish. The press is not for profit and collaborative in nature. They publish 4 slim volumes a year and are currently closed to submissions. They are now two years into their venture and have published eight more titles since, so do check out their website at  http://www.4word.org/ They are all £5.99 plus postage.
After Eden by Stella Wulf
It's evident from the first poem that Wulf enjoys words: 'moonstruck… cahoots… plume-hushed owls…lubbers…. rollick'. All these words give 'Sweet Dreams' a sense of playfulness and good humour. This poem also sets the tone. Don't expect 'angel wings' but 'ruffled feathers'. There is trouble ahead, and the reader will not be preserved from the truth of things, though there is consolation, in that' everything turns/ in the end… 'as 'The Last Dance' puts it.
Wulf has also given us a heads-up that she 'dabbles in fantasy'. What seems like a loving poem about a Grandmother, in 'Grandma' is really a play on Little Red Riding Hood, but with the granny wolf (Wulf wordplay) being the fierce protector. Is Granny Wulf's son a wolf? 'I had his ears/ his big brown eyes'. The language of the fairy story is echoed in things a granny might say: 'All the better to hug you with' and 'I'm all the better for seeing you', and lexical choices like 'howled' and 'tufts on her chin' strengthen the reader's growing suspicion. I loved the list in stanzas 6&7:
She bossed me into my knitted cowl,
dusted down her old fur coat,
led me off on a flea market prowl
to sniff out bone combs, hat pins
toothpicks and toggles,
off-cuts of calico, dimity, chintz
rickrack, ribbon and gimp
for her Sawtooth patchwork quilt.
There are more hints embedded in these stanzas, such as 'fur coat,' 'prowl', 'sniff out' and 'fur coat'. I won't spoil the ending, but it's clear Granny doesn't care much for her daughter-in-law… and many of us can identify with an overly critical mother-in-law.
The bird poems offer an original angle on the creatures. 'Pavo Cristatus', about the Indian peafowl, is full of those thrilling words Wulf likes: impossible to pull out quotations as the whole poem is full of them, but the accuracy an detail of her love-song to a young one she finds abandoned, and is about to discard, when she realises the bird is alive, just. It's left ambiguous whether the bird survives or not, but in her mind, it does, and therefore in the reader's mind too, if only in spirit. It's a poem devoid of sentiment, but full of amazement at the beauty of the bird. The same lack of sentimentality appears in 'Vixen'. I don't care for poems which sentimentalise nature, so Wulf's poems are right up my street.
There are poems about mudlarking, art (both creating it and appreciating it), landscape and wild animals, birds, a host of characters, the moon, and living in Wales and France. Wulf's poems present different moods and changing angles on life. They have their roots in lived experience, and they grow into fantasy and metaphor to draw in the reader.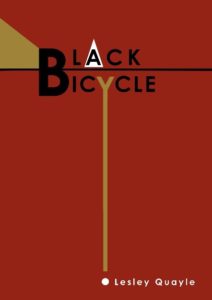 Black Bicycle by Lesley Quayle
Another poet no-one could accuse of sentimentality is Lesley Quayle. No-one who spends 30 years sheep-farming is sentimental about nature. Black Bicycle is a third publication from an experienced poet who is well known on the poetry scene. The first six poems are rather surreal narratives, each with its own arc, and each centres around a person's experience, such as 'The Man with No Legs Takes to the Dancefloor'. These poems are all ways of telling things slantwise, looking at objects like pylons from an unusual angle, or exploring death, the galaxy, childhood. The theme of people continues into the rest of the poems, too. Quayle has a keen eye for observed details, pinning them down with precise language. 'Old Moley' is a good example of her skill. He's some kind of a tramp of the old-fashioned sort, perhaps a mole-catcher, or perhaps that's just a nickname the children give him. Despite his many layers of old clothes and his odd boots, one black, one brown, he dances in the park:
struts his stuff and promenades,
a waltz, a quickstep, cuts some rug
and rock 'n' rolls, his jive and twist
compelling flies like semibreves around his head –
This dance is the burst of energy, the pivotal moment of the poem, the explosion of activity which subsides when he stumbles. The language is unflinching, describing his rank breath, his toothless mouth, the stench of his clothes and hair. The reader's senses are directed to someone they might normally avoid looking at, and by the end of the poem, the man has achieved the status of a Shakespearian fool, an old Feste, 'entertaining strangers for odd coins / rolled downwind to the ragged cockle of his hat'. The poem has no designs on the reader to evoke pity; it's merely telling it like it is.
There are several poems about sheep-farming, which are unremittingly truthful, for example 'Old Yowe in the Market'. Quayle spares no detail of how used-up the animal is: '-crate, broken mouthed – a rack of ribs', but also respects the life she'd led. Though others might forget the 'drift of lambs', the poet does not. That phrase 'drift of lambs' is very effective because lambs are white and often born when the snow is on the hills where sheep graze. 'Come-Bye' shows another side to sheep farming, the hazards, bringing the sheep in to avoid attack. The ending is musical and tender, the word 'tolling' increasing the sense of danger:
The old flock mother tows them towards me,
tolling her brood music so they can follow
away from the wolf at the heels.
Quayle incudes several poems about strong women. 'Black Bicycle', the title poem, is about a woman in 'thigh high leather', 'a ride', meaning an attractive person, but she's not looking for love, but vengeance, with her 'cunt of little razors to appease old ghosts', setting off to fix the world. She's  a 'virgin queen', determined to be visible: 'You will see me', a reference to the so called invisibility of older women from the male gaze. 'I Don't Want To Dance' is about an encounter with a man at dance, who pins the speaker against a wall, and she sees him up close and is assailed by his breath: 'smoky/ soured by lager'. The speaker is terrified. Quayle shows her vulnerability through the simile, 'like a wounded bird'. The man is wheeling, cajoling, but the speaker pushes him away to his comment 'You're a disappointment, darlin, so you are'. Quayle exposes the man's sense of entitlement, and the sense that he has only let her go because he wants to save face.
There is plenty more to enjoy in this collection. Quayle can be political, giving voice to silenced people, and her delight in language is evident in her precision of imagery and word choices. Her poems are strong and muscular.
Androgyny by Kevin Reid
Reid's poems are pared down, slender and pack a punch. An important theme in this collection is intimate relationships. There is a sense of looking back in the earlier poems, sparking memories of adolescence, by including brand names such as 'Grattan catalogues', songs including 'Scarlet Ribbons' and 'Walk on the Wild Side', and cultural references such as Donny Osmond and place names which have resonance for the poet. One poem which moved me is 'Isabel', about a teenage friend of the speaker, who seems full of life at first: 'thick black hair,/ rosy cheeks', but as the poem goes on, details suggest a note of sorrow: 'swollen eyes, /shades too big for her face'. Happy times with the speaker contrast her appearance, kissing and giggling together. The ending gives the shock, and is badly put, which suits the unadorned truth of the poem:
A lethal dose administered your departure
with so many questions unanswered.
The poem is a fitting elegy for a vulnerable girl. It leaves us with the mystery of her death, as such deaths often are unfathomable.
Another form of intimate relationship  is child and parent. In 'The Song in My Heart', Reid explores the soundtrack of memories, songs Daddy and Granny and Mummy used to sing, old sentimental songs, and hymns in church and at the football, and the walking away at the end, to a pop song, claimed by the 'Catholic boy with green hair /leaving home/ to Walk on the Wild Side. One can sense the swagger of it.  'Pregnant Love' and 'Manna' focus on the love of parents for each other and their small child, and subsequently the pain of break-up in 'After the Fire'.
The most intimate relationship is the one we have with ourselves, and Reid explores with tact the issues of gender and how we define ourselves and come to know ourselves and our own gender. 'As a young boy I learned' is a run on title which leads the reader to some self-discovery. The speaker accepts his own feelings and behaviours and forgives those who wanted him otherwise:
of Dad's disappointment,
I wouldn't be a footballer,
I'd rather dance.
Of Gran's prayers I'd be a priest.
The boy has a role model in Uncle Paul, a bachelor who avoided chapel, his identity kept mysterious. Added to this is the setting, in Belfast at the times of the troubles. The name-calling from other kids, 'lassie-boy and fenian' unite the two threads of this poem neatly. The title poem focuses on this issue too, using a range of binaries to show how the binary is a blunt instrument than does not serve anyone: 'these  his and hers hands'.
There is sadness as well as joy in these poems, tenderness and honesty.
4Word Press is doing a good job bringing these poets into publication, and their list is growing. The not-for-profit collaboration model is an innovative way of doing things. Their mission is to enable poets who cannot easily get out to readings into book publication, going against the tide of many publishers today, who need the poets to work hard to sell their books. The latter is one way of dealing with the lack of funding to small presses, but 4 Word Press has gone in the opposite direction, which makes them highly inclusive, only limited by their sensible decision to publish only 4 books a year. Good luck to them in all they are doing.
Angela Topping
Angela Topping (born 2 October 1954) is an English poet, literary critic and author. She has published eight poetry collections: Dandelions for Mothers' Day (1988, 1989), The Fiddle (1999), The Way We Came (2007), The New Generation (Salt 2010), I Sing of Bricks (Salt 2011), Paper Patterns (Lapwing 2012), Letting Go (Mother's Milk Press 2013) and The Five Petals of Elderflower (Red Squirrel Press 2016).