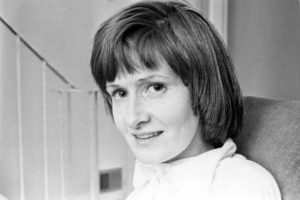 Eavan Boland
24 September 1944 – 27 April 2020
April 27, 2020
Eavan Boland was born in Dublin, Ireland, in 1944. Her father was a diplomat and her mother was an expressionist painter.
At the age of six, Boland and her family relocated to London, where she first encountered anti-Irish sentiment. She later returned to Dublin for school, and she received her B.A. from Trinity College in 1966. She was also educated in London and New York.
Her books of poetry include New Collected Poems (W.W. Norton & Co., 2008), Domestic Violence, (2007), Against Love Poems (2001), The Lost Land (1998), An Origin Like Water: Collected Poems 1967-1987 (1996), In a Time of Violence (1994), Outside History: Selected Poems 1980-1990 (1990), The Journey and Other Poems (1986), Night Feed (1982), and In Her Own Image (1980).
In addition to her books of poetry, Boland is also the author of Object Lessons: The Life of the Woman and the Poet in Our Time (W. W. Norton, 1995), a volume of prose, After Every War (Princeton, 2004), an anthology of German women poets, and she co-edited The Making of a Poem: A Norton Anthology of Poetic Forms (with Mark Strand; W. W. Norton & Co., 2000).
Her awards include a Lannan Foundation Award in Poetry, an American Ireland Fund Literary Award, a Jacob's Award for her involvement in The Arts Programme broadcast on RTÉ Radio, and an honorary degree from Trinity.
In 2015, her poem "Quarantine" about the Great Famine was among the ten poems shortlisted for RTE's selection of Ireland's favourite poems of the last 100 years.