Quarantine Diaries – Day 7
March 21st, 2020
Trento, Italy
Ruins
In completely appropriate solidarity with my Italian friends, here's a morning middle finger from our first-floor balcony—to be honest, I don't even know if you can call a balcony on the first floor a balcony, but what I do know is that there'll be no singing or guitar playing today.
Anyways, let's just move right along. "It's morning again in Italy," Ronald Reagan famously said—meaning that "Today more men and women will not go to work than ever before in this country's history." I'll let you decide which phrase he really said or didn't say—the first or the second, or perhaps even both?
But wait! There's also Anthony Burgess, who proclaimed that "Life is a wretched gray Saturday, but it has to be lived through," without really knowing, of course, how sunny it actually was in Trento today. We won't blame him, however, because he's been dead for twenty-seven years, but that won't stop us from leaving depression up to the British; their climate and cuisine has always accommodated stuff like that very well. On the other hand, this is Italy and we don't have any wretched gray Saturdays here—even when we have them.
It's hard to believe that this entry constitutes the seventh day since I started this diary. "Swift fly the days," said Jonathan Swift on October 19th, 1745, the day of his death. No, not really, it was Alexander Pope who actually spoke those words—and not about Jonathan Swift but life in general; furthermore, he actually said the following: "Swift fly the years." Oh, for God's sake. When will this insanity stop?
The cabin fever has really set in. I told my brother this morning: "I can't take it; we must go out." He only shook his head and agreed. Times are tough. Italy has already banned jogging and other physical activities, unless they're conducted "in the vicinity of people's homes," according to CNN.
So, it was settled, but where does someone go during a quarantine when they no longer have a need for groceries? A tough question, indeed, but surprisingly it didn't take long for me to remember John Muir: "The mountains are calling and I must go." Ah, the mountains—if you can survive there, you can survive anywhere. Although I've climbed only one bona fide mountain (quite an easy one) since I arrived in Italy six months ago, I'm not exactly a stranger to heights, as you can see from the photo taken on Mount Hood. Watching the sun ascend and form the mountain's shadow behind me was the most intense moment I've experienced in my life.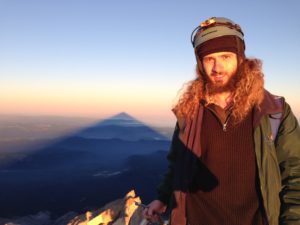 Unfortunately, today would not bring such a blessing because I woke up at 11:00 am. I realized that only two kinds of people can afford laziness—the rich and those in quarantine; if you fall into the second category, however, you better be rich. Since we don't have bags full of money, my brother and I couldn't afford laziness either so we made use of whatever time was left and swiftly left the house like Jonathan Swift making jokes about Alexander Pope who returns the favor by making jokes about Jonathan Swift.
We reached the trailhead and began our ascent. Needless to say, I shouldn't really be putting this information out here, but we're in a crisis, for God's sake—all the rules have gone out the window. The Italians have finally had enough. Slowly, martial law is being enacted, as Italy has called in the military to enforce the lockdown, according to CNN.
At this moment, thus, I can't think of a better opportunity to inform the Italian government that besides renting property in Trento, we've also acquired property in the woods. Check out this makeshift condominium with great amenities; sure it's a fixer-upper, but look at the potential. The only problem is the lack of Wi-Fi; as you can see, I'm having a little trouble contacting the aliens—there's only one checkmark on every fucking WhatsApp message.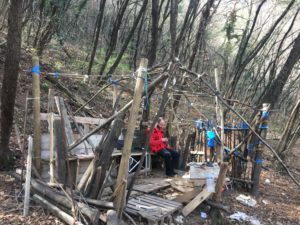 Here I am trying to fix the problem with the network connection; however, I was surprised to find out that the many literature degrees I had acquired over the years just weren't helpful in allowing me to diagnose the problem.
To say the least, I wasn't discouraged—this is just one of the properties my brother and I have obtained in the mountains. Behold this fantastic penthouse; the previous owner was Christopher Thomas Knight, a man who lived in isolation for twenty-seven years without human contact. Again, I'll leave the discrimination between fact and fiction up to you.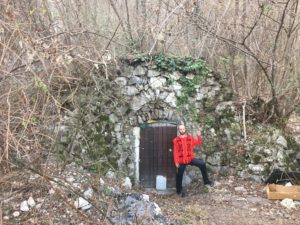 Ultimately, the only tragedy which affected Knight—besides being arrested for vandalizing cabins to survive—is perhaps the fact that his arrest occurred seven years before he had a chance to show off his self-quarantining skills to the world. Ah, life is indeed cruel.
The more tragic story is that of another Christopher—I'm referring, of course, to McCandless here. After graduating from college, he attempted to disconnect from society and live in the wild. McCandless donated all his college savings of $24,000 and set out to realize his goal in 1990, relying on little help from others and often flat out refusing it. He died only two years later in Alaska.
There's also Hiroo Onoda, the last WWII Japanese soldier to surrender—right about the time that Nixon surrendered, so to say, the presidency because of Watergate. In the interest of humor, let's forget this character, Hiroo Onoda, who hid in the Phillipine jungle for twenty-nine years to be what I can only imagine the longest serving WWII veteran of all time. Boy, talk about a quarantine.
I really don't know what the point of this is, but perhaps it's the following: At a time of such great uncertainty, when governments across the world have forced us to become hermits, we must ask ourselves: Indeed, I neither have an interest in being like McCandless or Knight, but now that the government has forced me to keep the greatest distance I can from society, whose example should I follow—the one of McCandless or Knight?
In other words, do I see the current situation as an opportunity to learn something about the world or do I only try to survive by buying ridiculous amounts of groceries and thus "stealing" from those who now can't buy them, or even resorting to the downright theft of masks? McCandless is dead and Knight isn't, but I believe society has much more to learn from the former than the latter.
"We have a greed with which we have agreed," sings Eddie Vedder in a song he wrote for the movie about McCandless, Into the Wild.
Maybe this isn't the time or the place for this discussion, but I always think about this issue after listening to Vedder's song: It's not hard to see that capitalism brings out the worst in people. It normalizes the idea that just because you have the buying power means that you should always exercise that power, and to go even further—it validates the belief that the buying power an individual has acquired is best used only for his own interests and purposes; all this really stems from people's misconception that they've achieved everything by themselves, a quintessential US philosophy that's the most blatant garbage to be found anywhere.
The wealthiest people have, like everyone else, relied on others—whether it's cheap labor that helped them cut costs, resources which they didn't manufacture or grow, or universities which they didn't found—all these helped them promote and build their products and allowed for the education that helped them become successful. Maybe I'm wrong, however. Maybe I should simply believe that they could've learned everything by themselves—if not in school, then from books they didn't publish themselves, or advice they were never given by acquaintances and friends. Yes, I'm talking to you, college-dropout billionaires.
I don't know anymore and maybe I don't even care but what I really don't know is how many more times I'll have to write this before the quarantine restrictions are lifted. Always reassuring is the idea that a human lifetime doesn't even take up a square in the geological calendar—it's perhaps a little longer than a split second.
Traveling through Greece two years ago, I saw some of the greatest testaments to human culture lie in ruins—Olympia, Sparta, Delphi, Sounion, just to name a few. I can only imagine the wealth and power Greek city-states used to command.
Today, in the mountains, I was gently reminded about what really lasts and I realized again that it's not humanity. The peaks around this ruined building have stood for ages and will continue to stand for that long; the accomplishments of humanity, on the other hand, are just mountains erected without earthquakes and that truly makes life a wretched gray Saturday.
All the way from quarantined Italy: I may seem crazy now, but in a month everyone here will be no different.
Until next time.
About David Garyan
David Garyan has published three chapbooks with Main Street Rag, along with a full collection, (DISS)INFORMATION, with the same publisher. He holds an MA and MFA from Cal State Long Beach, where he associated himself with the Stand Up Poets. He is currently studying International Cooperation on Human Rights and Intercultural Heritage at the University of Bologna. He lives in Ravenna.