Back Ground, a poem byMary Harwell Sayler:
No! Don't focus
on that woman dancing
for your camera
or the elderly couple
caught on your couch:
the jaunty tilt
of his hat,
the click
of her fingers
keeping time
to thin music,
but see the blur
of that teenaged girl
slouching
out every door.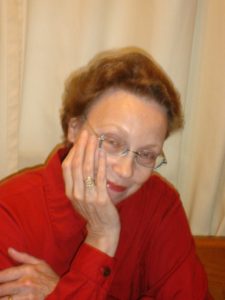 Mary Harwell Sayler
Mary Harwell Sayler's bio:
Mary Harwell Sayler began writing poems in childhood but, as an adult, wrote almost everything except poetry! Eventually she placed three dozen books in all genres including poetry and how-to books on poetry and writing. She also maintains the Poetry Editor blog and provides resources for poets and writers on her website. Recently she collected almost all of the prayers in the Bible from many English translations, paraphrased them into contemporary language, and published the Book of Bible Prayers. She then published the prayer book in the King James Version only, the Book of KJV Prayers.