NOISE a poem by Mary Harwell Sayler:
"Listen! A loud noise— News is coming!
An immense commotion…" (Jeremiah 10:22)
In a forest clearing not far from us,
a bomb drops –
not for war, but practice.
Have we not practiced enough?
Centuries ago, boots trampled
the ground for six days
around the city. Trumpets blew.
Vibrations shook the silence.
And on the seventh day,
Joshua called out: "Shout!"
And the troops shouted as loud
as they could until barricades
and boundaries and walls fell
around Jericho.
Now metallic music bursts
an eardrum. A piercing scream
kills a gerbil. Jabbering news
jolts the nerves.
Yelling wounds
the child, the spouse,
the dog, the soul,
the people sitting quietly
in their pews.
Will the incessant tap-tap-tap
of a woodpecker
bring down the tree?
Silently
raindrops dance on our lake,
replenishing life-giving water.
God's peace. Shalom.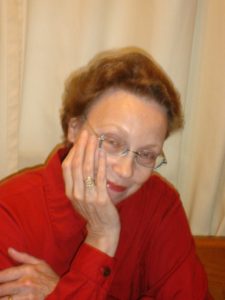 Mary Harwell Sayler
Mary Harwell Sayler's bio:
Mary Harwell Sayler began writing poems in childhood but, as an adult, wrote almost everything except poetry! Eventually she placed three dozen books in all genres including poetry and how-to books on poetry and writing. She also maintains the Poetry Editor blog and provides resources for poets and writers on her website. Recently she collected almost all of the prayers in the Bible from many English translations, paraphrased them into contemporary language, and published the Book of Bible Prayers. She then published the prayer book in the King James Version only, the Book of KJV Prayers.