Illumination, a poem by Mary Harwell Sayler:
The light
from the refrigerator door
overcomes the darkened floor
where I've been walking.
According to the Bible,
light shall always extinguish
darkness and prevail,
but now a gnawing, awakened
in the crest of my breastbone,
has arrested me
from an unsound sleep.
Nothing sounds
but my husband's breathing
in a far corner of the house.
Nothing sounds good enough
to eat at four a.m.
I fumble with the plastic wrap
on an orange slice of cheese,
trying to be quiet and wondering why
a tightly capped cola went all flat.
A troubling conversation
comes to keep me in poor company,
and the gnawing deepens, darkens,
threatens to distinguish
something not yet extinguished
by the assailing
light.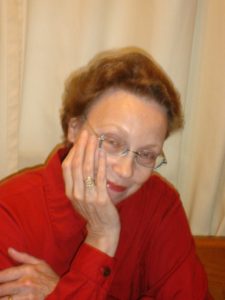 Mary Harwell Sayler
Mary Harwell Sayler's bio:
Mary Harwell Sayler began writing poems in childhood but, as an adult, wrote almost everything except poetry! Eventually she placed three dozen books in all genres including poetry and how-to books on poetry and writing. She also maintains the Poetry Editor blog and provides resources for poets and writers on her website. Recently she collected almost all of the prayers in the Bible from many English translations, paraphrased them into contemporary language, and published the Book of Bible Prayers. She then published the prayer book in the King James Version only, the Book of KJV Prayers.