The way the river
tossed me, washed my clothes,
gave me fish and algae,
I never knew what to expect –
silt or drinking water,
drought or flood.
On the way, the water
cleansed me,
transported me
to another bank
to count on – with or
without money.
Along The Way,
the Wind
took my breath,
swept me
into a new place,
flooded me with Ruah.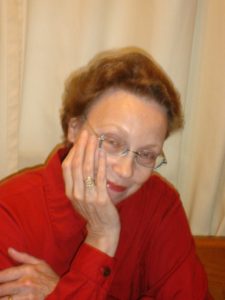 Mary Harwell Sayler
Mary Harwell Sayler's bio:
Mary Harwell Sayler began writing poems in childhood but, as an adult, wrote almost everything except poetry! Eventually she placed three dozen books in all genres including poetry and how-to books on poetry and writing. She also maintains the Poetry Editor blog and provides resources for poets and writers on her website. Recently she collected almost all of the prayers in the Bible from many English translations, paraphrased them into contemporary language, and published the Book of Bible Prayers. She then published the prayer book in the King James Version only, the Book of KJV Prayers.