Storm Sequence in Tanka, a poem  by Mary Harwell Sayler:
Clouds collect their thoughts –
bright white, dark grey, purple.
Poems begin to rain.
Live oak branches flog the air,
scattering, breaking the clouds.
Lightning pries the sky
open like an oyster shell.
Hard rain falls like pearls –
a broken strand scattering,
bouncing the beautiful beads.
Suddenly a storm!
Cannonballs in the distance –
booming sound effects!
Air dangles electric cords,
plugging the sky into earth.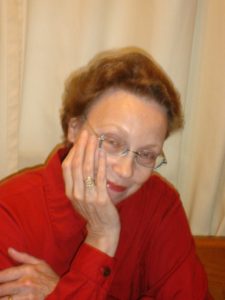 Mary Harwell Sayler
Mary Harwell Sayler writes:
"I've been writing poems and reading the Bible since childhood and, as an adult, studying the major English translations. As an ecumenical freelance and assignment writer for Christian and educational markets, I've placed 36 books in all genres with such publishers as Zondervan, Broadman, Concordia, Facts on File, Hiraeth Press, etc. I've also placed over 2500 poems, children's stories, and articles in magazines or journals; and have 3 e-books for poets and writers on Kindle. In 2017, Cladach Publishing released my contemporary psalm-poems, PRAISE! I also blog on poetry, writing, and a variety of Bible topics and just published What the Bible Says About Love."